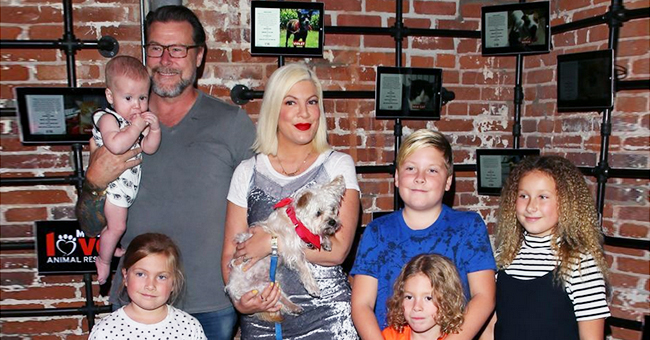 Getty Images
Dean McDermott Reveals He and Tori Spelling Are Not Planning to Have a Sixth Child

Dean McDermott is just about finished and won't be having anymore children with wife Tori Spelling. "I think we're done" he said.
Tori Spelling shares five kids with husband McDermott, Beau, two, Finn, six, Hattie, seven, Stella, 11, and Liam, 12. McDermott also has a 20-year-old son from a previous relationship.
It's clear that the couple loves their big family, but do they want to expand on it even more? McDermott spoke to HollywoodLife and disclosed that he and his wife had pretty much made up their mind about adding another one to the team.
"We talk about having more," McDermott shared before adding that "Tori would love to have another one." The two enjoy their kids very much, and Tori "loves being pregnant."
However, McDermott and his wife are in agreement that "having a sixth child would be too much." Despite Spelling looking and feeling great when she's pregnant, McDermott said: "I think we're done."
So it seems that the couple drew the line at five and are satisfied with that. They may be expanding in other areas of life, however, including reality television.
McDermott revealed that he's still open to putting his family out there and may do a new reality tv series. "I wouldn't go down the 'True Tori' route again," he insisted before suggesting something that might be closer to "Home Sweet Hollywood."
McDermott divulged that that is something he and his wife have also discussed. The actor appears to be in sync with the women in his life. His mother-in-law Candy Spelling also holds the belief that five kids are enough.
Back in January, she spoke about Tori and told Hollywood Life, "I just hope that she quits having kids." In the same instance, she made sure to praise her daughter and son-in-law for their exceptional parenting skills.
A month later, McDermott admitted that his wife had a "gleam in her eyes, like 'I can do more [kids],' " but even back then he called their family size "good." Any hopes Tori had, such as last year May when she expressed the desire for an even number of children, have been put down thus far.
Back in 2018 She told Us Weekly in: "I can't imagine dad being sane if we have one more. It would push dad over the edge. He's doing the best he can!" Let's hope the two have indeed come around to a similar mindset regarding more kids.
On top of his family obligations, McDermott is also dealing with a recent case of pneumonia. On Tuesday, the star posted a look into his stay at the hospital where he was "stuck" at the time.
Not only was he suffering from pneumonia, but he possibly had meningitis as well. Unashamedly, he used the post to promote his podcast "Daddy Issues" which would feature guest star Perez Hilton.
Please fill in your e-mail so we can share with you our top stories!