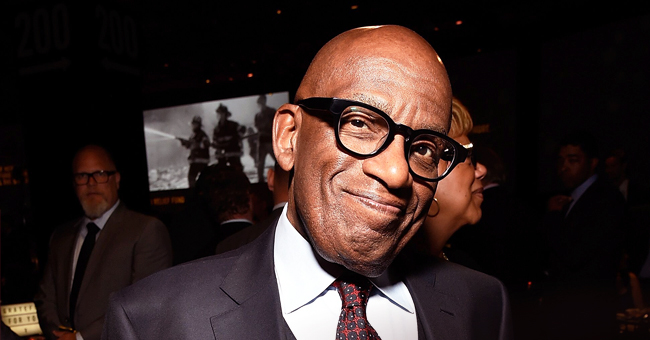 GettyImages
Al Roker Shares Photos from 4th of July Barbecue with Family and Friends
Al Roker shared pics of his 4th of July celebration alongside his wife, kids, and extended family. The group enjoyed a delicious-looking lunch outside, as the "Today" show weather anchor said how thankful he is for their "freedom to celebrate."
Al Roker and wife Deborah Roberts prepared a feast for their family and friends on Independence Day, and the 64-year-old TV star had to share his happiness with fans on Instagram.
He shared two photos from the celebration: one that shows the varied dishes they had, including hot dogs, lamb, beef, octopus and baked beans; and a selfie with his guests around a table with American flag-themed cloth.
"So #thankful for #family and #friends on the #fourthofjuly and the freedom to #celebrate," Al Roker captioned the post.
FANS' MESSAGES
Fans reacted to the photos by commending Al Roker for his beautiful family.
"Family and friends are everything next to God!!! Happy Independence Day!!!" wrote one user.
Another added, "Looks like great fun best way to celebrate the 4th."
And a third one agreed,
"Love to see family and friends together like this."
AL ROKER'S FAMILY
Al Roker and Deborah Robert who's a journalist on ABC News, have been married for 23 years and have two kids: daughter Leila Ruth, 20, and son Nicholas, 16. Al Roker is also the father of 32-year-old Courtney from a previous relationship.
Roker and Roberts met in 1990 when she joined NBC as a reporter. He took her to lunch. "Al was so sweet," Roberts told People. "He showed me pictures of his daughter and talked about his family." But at the time, she only thought of him as a sweet guy and nothing more.
In a recent piece for Guidepost magazine, Al Roker opened up about his son's condition, explaining that Nick is "somewhere on the spectrum and maybe obsessive-compulsive."
Soon after, Roberts was transferred to Miami and Atlanta, and in 1992, when she returned to New York, Al Roker had split up from his first wife.
Although their relationship started as a friendship, Al Roker managed to romance Roberts and in New Year's day in 1994, he proposed at the Grand Canyon.
They married the next year in a celebrity-filled ceremony, and soon after, Roberts left NBC and joined ABC as a correspondent for 20/20.
THE FIRST CHILD
Roberts suffered a miscarriage on the second month of her first pregnancy, but the couple didn't give up in trying to conceive. However, scared of going through the same situation twice, they resolved to go through in vitro fertilization, and in 1998, welcomed their first child, Leila Ruth.
Four years later, they welcomed son Nicholas, who has special needs.
Now grown, Leila is currently a college student at the American University of Paris, where she's spending her freshman year. Once she's back home, Leila is set to attend the University of Southern California.
She's also a fashionista and journalist, like her mom, and has been featured on Forbes, Footwear News, and the newspaper of her school. She has also been an intern on Paper magazine and is currently working at Variety Paris.
Her brother, on the other hand, is a sports lover.
A SPECIAL KIND OF LOVE
Nick recently won two gold medals in a swim race at the Special Olympics New York Summer Games at Vassar College. And his proud parents were there to cheer for him at the end line.
In a recent piece for Guidepost magazine, Al Roker opened up about his son's condition, explaining that Nick is "somewhere on the spectrum and maybe obsessive-compulsive." However, Roker believes those labels don't adequately describe who his son is.
He says Nick had to go through occupational, speech, and behavioral therapy. Now, he enjoys taekwondo, chess, and is "developing a pretty good top-of-the-key basketball shot."
"Do I get frustrated with my son sometimes? You bet," Al Roker explained. "But then I remember my dad, how understanding he was. And Deborah reminds me that I have to show my son not only that I love him but that I like him as well. More than that, I admire him."
Family is everything for Al Roker and Debora, which is why some many fans look up to them and their long-lasting marriage. They will be celebrating their 24th anniversary in September.
Please fill in your e-mail so we can share with you our top stories!