Kobe Bryant's Wife Shares Photo with Their Newborn Daughter Capri
After introducing their new baby girl and fourth child to the world for the first time, Kobe Bryant's wife, Vanessa, has taken to social media with another photo of the infant that is beyond adorable.
Since welcoming their daughter, Capri, last month, Kobe and Vanessa seem to be having the best time, and there are photos to prove it, including one from a mother-daughter photo-shoot.
The image posted by Vanessa a few days ago shows her cradling her daughter to her bare chest with a black shawl wrapped around the duo.
Vanessa looked peaceful with her eyes closed and her hair flowing down her back while a napping baby Capri rocked a sequined headband over her raven locks.
A MOTHER'S LOVE
"Skin to Skin," Vanessa wrote in the caption, adding the hashtags "My Baby Girl" and "Capri."
Vanessa and her retired NBA star husband welcomed baby Capri on June 20, and both took to their respective Instagram pages to announce her arrival.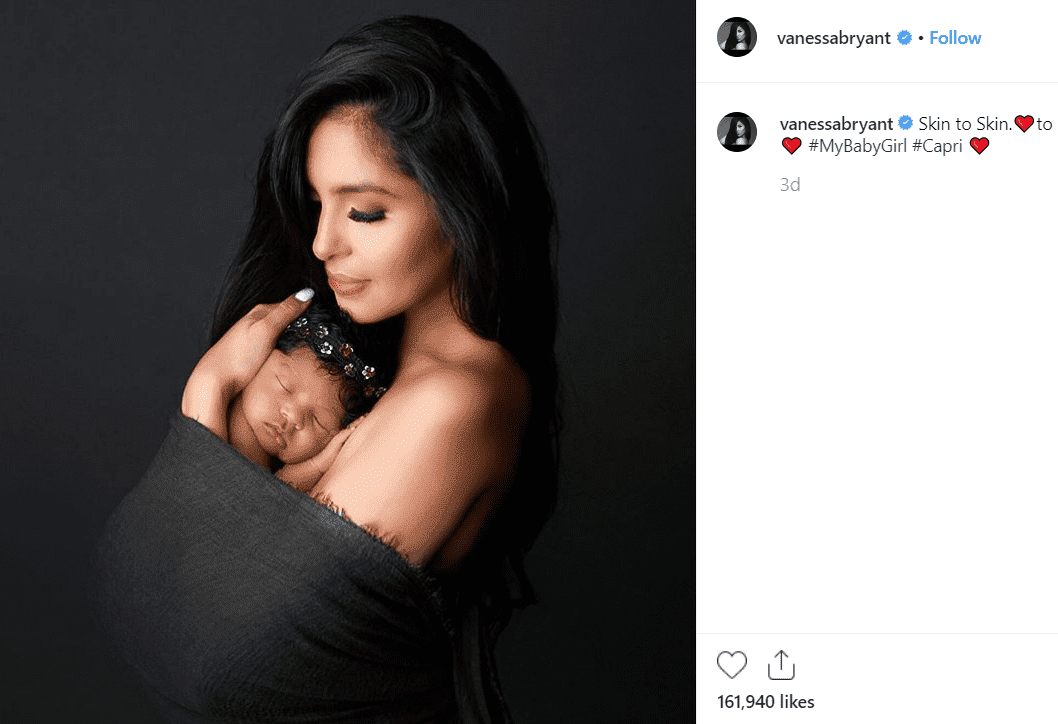 BABY CAPRI'S WORLD DEBUT
Sharing an image of what looked to be a floral "Capri" customized blanket, Kobe wrote:
"We are beyond excited that our baby girl 'Koko' has arrived!!"
"Our baby girl is here!!!!! Capri Kobe Bryant" echoed Vanessa, who shared the same image as her husband. "So thankful for our newest baby blessing a.k.a. Koko."
Capri, who is the first of the couple's daughters to be named after Kobe, joins big sisters Natalia Diamante, 16; Gianna Maria-Onore, 13; and two-year-old Bianka Bella.
BABY CAPRI'S SOCIAL MEDIA DEBUT
Kobe and Vanessa shared first photos of their newest "mambacita" earlier this month with a picture of the infant wrapped in a pastel pink blanket and placed against a soft white-and-pink background as she slept peacefully. Baby Capri also sported a matching floral headband over her dark hair.
"Our little princess Capri Kobe Bryant 'KoKo' 6/20/19," Kobe gushed in the caption while adding a love emoji.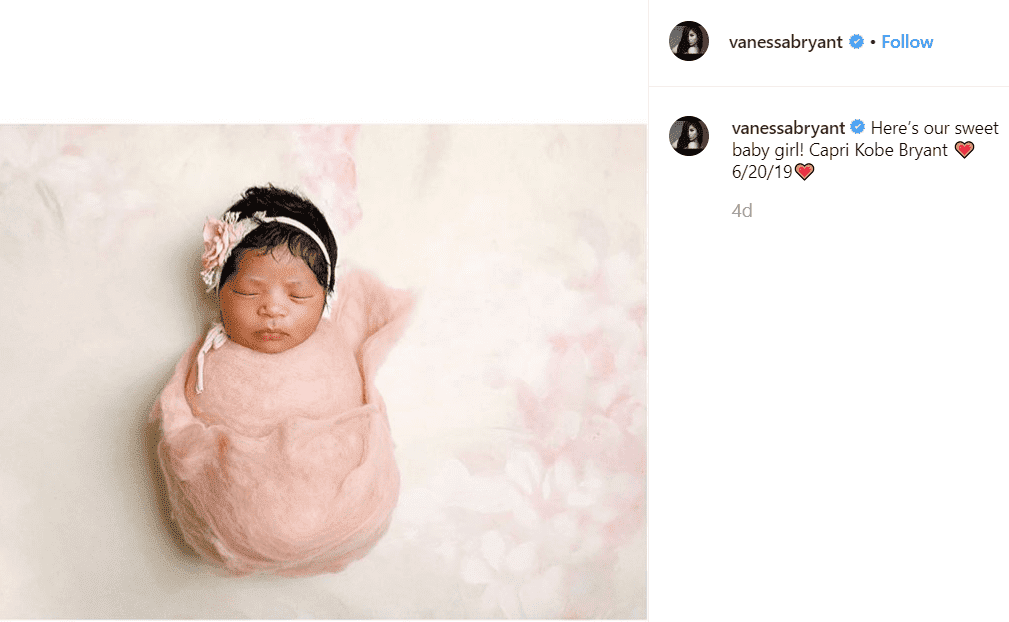 WAITING ON ANOTHER KOBE JR.?
The 40-year-old former Shooting Guard told Extra in 2017 that Vanessa was eager to add a baby boy to the family, but he wasn't as keen.
"I love having girls! I hear boys are just walking tornadoes," he said. "We'll see. I think Vanessa wants a boy more than I do."
In March, before baby Capri made her grand entrance, Kobe went on to reveal why his wife wanted a boy so much during another interview with the outlet:
"I think she wants a boy more than I do. I love having girls. I'm super super excited about [welcoming another baby girl]; she is as well but she wanted a boy so he could be like Mama's boy forever. We'll see if I can deliver; I don't know."
While Kobe and Vanessa wait on that son, the 18-time NBA All-Star enjoys spending time with his girls, including training with his potential WNBA star, Gianna.