Michelle Obama Spoke at the Essence Festival about Her Father's Death at Age 55
On her recent interview with Gayle King at the Essence Festival in New Orleans, Michelle Obama opened up about the death of her father from Multiple Sclerosis and the role he and her brother had in her life as a woman.
Former first lady Michelle Obama recently sat down with CBS "This Morning" co-host Gayle King for a well-rounded interview at Essence Festival where she talked a bit about everything: from her time in the White House, her marriage and raising her daughters in a protected environment, to the upcoming elections, and her late father.
Fraser Robinson III was 55-year-old when he died in 1991 from multiple sclerosis complications.
REFLECTING ON HER FATHER'S PASSING
King brought up the topic wanting to know if Obama, who's now 55, had reflected on how it affected her having the same age Robinson had when he passed.
Obama started by saying that she thinks about her dad every day.
"My dad was a blue-collar worker who didn't want much in life. He poured everything he had into me and my brother," she said.
And continued:
"Not a day goes by that me and my brother don't think about the fact that he didn't live long enough to see who he raised."
DO NOT TAKE HEALTH FOR GRANTED
Michelle—who had remarked on the importance of women taking charge of their health and well-being earlier in the conversation—revealed that watching her dad suffer from MS; a degenerative disease is one of the reasons why she doesn't take her health for granted.
She said:
"My father was an athlete. He boxed, and he swam, and because of this disease, he died not being able to walk without the assistance of crutches. I knew he was a man who valued movement, and it was taken from him. So, at no point in my life, do I take my health for granted."
CHAMPIONING FOR HEALTH SELF-AWARENESS
Obama took the chance to stir the conversation back to her health concerns for the country, stating that sometimes we lose people because of things that they can't help, but many health situations can be avoided.
"We have control over the food we put in our bodies, how we move, whether we go to the doctor on a regular basis, whether we're watching out for diabetes and asthma," she stated. "Whether we're doing things to prevent completely preventable illnesses."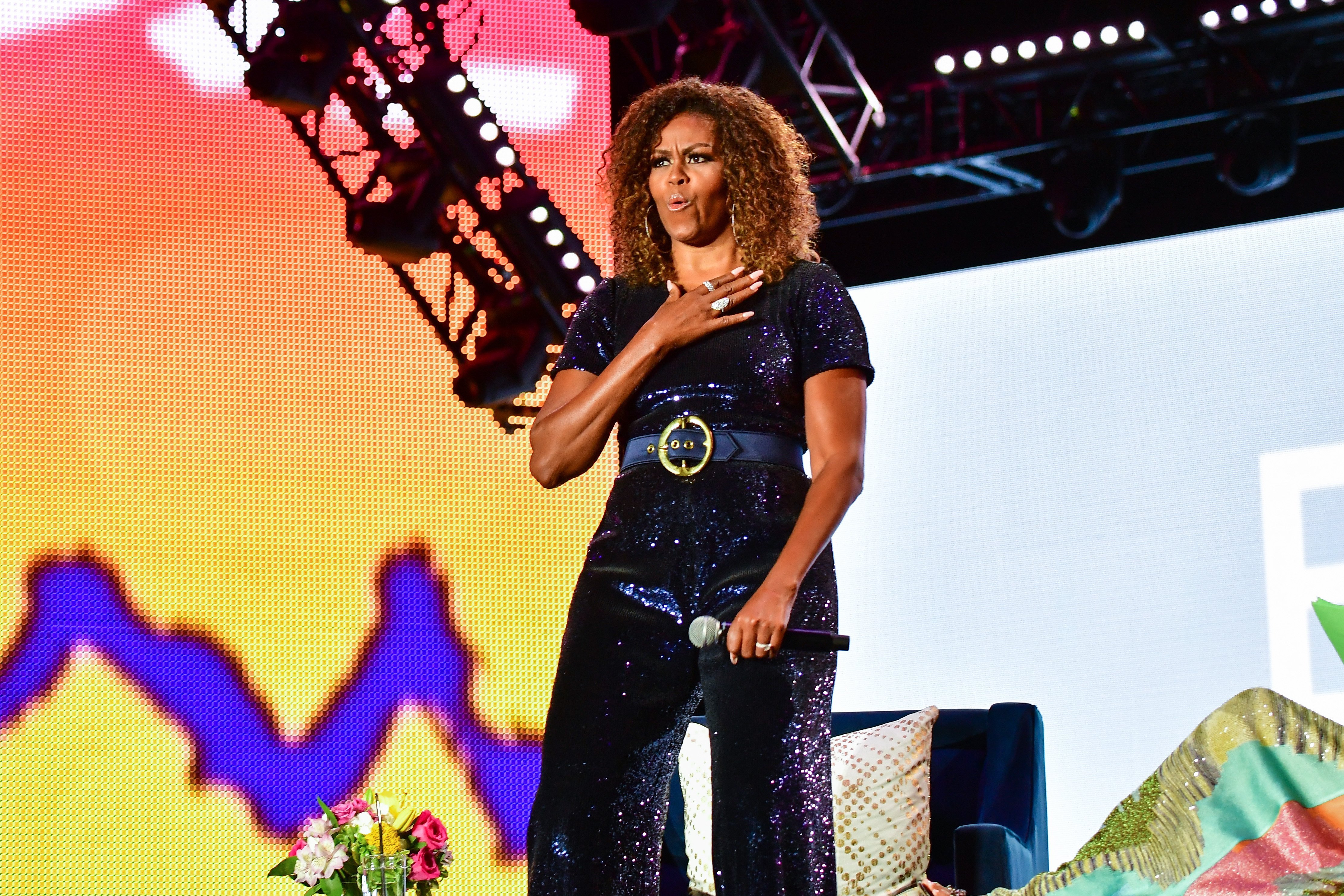 Michelle also lamented the fact that her daughters, Sasha and Malia, didn't get the chance to meet their grandfather and experience the values he gave to her and her brother.
"That's why we have to take charge of our health, so we're not gone too soon," she concluded.
THE ROLE OF THE MEN IN HER LIFE
Elsewhere int the conversation, Michelle encouraged mothers and women, in general, to start having conversations about putting themselves first when it comes to their families:
"We're living in a world when we as women are so devalued, we have trained ourselves to think we don't deserve it. That we don't even deserve to take care of ourselves. And we have to kind of search our minds and our histories, our backgrounds, to find out where that hurt comes from."
She also encouraged men to take a stand, as they also "play an important role."
"My father and my brother had the greatest impact on my self-esteem because I grew up in a household with men who loved me and respected me very early on," she said. "Who told me how beautiful I was, who treated me as an equal."
And concluded: "So even at an early age because I had a father and a brother and the men in my life who didn't hurt me, who took care of me, the bar for what I expected for myself was set by the men in my life."