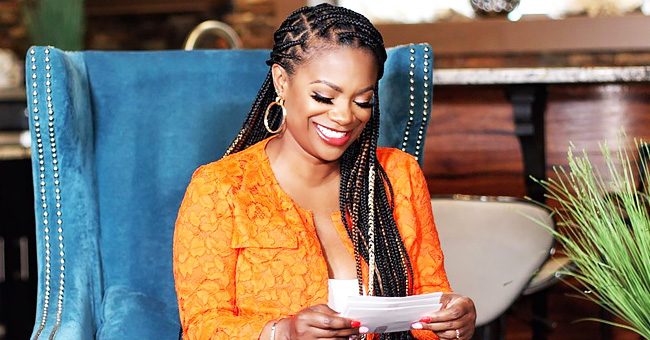 Instagram/kandi
Kandi Burruss Shares Rare Pic of Blended Family - Daughters Kaela, Riley & Son Ace
Kandi Burruss recently took to Instagram to share a rare of her entire blended family, and fans are amazed at how much they resemble each other, even though her daughter and her husband's daughter, are not related.
It's been a couple of busy months for Kandi Burruss and her family.
They've been traveling around the world for vacation, and now Kandi is working in different projects while filming for season 12 of "Real Housewives of Atlanta."
FAMILY TIME
So, on a rare occasion where all of them were together in the same place, Kandi made sure to immortalize the moment with a picture and shared it with her 6.6 million Instagram followers.
In the pic, Kandi's husband Todd Tucker is standing behind a sofa where the reality star sits with their son Ace, 3. Her daughter Riley, 16, stands by the side, and Todd's daughter Kaela, 21 rests on the sofa's armrest.
"Family time is the best time!" Burruss captioned the picture.
FANS' REACTIONS
Fans of the former Xscape singer took over the comment section to gush about her beautiful blended family, and some pointed out that it's amazing how much they're starting to resemble each other.
"Blended family but y'all start to look alike," wrote one user.
Another added, "Beautiful family...each girl looks like her parent and Ace is a blend #blessed."
And a third one chimed in to say:
"I love that y'all make time for ALL of you to spend time together. You guys are all looking like each other now."
AN OLD FEUD
A few days before sharing her family pic, Kandi addressed—once again—comments made by her former friend and co-star Phaedra Parks, three years after the incident that caused a rift in their relationship and had Parks booted from "RHOA."
To recap, at the end of season 10, rumors were swirling around about Kandi planning to drug Porsha Williams to take her down to an alleged "sex dungeon" she shares with her husband to take advantage of her.
In the final reunion, it was revealed that Phaedra was behind the malicious rumor.
However, there are some fans of the reality show franchise that still want Phaedra to return to the show, and Kandi has been clear on her position about it: if Parks returns, she's out of the show for good.
Speaking to Daily Mail TV last week, Phaedra was asked about her thoughts on Kandi's decision, to which she replied:
"I find it amusing because if she is that concerned about me three years later, I must have really impacted her life. So I'm glad I touched her like that."
KANDI'S CLAPBACK
Asked about Phaedra's words in an interview with People, Kandi said she finds it "very sad" that Phaedra has no remorse for what she did.
And continued:
"She didn't see anything wrong with that? I feel like if anybody did what she did to me to her sons in the future — she would have a totally different outlook on the situation and so I think she should just rethink it."
Kandi added that, even though it's been three years, what Phaedra did was not something she can easily forgive and forget.
Please fill in your e-mail so we can share with you our top stories!