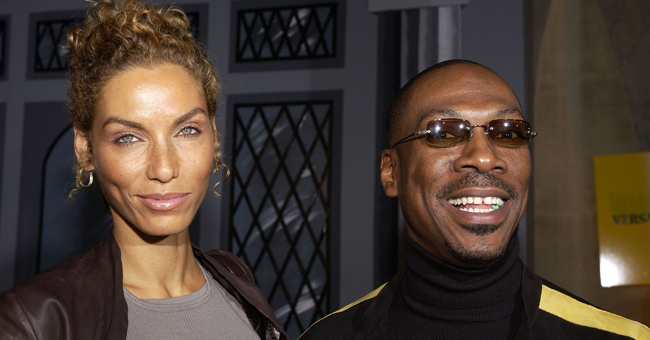 Getty Images
Eddie & Nicole Murphy's Daughter Bella Wears Flirty Red Dress While on Paris Vacation

Nicole Murphy misses her daughter Bella Murphy as she shares a photo of her teen looking flirty in a little red dress. Bella is her youngest daughter with Eddie Murphy who was recently photographed with Bella during her prom.
Nicole and Eddie Murphy's youngest daughter is all grown up and she's currently on vacation in Paris sans her elders. A pic shared by her mother reveals the teen in a flirty red dress and Nicole couldn't help but miss her baby.
WE SAW HER GO TO PROM
It was only in May when fans were treated to a glimpse of Bella on the way to her prom. She looked lovely in a shiny blue gown with spaghetti straps standing next to her father who made sure he was there to see her off.
SHE WAS ALSO IN LAST YEAR'S MURPHY HOLIDAY PIC
During the holidays, Bella joined the rest of her big family for their annual holiday photo.
Every year, the actor gathers all his children (10 to date from five different women) at Christmas time and they take a pic for posterity. Last year's photo was extra special because it welcomed a new addition. Max Murphy, Eddie's youngest so far was born in November and he made it in time for the holiday pic. Barely a month old then, he was carried by his mother and Eddie's fiancée, Paige Butcher.
NOW SHE'S IN PARIS CAUSING HER MOM TO MISS HER
Back to Bella, the teen is currently traveling in Paris and her mom seems to be updated about her trip. The fitness guru recently shared a photo of her youngest posing in front of the Eiffel Tower. She also took note of the dress Bella was wearing by incorporating the hashtag #littlereddress in her caption. Bella looked stunning in it by the way.
"Missing my baby girl," Nicole wrote before requesting her followers to keep tabs on her daughter in her own Instagram account.
SHE'S ALSO SPORTING HER CONTROVERSIAL NATURAL CURLS
In the pic, Bella sports her natural hair and we wonder what Nicole thinks of that. She recently drew flak after revealing in an interview that she wished all her four girls were born with straight hair like hers instead of inheriting Eddie's waves.
SHE'S A PRODUCT OF HER PARENTS' FRUITFUL 12-YEAR-MARRIAGE
Bella was the last to be born during Nicole and Eddie's 12-year-marriage which ended when Nicole filed for divorce in 2005. The ex-spouses have four daughters and one son who recently made them grandparents. Miles Murphy welcomed his first child with his longtime girlfriend this month.
HER MOTHER IS A FITNESS GURU WITH A TO-DIE-FOR BODY...
It's hard to believe Bella's mom is a grandmother with the kind of body she possesses thanks to her dedication to health and fitness. Nicole recently launched a workout app on her fitness website and we're guessing the photo below which she used to promote it did wonders to boost her downloads.
Nicole certainly has a lot on her plate with five children she looks after, a grandchild, and her fitness website. It's a surprise she still finds time to feel sentimental about her traveling daughter. That just goes to show what a phenomenal woman and mother she is.
Please fill in your e-mail so we can share with you our top stories!