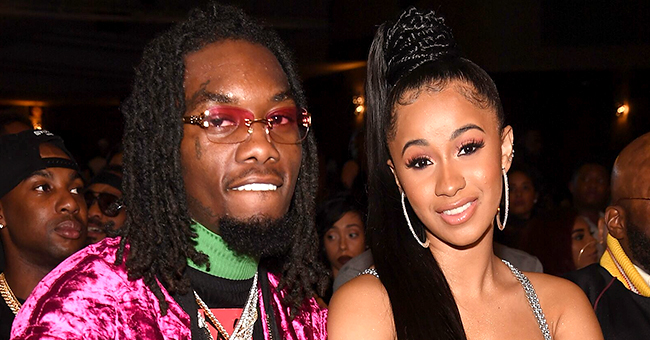 GettyImages
Cardi B Shows off New Tattoo of Offset's Name on the Back of Her Thigh
Cardi B just sealed her future with Offset by inking his name on her thigh. The Migos rapper delighted in the gesture and even shared a photo of it while expressing his excitement to get home.
Cardi B now has Offset wrapped around her thigh or so it seems now that her husband's name is tattooed behind it. She even Facetimed with the father of her daughter to show it off. He, in turn, shared it with the world.
THEY BEGAN ON SHAKY GROUND
There was no telling how far Cardi's relationship with her husband would go after they broke up a little over a year after they secretly married and months after the birth of their one-year-old daughter, Kulture.
BUT THEY MADE UP AND NOW SEEM COMMITTED TO MAKE IT LAST
But they made up shortly after and now appear to have settled in just fine. Cardi seems certain Offset is for keeps since she marked him permanently on her body. Tattooed behind one of her thighs in giant cursive letters is her husband's stage name. While on Facetime with her man, she raised her leg up for him to observe the artwork as she pouted her lips for an online kiss.
Offset showed his appreciation by sharing a snapshot and declaring, "CANT WAIT TO GET HOME" in his caption.
OFFSET WAS THE FIRST TO MARK THEIR PERMANENCE
Cardi's tattoo may be a response to Offset's own which he got in January 2018 as a show of love for her. On his neck, he inked the Powerpuff Girl, Buttercup along with his wife's stage name under.
THEIR ONE-YEAR-OLD DESERVES THEIR HAPPY EVER AFTER
With the couple holding each other's names close to their bodies, it is a clear sign that they're committed to a lasting relationship. It's also the perfect birthday gift to their daughter who just turned one this month.
Cardi marked the occasion with a cute photo of Kulture smudging cake on her in their kitchen. Meanwhile, Offset showed off his tutu-clad princess in a post where he describes her as "perfect." A cute detail on Kulture's outfit was the inscription on her shirt which formed an equation that read, "50% Kiari plus 50% Cardi equals 100% Kulture." Simply adorable and so true.
Please fill in your e-mail so we can share with you our top stories!