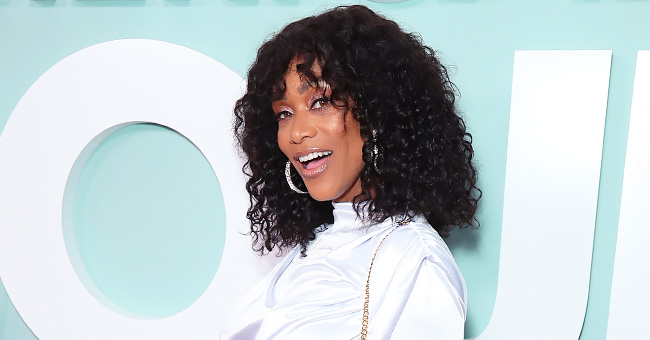 GettyImages
Tami Roman Changes up Her Look with Blonde Tapered Cut & Curls after Marriage Reveal
Tami Roman changed her hairstyle for one more apt for the hot summer, and she looks stunning as always. The reality star has been busy with different projects, and recently opened up about her newfound attitude when it comes to "Basketball Wives."
Tami Roman is joining the "blondes have more fun" club this summer.
The reality star took to Instagram to share a selfie showing off of her new hairstyle, a blonde tapered cut with curls at the top that enhances her sharp facial features. In the shot, Tami is wearing a blue jacket, silver hoop earrings, and a bold red lip.
"@styledbyudi said I needed to participate in this whole 'Hot Girl Summer' thing," Tami captioned the photo.
Fans of the former "The Real World" star took over the comment section to gush about her new look, and most agreed she can rock any color and hairstyle she wears.
"It's beautiful, I'm feeling every bit of this Blonde!!!!!" wrote one user.
And another added, "Pretty faces can rock any hairstyles, especially, short blonde ones."
THE REALITY OF REALITY TV
Tami has been in the public eye since the early 2000s when she was cast on MTV's "The Real World." However, it was her participation in VH1's "Basketball Wives" that gave her the final push to fame, but it came with a cost.
"I'm going to be in control of the narrative. I had to take responsibility for the imagery that I was putting out."
Roman, like many of her co-stars and other black women in reality television, has been singled out as problematic for always being at the center of drama and fights. Tami admits she made her mistakes, but at the end of season 7 of "Basketball Wives," she realized it was time for a change.
The 49-year-old recently visited TV One's "The D.L. Hughley Show," where she discussed the reality of reality television.
"If you take any circle of friends and you put a camera in their face all of the time, inevitably there's going to be one situation where something goes down, right?" she said. And continued:
"So for us, we're filming for six, seven months at a time and production's waiting on that one moment that that happens so that that is what is they can use for the super trailer, that's what they can make the whole season about, and it's unfortunate because they don't show enough balance of us getting along."
CHANGING HER PUBLIC IMAGE TOO
She also pointed out that the audience enjoys the drama, and that's all they want to see. However, after watching herself being messy, Roman decided to change her attitude and avoid confrontations to control her public image.
Tami explained:
"The responsibility that I took within myself was, I watched myself. Just like everybody else watched, I watched myself. I said, 'Okay, so since you guys aren't going to show the other side and all the wonderful things I do with philanthropy, and my charities and my children and my relationship with my mom, then I'm going to make the changes.'

I'm going to be in control of the narrative. I had to take responsibility for the imagery that I was putting out."
FAMILY LIFE
Earlier this year, Roman took her fans by surprise when news outlet found a marriage certificate with her name on it.
She secretly tied the knot with longtime boyfriend Reggie Youngblood in Las Vegas last fall, but never mentioned on social media or even on interviews. And of course, she didn't have the cameras of "Basketball Wives" with her.
On the first episode of season 8 of "Basketball Wives," Roman revealed she kept the wedding a secret because she rather not have people "in her business."
"I feel like I don't really need to disclose that I'm married because I don't know who will be genuinely happy, who would really care," she said. "Rather than go through all those emotions and figure out who's real and who's not, I'll just keep the s**t to myself."
Tami has stated she will not return to "Basketball Wives" after season 8 ends, as she's ready to move on into bigger projects.
Please fill in your e-mail so we can share with you our top stories!