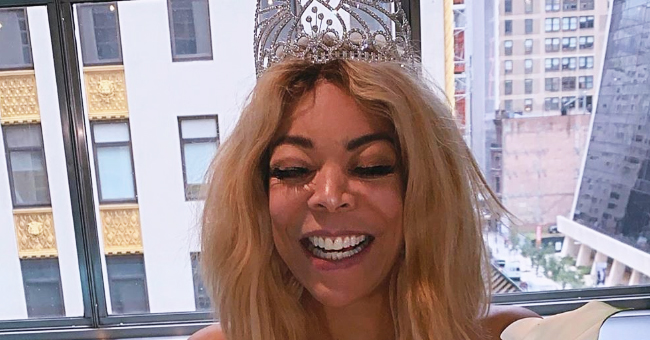 Wendy Williams Dishes on Her 55th Birthday Celebrations That Included Blac Chyna

Wendy Williams tells all about her wild 55th birthday party and her celebrity guests like Blac Chyna and Bevvy Smith.
Wendy Williams celebrated her 55th birthday in style with a whole weekend of fun, music, and dancing.
The TV host, whose birthday was on July 18, spent the day at work on her show, but the sun went down, it was time to party.
"I don't know who I've become, but I like her. She's open and honest and thorough and she is fun." Wendy Williams
WENDY WILLIAM'S BIRTHDAY DINNER
Wendy spilled the beans on the fun fest on her July 22 show and revealed that the evening started with a pre-party at her New York apartment.
Wendy then moved on to her favorite restaurant, Serendipity, with a party of 12 friends, which included BFF Blac Chyna, where they feasted on frozen hot chocolate, loaded hotdogs, and chicken wings "with the bleu cheese with the chunks."
The Birthday Girl was Queen for the day in a pink dress with a blingy giant tiara
PARTY, PARTY, PARTY, ALL NIGHT LONG!
Wendy and her friends moved to rapper Nas' album release party, and the night ended with a late-night boat cruise on the Hudson arranged by her friend Medina until 4 am.
BIRTHDAY BREAKFAST AT TIFFANY'S
We have to admit that Wendy certainly knows how to do things in style. She revealed that she was invited by the legendary New York jewelers to have breakfast at Tiffany's, and afterward headed to Louis Vuitton for a spot of shopping.
A NEW BEAU AT HER BIRTHDAY PARTY?
Even though Wendy has hinted that there is a new man in her life - a dashing 50-something doctor - she did not reveal if he was present at her celebration.
Wendy, who stepped out onto the set of her show in a pink dress and a blingy tiara on her birthday seems to have taken on a new lease on life since her recent separation from husband of 21 years, Kevin Hunter.
Happy Birthday, Wendy!
WENDY WILLIAMS IS THE QUEEN ON HER BIRTHDAY
Wendy celebrated her 55th birthday on July 18 doing what she loves the most - hosting her shoe.
The Birthday Girl was Queen for the day in a pink dress with a blingy giant tiara perched on her head.
Her work colleagues got her a two-tiered dessert cake with purple icing and a star, and of course, lots and lots of gifts.
Please fill in your e-mail so we can share with you our top stories!