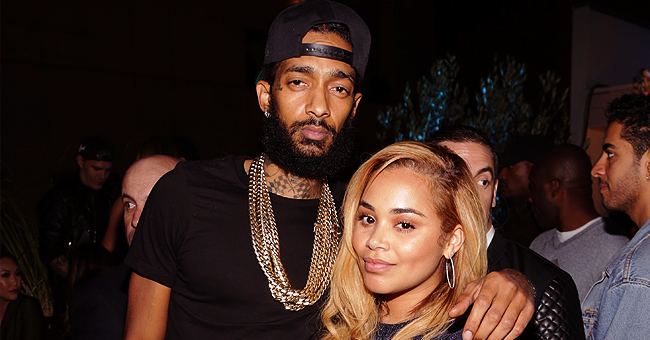 Getty images
Lauren London Posts Touching Birthday Message for Nipsey Hussle's Sister Sammy

Lauren London paid a loving tribute to Nipsey Hussle's sister Samantha on her birthday.
Nipsey Hussle's tragic demise has left his family distraught, and they have comforted and supported each other in their grief.
Nipsey's long-time partner Lauren London has sent his sister Samantha Smith a very special message on her birthday, demonstrating the solid bond between the two women.
"The English language is too premature to articulate and illustrate my Love for you." Lauren London
A CELEBRATION IN A TIME OF GRIEF
Samantha's birthday comes just 4 months after Nipsey's murder, and Lauren marked the occasion by posting a photo series of photos of the two together, during some of the difficult moments they have been through together.
Lauren remembered the dark days they have lived through and promises Samantha her continuing love and support.
"My dear baby sister, we are walking the darkest of tunnels together. I have your back , front, and both sides. We are bonded through love and blood for Life and even after our physical forms transcend Happy Birthday to my magical baby sister Sammy @babyyhairz I Got U and God Got Us," she wrote.
Nipsey Hussle would be glad to see his beloved sister and the woman he loved supporting each other
SAMANTHA SMITH FILED FOR GUARDIANSHIP OF NIPSEY'S DAUGHTER
Samantha and Lauren also share the care for Nipsey's children. Lauren and Nipsey had a son together, Kross, 3, and the rapper also has a daughter from a previous relationship, Emani, who is now in Samantha's care.
SAMANTHA SMITH TO RAISE NIPSEY'S DAUGHTER
Samantha, who has a son of her own, Khalil, 5, has asked the courts to attribute her custody of Emani, 7, whose mother Tanisha is known to have a substance abuse problem.
LAUREN LONDON "THE PILLAR OF THE FAMILY"
Since the shocking and brutal murder of the beloved rapper, the family has rallied around Lauren, who has proven to be a pillar of strength in the midst of the tragedy that has left two children orphaned.
Nipsey Hussle would be glad to see his beloved sister and the woman he loved supporting each other in their time of grief, and being true sisters of the spirit.
NIPSEY HUSSLE'S TRAGIC DEATH
Four months ago, on March 31, 2019, the music world was shocked by the news that rapper Nipsey Hussle was dead, gunned down outside his store in the Hyde Park neighborhood, south of Crenshaw in L.A.
Hussle was killed by a lobe gunman and two others were wounded before the killer escaped in a getaway car.
The shooter was later detained and identified as 29-year-old Eric Holder. Holder has been indicted by the grand jury with one count of murder, two counts of attempted murder and assault with a firearm, and one count of possession of a firearm by a felon.
He remains behind bars on $6.5 million bail, and is kept in isolation to protect him from retaliation by other detainees.
Please fill in your e-mail so we can share with you our top stories!