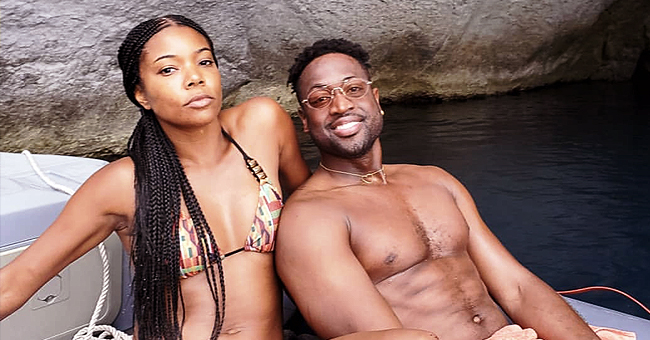 Instagram/gabunion
Gabrielle Union & Dwyane Wade's Story: Lawsuit from His Ex, Brief Split, '8 or 9' Miscarriages

Thought today they are the ideal couple, Gabrielle Union and Dwyane Wade's road to love was bumpy.
Gabrielle Union and her husband Dwyane Wade are a shining example of marital bliss, but getting to where they are today wasn't easy.
In fact, when she met Dwyane, Gabrielle did not consider him a good romantic prospect at all.
DWYANE WADE WAS MARRIED WHEN HE MET GABRIELLE WADE
When Gaby met Dwyane, she considered him anything but Mr. Right. They first met in 2007 co-hosting a Super Bowl party, and the actress wasn't particularly impressed.
When they reconnected, and Dwyane asked her out, Gaby turned him down.
"His 'resume' looked like crap: athlete, going through a divorce, nine years younger than me. None of that screamed, 'Let's have a lasting relationship,'" she revealed.
Kaavia is Dwyane's first daughter and he has three sons from previous relationships
GABRIELLE HATED THAT DWYANE WAS AN NBA PLAYER
One thing that really put Gaby off was the fact that Dwyane was a professional athlete. She revealed in her memoir "We Need More Wine" that she had been dumped by NBA star Jason Kidd two weeks before prom, and that her ex-husband NFL running back Chris Howard was unfaithful throughout their marriage.
TAKING A CHANCE ON LOVE
But when she ran into Dwyane again, Gabrielle somehow found herself agreeing to a date and the relationship quickly grew serious, even though the basketball player was going through a messy divorce from his high school sweetheart with whom he had two children.
MARRIAGE AND A NEW LIFE
At one stage, the couple decided to split, and during that time Dwyane had a relationship with another woman, and a son was the result.
But they couldn't stay apart for long, and they reconciled. Dwyane proposed, and Gabrielle accepted. They have now been together for 9 years and married for four, and things only seem to get better.
Even Gabrielle's struggles with infertility have been resolved—she suffered 9 miscarriages—and the couple welcomed their daughter Kaavia in November 2018 through a surrogate.
WELCOMING KAAVIA JAMES UNION WADE
Gabrielle Union and Dwyane Wade welcomed their "miracle baby" Kaavia James Wade in November 2018 through a surrogate after the actress had suffered through numerous miscarriages.
Kaavia who is known as "Shady Baby" for her hilarious expressions and thunderous scowls is a social media star and the apple of her doting parents' eyes.
Kaavia is Dwyane's first daughter and he has three sons from previous relationships: Zaire, 16, Zion, 11 and Xavier.
Please fill in your e-mail so we can share with you our top stories!