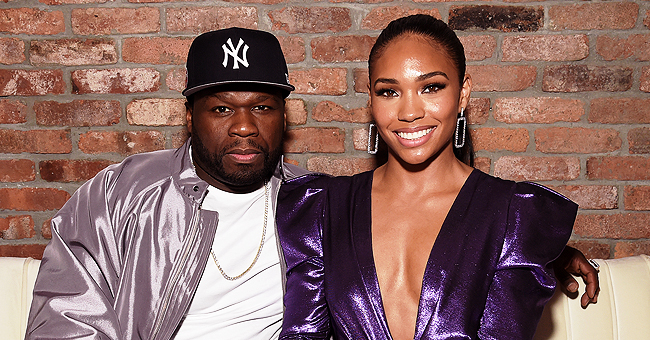 Getty images
Meet Jamira Haines, 50 Cent's Rumored New Girlfriend Who Walked the 'Power' Red Carpet with Him
Rapper 50 Cent has a new woman in his life, and he stepped out with her in public for the first time at red carpet premiere.
It looks like 50 Cent has taken time off from trolling and taunting his fellow celebrities on social media, and found a new, lovely lady to brighten up his life.
He flaunted the young beauty, Jamira Haines, at the recent red carpet premiere of the "Power" season finale, so it might be serious.
WHO IS JAMIRA HAINES?
So who is this mystery woman who seems to have enchanted 50 Cent? Jamira is a lawyer - so she's smart - and she is also a fitness model.
The beautiful Jamira is no stranger to the rap scene, she used to date Meek Mill's cousin and Dreamchasers rapper, Omelly.
The rapper previously dated Daphne Joy, with whom he shares a son.
JAMIRA HAINES SHARED PHOTOS ON INSTAGRAM
Jamira shared several snaps and vids of the event on Instagram. The snaps showed Jamira dancing, and smiling and even having a snack at a buffet at what looked like an afterparty.
JAMIRA HAINES - DRESSED TO KILL
Jamira killed on the red carpet in a short purple dress with a metallic sheen that showcased her sculptured legs. Her hair was swept up in a high ponytail, and she wore dramatic geometric earrings that called attention to her sculpted cheekbones.
JAMIRA HAINES TALKS ABOUT LOVE
In a since-deleted Insta-story, Jamira thanked her fans for their support and expressed her happiness after her red carpet debut with 50 Cent.
"I love how ya'll are happy that I'm happy. That's love! Some of it might be fake, but it's the thought that count. I see ya'll in comments. Can't get to all but thank you," she wrote.
The rapper previously dated Daphne Joy, with whom he shares a son. He also had romances with Chelsea Handler, singer Ciara, and actress Vivica A. Fox.
Could this be the girl who gets 50 Cent to settle down?
50 CENT - DEVOTED DAD
50 Cent might have a controversial reputation as the guy who lokes to stir the pot and troll other celebrities just for fun, but that is a very different man from Curtis James Jackson III, a devoted father.
The man his son Siri knows as "dad" is a besotted father who can't stop sharing sweet snaps of his gorgeous son and gushing about how wonderful he is.
Yep. The man who made so many celebrities cry is a big old softy when it comes to six-year-old Siri, and often posts photos of himself embracing and snuggling his sweet boy. Makes you think, doesn't it?
Please fill in your e-mail so we can share with you our top stories!