Steph Curry's Post about Ayesha Called Attention Grab after LeBron James Praised His Mate Savannah
Stephen Curry's adoring post to his wife Ayesha seen as "attention-grabbing."
Ayesha Curry is being accused by social media users of vying for attention from fans after LeBron James posted an on-line tribute to his wife Savannah James.
This, after Stephen Curry posted a photo of himself in Iceland with his better half, and topped it off with a loving caption.
"On the rock up north with MY rock! ?? #iceland" Stephen Curry
IN COMPETITION WITH SABRINA JAMES?
Social media users' reaction was unexpected, with many attributing Stephen's post to pressure from his wife, after fellow basketball legend LeBron James posted a tribute to his own wife, Sabrina James.
Stephen's post showed a sweet photo of himself and Ayesha in Iceland, and he refers to his wife as "his rock."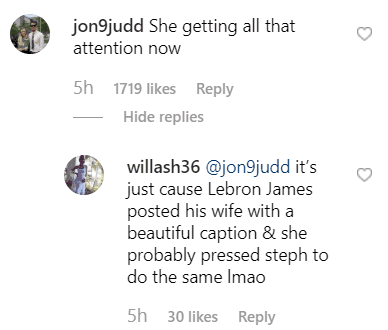 This is not the first time Ayesha Curry fell afoul of Internet trolls.
LEBRON JAMES' TRIBUTE TO SABRINA
LeBron had recently posted a photo of his beautiful wife Sabrina posing in sensual lingerie and captioned it:
"DAMN You BAAM!! (expletive). Some got no luck and some got all the luck in the world. I definitely got lucky with you that for sure! ❤️❤️❤️❤️"

Fans have come out with acerbic comments targetting Ayesha, accusing her of being an attention junkie, and trying to get the spotlight off Sabrina and onto her as the most popular basketball wife.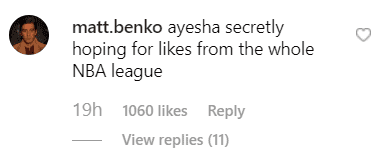 Curiously enough, the negative comments seem to have inspired Ayesha's admirers, and Stephen Curry's post garnered 1,4 million likes in 24 hours, while LeBron's got 950,000.
THE LOVING COUPLE IS HIGHLY ADMIRED
Stephen and Ayesha, who met as teenagers at a church youth group in Charlotte, North Carolina, began dating years later in L.A.
The devoted couple are the parents to three lovely children: Riley, Ryan, and Canon.
The Currys are admired for their loving bond and their down to earth approach to life, despite their celebrity status.
INTERNET TROLLS TARGET AYESHA CURRY
This is not the first time Ayesha Curry fell afoul of Internet trolls. After her recent her inauguration of her newest restaurant, the celebrity chef was reviled by social media users for doing the Milly Rock as a victory dance.
But she didn't stand alone, many fans, including her Steph Curry, came to her defense and lashed back at the trolls.
Ayesha and Stephen have unfortunately had to deal with all kinds of aggression from trolls over the years, but they've always handled it with commendable cool.
And that is why we love them.