Duggar Family from Tlc's 'Counting on' Blasted after Pic Showed Daughters Hiking in Skirts, Dresses
The Duggar family of "Counting On" faced criticism after their daughters were spotted wearing uncomfortable dresses during a family hiking.
The official Instagram of the Duggar family shared a snapshot that sees Jim Duggar taking a selfie with his children in the background. 
In the photo, all of his daughters are seen wearing long skirts and dresses, which has raised concern among some of his followers.
FANS VOICE THEIR DISAPPROVAL
Many of the fans and followers of the Duggar family immediately took to the comment section to voice their disappointment.
One Instagram user wrote: "The girls need [to be] wearing pants and shorts [for] hiking not dresses and skirts."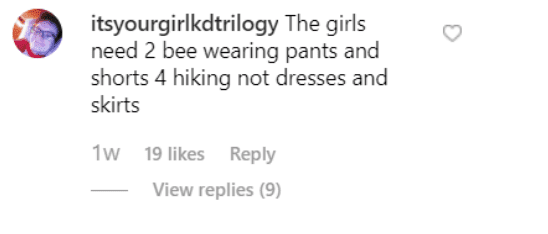 Another fan pointed out that wearing dresses or skirts exposes one's legs to different kinds of risks, including ticks and jagger.
Instagram user 'pink_lasagna_diamond' wrote:
Similarly, another Instagram user suggested that there was "nothing evil" about wearing pants, which is simply more convenient for hiking.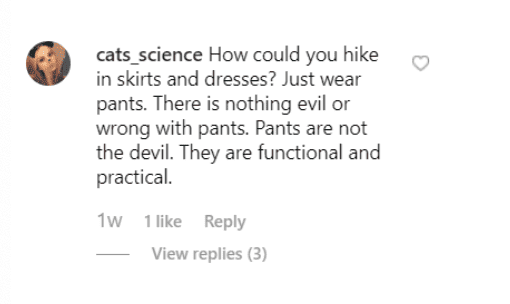 The fans stressed more on the fact that wearing dresses that exposed the legs could invite dangerous diseases. They also suggested that girls should be wearing sneakers rather than sandals.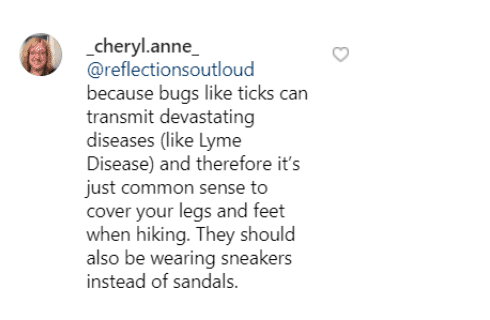 WHY DUGGAR GIRLS ONLY WEAR LONG SKIRTS?
As fans of the Duggars know, Jim and Michelle Duggar are strict about religious rules and codes of conduct, and they want their children to abide by them.
One of such rules prohibits the Duggar girls from wearing pants and short dresses.
Previously, Michelle and Jim revealed that jeans are prohibited because they highlight the curves of the body and draw men's attention.
THE RULES ARE STRICT BUT NOT UNBREAKABLE
Although some of the Duggar children have grown older and have been found breaking some of their parents' rules now and then, others still have to follow them strictly.
Meanwhile, on another occasion, Michelle, the Duggar family matriarch, was also spotted breaking her own rigid rule.