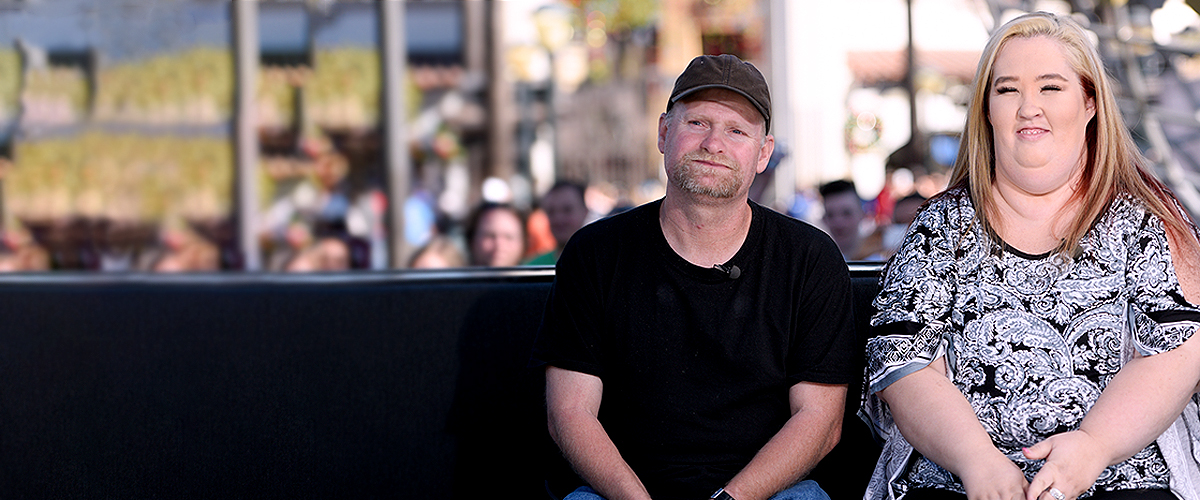 GettyImages
Meet Honey Boo Boo's Biological Father Mike 'Sugar Bear' Thompson and His Wife Jennifer
Honey Boo Boo's father, Mike Thompson, had a tumultuous relationship with her mom June Shannon for years. Now, he has moved on with his new wife, and they're planning on getting married…again.
Mike "Sugar Bear" Thompson first came into the spotlight as part of TLC's reality show "Here Comes Honey Boo Boo" in 2012.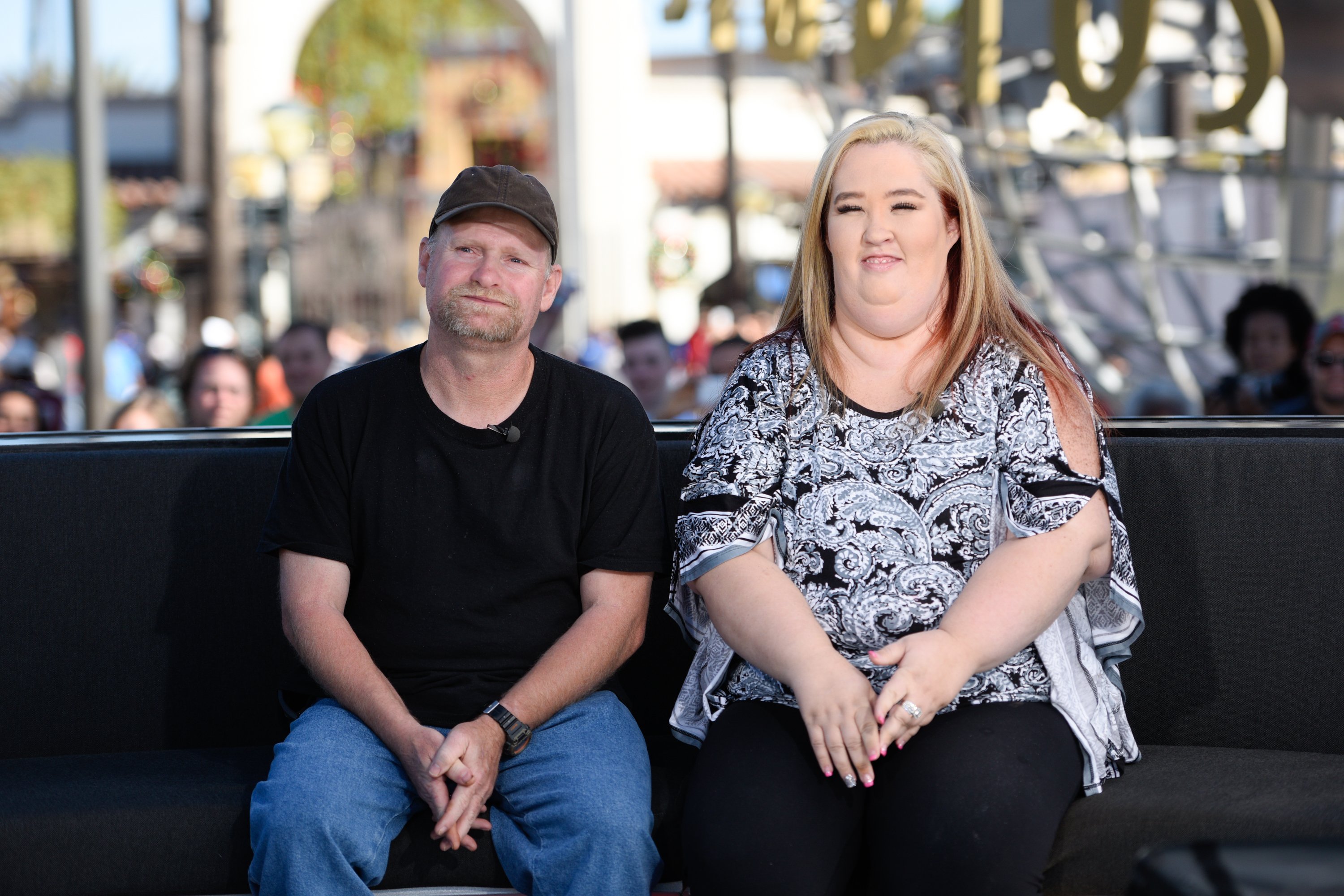 Sugar Bear and Mama June visit "Extra" at Universal Studios Hollywood on November 19, 2015. | Photo: GettyImages
The show followed the adventures of the Shannon family, including Alana "Honey Boo Boo" Thompson, her mother June Shannon, Sugar Bear, and three of June's daughters from previous relationships.
Although the show was canceled in 2014 following Mama June's alleged involvement with her ex-boyfriend and sex offender Mark McDaniel, WeTV came forward and offered a new deal to the family on "Mama June: From Not to Hot," in which fans got to meet Sugar Bear new wife, Jennifer Lamb.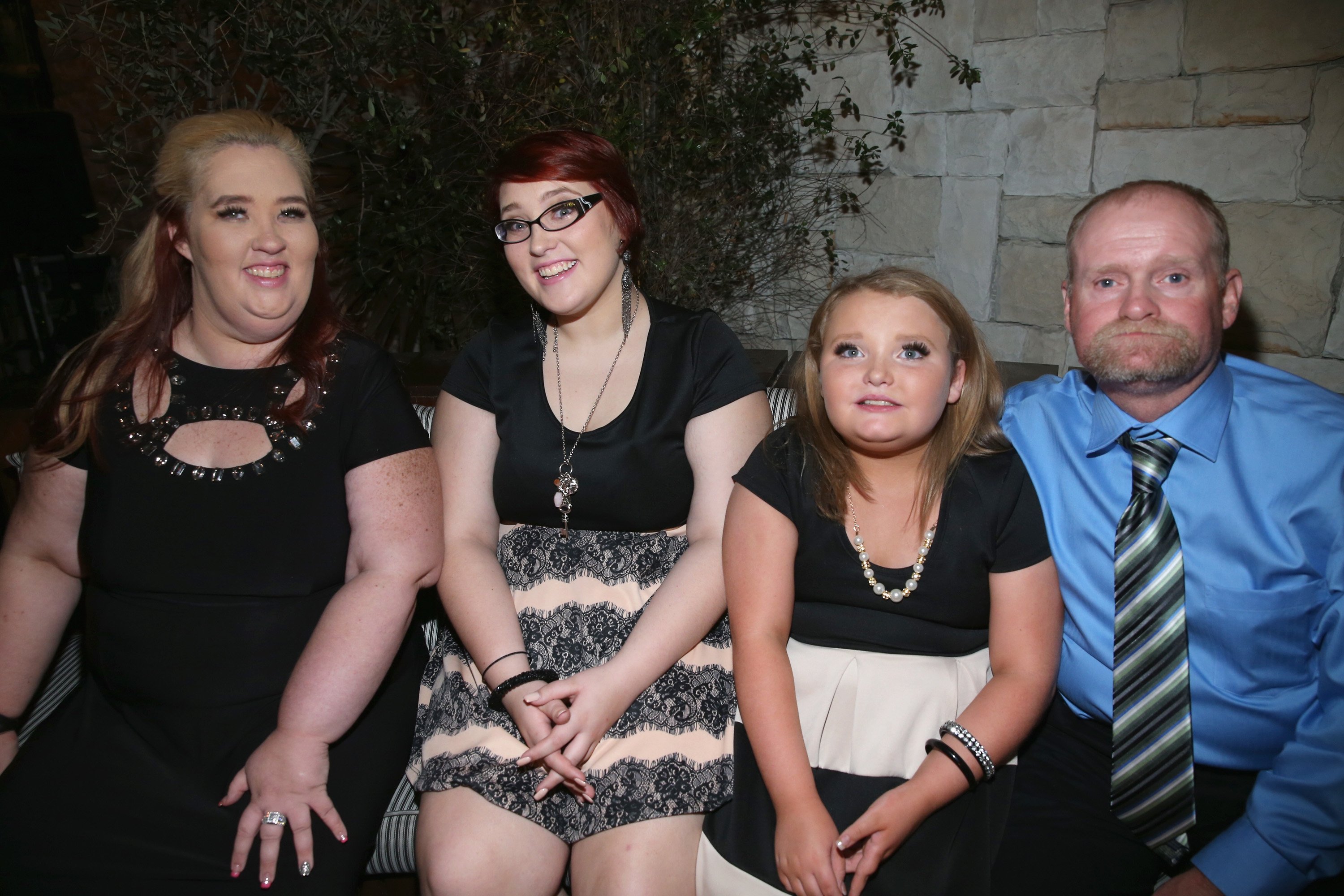 Mama June, Pumpkin, Honey Boo Boo and Sugar Bear at the premiere of "Marriage Boot Camp" Reality Stars on November 19, 2015 | Photo: GettyImages
Here's everything we know about Sugar Bear's relationship with both Mama June and Jennifer Lamb.
A TUMULTUOUS RELATIONSHIP
Mama June and Sugar Bear met in 2004 in an online chatroom and started dating right away.
A year later, they welcomed their first and only child, Alana Thompson. However, Thompson always said he considered the rest of June's daughters as his kids too.
He proposed to Mama June in 2012, and the pair staged a wedding ceremony—which was more of a commitment ceremony—in 2013. They never made their wedding official at a courthouse.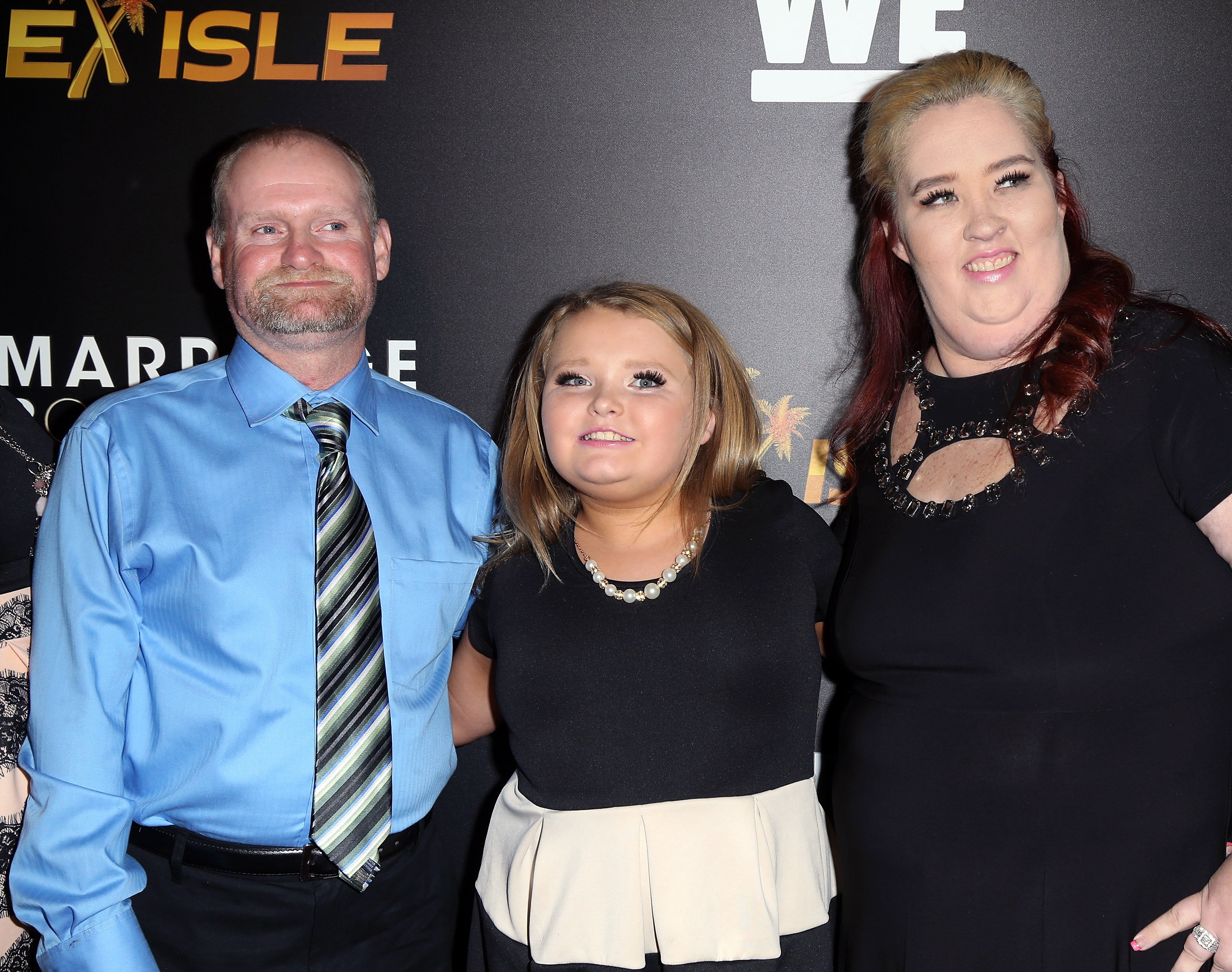 Mama June, Honey Boo Boo and Sugar Bear at the premiere of "Marriage Boot Camp" Reality Stars on November 19, 2015 | Photo: GettyImages
After that, problems started to arise in the family when Mama June revealed that Sugar Bear had cheated on her.
They eventually separated 16 months after their ceremony, and June said at the time that they were taking "some time apart to figure out some things in our relationship."
In 2015, the estranged couple joined the cast of "Marriage Boot Camp: Reality Stars," where Thompson admitted he had cheated on June with both women and men.
"It was our last resort," Shannon told People of joining the show. "I feel like he had cheated for quite some time, and I needed some answers. It was either you go here, or we end our 11 years."
Despite their efforts to fix the relationship, Mama June and Thompson split for good soon after the show.
FINDING LOVE AGAIN
Mike Thompson met Jennifer Lamb at a Walmart while he was still "married" to Mama June.
However, Lamb says they had a friendly relationship at first. "It started as like a Walmart, 'Hey, how are you?' in line," Lamb recalled. "It went from there to exchanging numbers and talking."
And continued:
"It was nothing more than, 'Hey, how are you?' Actually, it was even 'How are you and June doing?' It was nothing that was 'Hey, come spend the night at my house.' So there was no cheating.'"
Lamb also revealed she had no idea Thompson was a reality star until her daughter pointed it out.
"I didn't know. I knew Mike as Mike Thompson," Jennifer said. "I knew nothing about a Sugar Bear."
"I was showing my daughter a picture of Mike, and she says, 'Mama, I know him.' … My daughter got on Facebook, she typed in 'Honey Boo Boo's dad,'" and that's how she found out.
The pair started dating sometime in 2015 and got engaged in October 2016.
A SECOND WEDDING AND FIRST MARRIAGE
The first season of "Mama June: From Not to Hot" followed June Shannon's weight loss journey after she found out her ex would be marrying another woman.
Fans got to witness the rivalry between Mama June and Jennifer ahead of the ceremony, and how Jennifer banned June from attending.
However, after a last-minute phone call with Thompson, June got herself an invitation to the ceremony with the excuse of supporting her daughter Alana as she walked her father down the aisle.
Still, the wedding didn't go down without drama.
Once Mama June showed up at Thompson and Lamb's home showing off her newly acquired slim figure, Jennifer went off on her, asking her to leave the house and calling her names.
June didn't fight back and played nice, wishing the couple the best and quietly joining the rest of the guests at a makeshift tent that was placed in the couple's garden.
Thompson and Lamb exchanged wedding vows on February 2017 in front of some family and friends, and Alana got to be part of the happy union.
Although this was Thompson's second wedding, it was his first legal marriage.
MORE DRAMA AND DOMESTIC VIOLENCE ACCUSATIONS
In April 2017, Mama June came forward to accuse her ex of domestic violence against her and her children, claiming that he had anger issues and that he left "many emotional and physical scars with the kids."
Although Sugar Bear initially denied June's claims, fans got to witness one of his angry outburst when the family got together to film "Mama June: The Confrontation," a special reunion after the season finale of the show.
In the reunion, Sugar Bear got mad after discussing visitation rights with June and stormed off. He punched a wall and then got into a screaming match with his stepdaughter Lauryn "Pumpkin" Shannon.
ALANA CLAIMS ABOUT HER FATHER
Although Sugar Bear has continuously claimed that he wants to be part of his daughter's life, but Mama June is not allowing it, Honey Boo Boo herself has called him out on his lies.
"He puts on this face for TV, to make it seem like he's the perfect guy but when he's off-camera and stuff he's really not. He found Jennifer, and he didn't come and see me anymore," Alana said in the reunion.
The 14-year-old also told Entertainment Tonight that her father calls her once a month, and when he does, he makes her feel bad about her appearance.
She said:
"The other day we were on the phone and we were talking about something, and he was like, 'I need to cut my grass,' so I was like, 'Yeah, I'll come do it. I'm [going to] need a riding mower,' and he said, 'You're gonna need a push mower, 'cause it wouldn't hurt.'"
Earlier this year, Alana said she was tired of trying to build a relationship with her dad because she feels he doesn't care about her.
She went as far as claiming Thompson would be interested if she was a boy, and said he pays more attention to his wife's Jennifer son.
A SECOND PROPOSAL AND WEDDING
Last June, Jennifer Lamb took to Instagram to share a photo of a beautiful diamond ring with stones on the top and bottom lines.
In the caption, she revealed the ring was a gift from her husband, who asked her for marriage once again.
"Well @realsugarbear asked me to marry him again," she wrote in the caption, "this time with friends and family."
After Jennifer' announcement, fans started to question if their first TV wedding was only for the show, but Jennifer hasn't addressed the comments.
On the other hand, now that Mama June was arrested alongside her boyfriend Geno Doak for possession of drugs, Sugar Bear is said to be gearing up to fight for Alana's legal custody.
Meanwhile, the teenager pageant queen is under the guardianship of her sister Pumpkin.
Please fill in your e-mail so we can share with you our top stories!