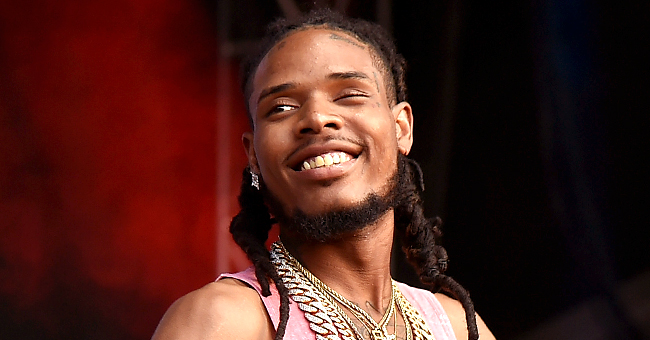 GettyImages
Rapper Fetty Wap Allegedly Marries Instagram Model, Surprises Her with 300 Red Roses on Birthday

Fetty Wap is allegedly married, but not to one of his six baby-mamas.
Rapper Fetty Wap got married, at least according to postings and comments on Instagram from his new wife who is said to be a Canadian Instagram celebrity but is as yet unnamed.
The alleged bride, who goes by the name "Rosedealer" has been posting about their newlywed happiness, and Fetty is not denying it.
AN INTIMATE WEDDING IN TORONTO
According to the bride, the two were married in Toronto on August 3, 2019, with only one person present to witness the nuptials.
"Rosedealer" reveals that she and Fetty are very happy together, and asks only for privacy, and denies insinuations that he only married her so she could claim American citizenship.
"We been married even before this tour started. Please just let it go and just be happy for us," she said.
Fetty is the father of 7 children with 6 different women
FETTY WAP SHOWERS HIS BRIDE WITH ROSES
"Rosedealer" revealed that her romantic new husband sent her 300 long-stemmed red roses for her birthday, even though he couldn't be with her.
"Out for a late birthday dinner with my girls. Even tho he all the way in Germany , my husband managed to send me 300 Roses. I (expletive) loveeeee you @fettywap1738," she wrote.
FANS' COMMENTS ON FETTY WAP'S MARRIAGE
When "The Shade Room" published the news of Fetty's unexpected marriage, the post was flooded with comments from astonished fans.
"There's gonna be some salty biscuits out there..."
"The one without the baby got the ring. Ladies take notes ???"
"No way am I marrying a man With 5/6 kids With 4/5 baby mothers ? No disrespect to her But I don't have that kind of energy Or patience For all of that!"
"When a man wants to be with you & commit...he will. Babies don't do it."
WHO IS THE MISTERY BRIDE?
Right now, what everyone is asking is, who's the beautiful mysterious "Rosedealer" and how did she land the slippery Fetty?
We can imagine that the six women by whom Fetty has 7 children will be far from thrilled to hear that they've all been pipped at the post by "Rosedealer."
Will Fetty and "Rosedealer" be starting their own family soon? As yet the couple is keeping their love story under wraps, but we can't wait to hear it!
FETTY WAP'S BABY-MAMAS
For those of you who are confused by the number of children and baby-mamas rapper Fetty Wap seems to have accumulated, don't worry.
Talk show host Wendy Williams has created a chart. Fetty is the father of 7 children with 6 different women, and according to Wendy, three of the women were pregnant at the same time.
Fetty's children are Aydin Zoovier, 7, with childhood girlfriend Ariel Reese; Zy, 1, and Eliza "ZaZa" Zaviera, 4, with Lehzae Zeona; Amani, 2, with Elaynna Parker; Khari, 2, with Masika Kalysha; Lauren, 2, with exotic dancer Turquoise Miami; and Alaiya, 1, with ex-girlfriend Alexis Skyy.
Sorry, Wendy, we are still confused...We can't imagine how Fetty keeps up.
Please fill in your e-mail so we can share with you our top stories!