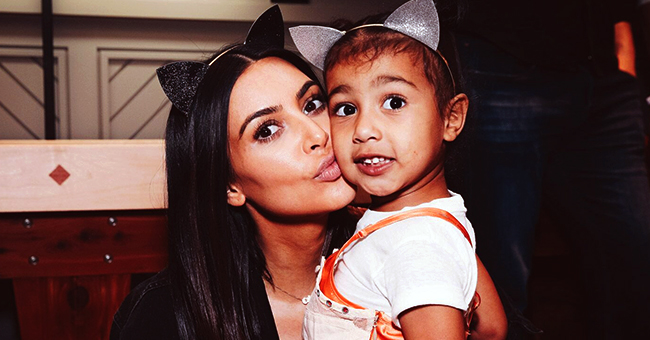 GettyImages
KUWTK Star Kim Kardashian Reveals 6-Year-Old Daughter North 'Tried to Bite' and 'Fire' Her Nanny
Kim Kardashian opened up North's violent behavior towards her nanny as her sister, Kourtney Kardashian revealed what her daughter, Penelope did to her own nanny to make her quit.
How to keep up with an out of control child was the topic of discussion over dinner in the Kardashian fold.
During the recent episode of the family's reality show, Kim and Kourtney Kardashian discussed their daughters' tempers. Kourtney revealed her seven-year-old Penelope scratched their nanny who ended up quitting. Meanwhile, Kim shared that North, 6, tried to bite hers and even fire her.
KOURTNEY REVEALS DAUGHTER CAN GET "OUT OF CONTROL"
The subject was brought up over dinner with Kris Jenner, her boyfriend, Corey Gamble and Kourtney's ex-husband, Scott Disick.
It began when Kourtney revealed she didn't have a nanny anymore because of Penelope's actions towards the hired help.
"She [the nanny] said P was really upset. She was putting her in the car, and she scratched her in the face," recounted the 40-year-old mom-of-three. "But P can be out of control. I think she almost, like, blacks out and does these wild things."
KIM OPENS UP ABOUT NORTH'S TEMPER
Kim advised Kourtney to apologize to the nanny, having been in the same situation herself. She shared that North too wasn't kind to her nanny at one point.
"North tried to bite my nanny and said, 'I don't want a nanny anymore. You can go home,' and I said, 'You can't fire our nanny.'"
KRIS DEALS WITH HER DAUGHTERS' ISSUES
Listening to her daughters' stories, Kris stressed how serious the matter was.
"I have six kids. Not once in my entire life did anyone ever have a complaint like this. We need to take care of this before it gets too far out of control," she advised.
But Kourtney corrected her and told her that when she was young she would slap her nannies across the face too. She added that it was more difficult to deal with Penelope's temper saying, "There's nothing I can take away from [Penelope] physically that she will care about it."
With Mason, her son, she said it was easier to punish him because he cared when she took away something of his.
SCOTT FLARES UP ON COREY
Things got heated when Corey asked if it was ok to "pop the kid" if she scratched you. Kourtney said "no" and suggested to say something to the child in the moment.
But Corey wouldn't let it go. He said that if Penelope scratched him "for no reason" he would be "whipping her [expletive].
When Scott heard this, he fired back at Corey and yelled,
"What the [expletive] are you talking about? Stop it!' Get the [expletive] outta here!
Check out how the whole thing actually went down in the clip below.
COURTNEY AND SCOTT ARE FRIENDLY CO-PARENTS
Scott and Kourtney share three children together. Aside from Penelope and Mason who's nine, they also have another daughter, Reign, who's four.
They amicably co-parent their kids even after they've moved on with much younger partners. 36-year-old Scott is currently dating 21-year-old Sophia Richie while Kourtney seemed to have reunited with 26-year-old Algerian model, Younes Benjima who she previously dated.
KIM SPEAKS OF HER FOUR CHILDREN
Meanwhile, Kim has four kids with Kanye West. Two of them, daughter Chicago, 19 months and son Psalm, 3 months were born via surrogate. Her eldest son, Saint is 3.
Kim opened up about her kids' varied traits in Vogue's September issue where she's interviewed by her husband. She described North as Kanye's twin because of her creativity and expressiveness, and likened Saint's personality to hers.
Because it's too early to tell, she didn't have much to say about Chicago and Psalm though she revealed that her youngest daughter had a temper but with periods of calmness that remind her so much of her and Kanye.
Please fill in your e-mail so we can share with you our top stories!