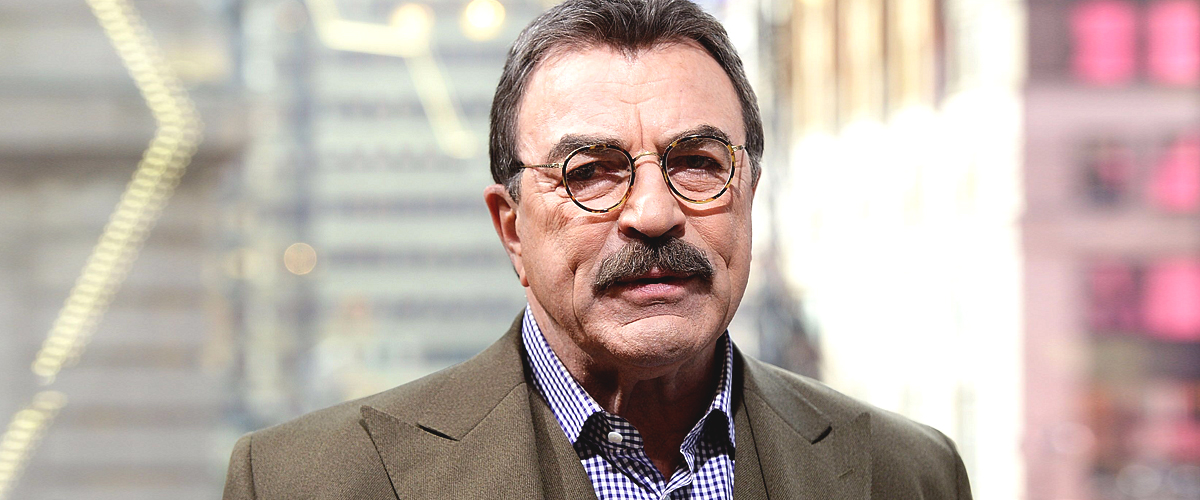 GettyImages
'Blue Bloods' Family Dinners: Facts about the Reagan Family Tradition
Some of the most memorable moments in CBS's "Blue Bloods" often take place around the dinner table of the Reagan family. And although fans of the show love those scenes, the cast has revealed how hard it is to film them.
"Blue Bloods" is currently on its season 10, and one scene that fans always look forward on the series is the one at the dinner table when the Reagans sit together to discuss personal and professional issues.
And although sometimes the opinionated family can get too tense, there's always someone who breaks the ice with a joke or a straightforward call out.
For the cast, the dinner scenes are always fun to shoot because they get to see fellow co-stars that, otherwise, they wouldn't have scenes with.
However, Tom Selleck, who gives life to the patriarch of the family Frank Reagan, says sometimes filming can be miserable. And here's why.
Shooting takes a long time
According to Selleck, although it's nice to have chats with his fellow co-stars in between scenes, sometimes eating or pretending to eat the food at the table for more than eight hours can be a tedious task for the actors.
"It's nice to spend time with the entire cast once an episode, but filming an eating scene is miserable. Well, the eating part is," he said. Explaining that "you have to eat the same foods over and over again to get all the shots. We'll probably spend eight hours shooting this scene."
Will Estes, who gives life to Jamie Reagan, agreed with Tom. "You gotta' pace yourself," he told CBS 58.
In 2013 Donnie Walhberg, who interprets Detective Danny Fitzgerald Reagan, recalled in an interview with People that the first dining scene of season 6 was shot right after he got off a plane from tour with New Kids on the Block.
"That scene took over five hours. Between every camera take, I took a nap on the couch," he revealed. And continued:
"They would literally wake me up a second before the camera started rolling, and I would run and take a seat at the table. I was just delirious. I don't know how I remembered one line."
The food is real…at least some of it
One question fans of the show always ask is if the delicious-looking food at the table is real.
The answer is yes.
The food is authentic, at least most of it, and it's often catered by The BeeHive Oven Biscuit Cafe in Brooklyn, New York.
"Sometimes the director can't get our attention between takes because we're screwing around. We can get pretty silly by the end." Tom Selleck
However, the actors don't get a say in what the food at the table is; that's a decision from the writers and the series' props master, Jim Lillis.
According to Lillis, the menu often includes "pot roast, meatloaf, roast chicken with some version of potatoes. Green vegetables. And always dinner rolls."
As for the wine, Wahlberg says it is just grape juice, and the scotch is usually iced tea.
They all pretend to eat, except for one star
As for the eating part, Lillis told The Virginian-Pilot that "some [actors] are good at faking it. They are very good at making it look like they're really enjoying a hearty dinner."
However, Donnie Wahlberg is known as the "eating champion" and is often taking bites of the food, even when the cameras are not rolling.
"I'm the only one who really eats," he told People.
And added:
"I try to only stick to vegetables, which leads to other problems. Fortunately, we wrapped a little early today, so the problems will be personal, and won't be affecting everyone else at the table."
Each actor has a signature fake-eating move
According to Sami Gayle—Nicole "Nicky" Reagan-Boyle— there's an unspoken rule around the table for the actors: each one has their go-to move while pretending to eat, and the rest can't copy it.
She says Selleck always butters his bread, and Bridget Moynahan cuts her food a lot. Gayle also uses the cutting food technique plus drinking a lot of water.
Amy Carlson, who plays the role of Linda Reagan, agreed:
"I have my own tricks: Cut food and drink something. Once it becomes someone's signature move, you can't use it, and you have to come with your own. Unless you're Donnie, and then you just eat what's put in front of you."
They're all family at the end of the day
Despite the long hours and cold food, the cast makes the best of their scenes together and often use the time to catch up with each other.
"Sometimes the director can't get our attention between takes because we're screwing around. We can get pretty silly by the end," Selleck told TV Insider.
The cast is also aware of how much these scenes resonate with the audience, and for Len Cariou, who plays Frank's dad and retired NYPD commissioner Henry, it's all about "relatability."
He says Sunday dinners are something most people had in their lives or wished they had, adding that:
"It's not just the family getting together; it's the conversation. I've been told by many people, including lawyers and police, how much they enjoy how sensitive and important issues like race are discussed in ways that are not left or right, but in a smart way by characters who come at the subjects from different points of view."
"Blue Bloods" season 10 airs o CBS Friday nights.
Please fill in your e-mail so we can share with you our top stories!