Gabrielle Union's Husband Dwyane Wade Posts Selfies with Daughter Kaavia James and They Look Alike
Dwayne Wade is melting hearts all over social media with a series of new selfies he shared alongside 1-year-old daughter Kaavia, also known as the "shady baby." 
Time is flying by, and Gabrielle Union and Dwyane Wade's baby girl is growing up way too fast. Still, she hasn't left behind her "shady baby" expressions, always giving her best judging look to whoever is in the same room.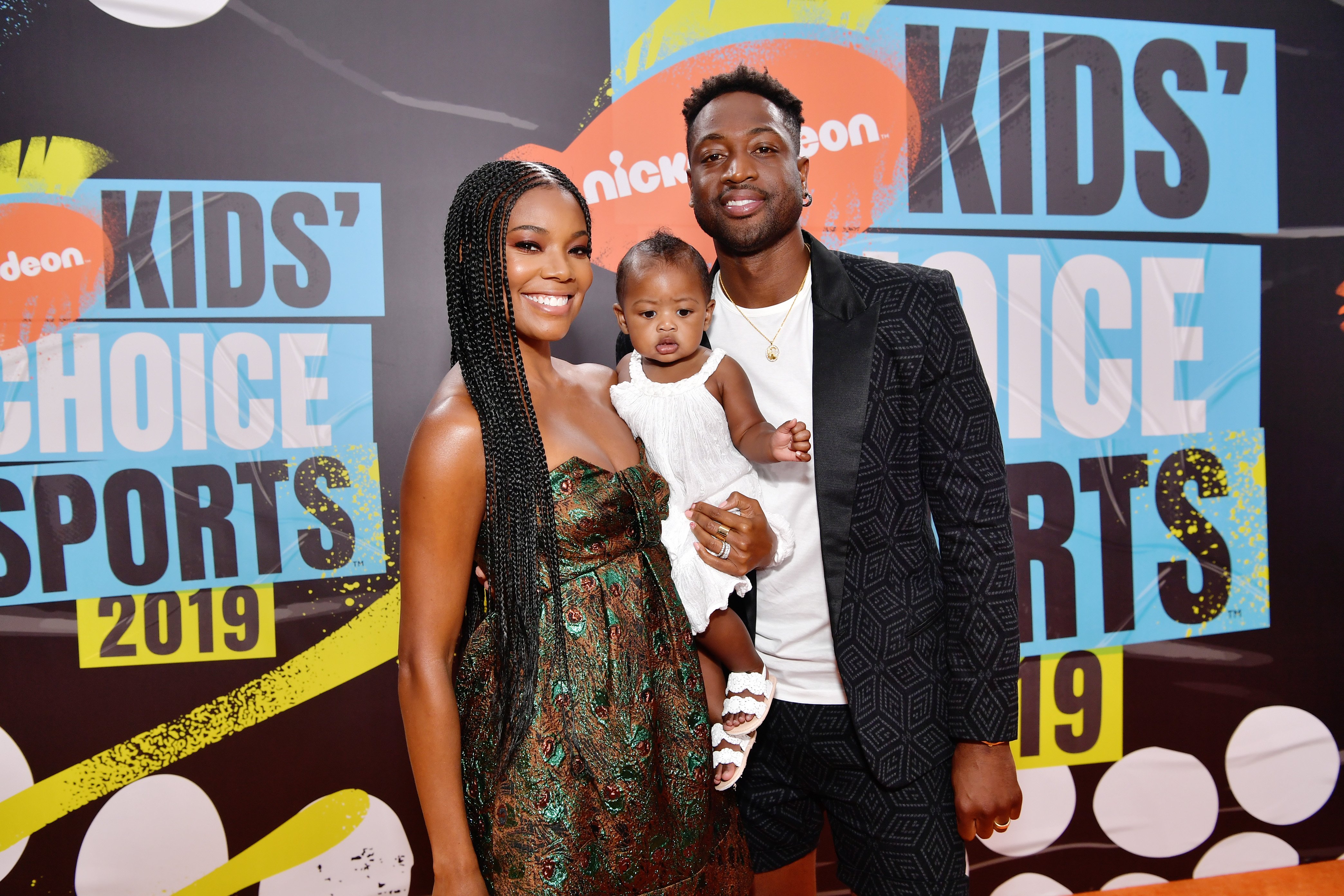 Although she's usually pretty serious whenever someone puts a camera or cellphone on her face, it seems like Kaavia can't resist grinning and giggling when the person in question is her father.
TWINNING IN SELFIES
In new pics shared to his Instagram, the former NBA star showed off some of his daddy-daughter bond time with Kaavia with a series of adorable selfies.
Wade was wearing a white hoodie and black cap, while Kaavia rocked a blue t-shirt under a gray hoodie in the shots.
The photos start with Wade and Kaavia giving the camera their biggest smile as she puts her adorable teeth on display, and end with the former Miami Heat star planting a sweet kiss on Kaavia's head.
"There is this girl who stole my heart, and she calls me daaDa @kaaviajames," Wade captioned the sweet post.
FANS CAN'T DEAL WITH THE CUTENESS
Fans of the Wade family were quick to fill his comment section, gushing about Kaavia's cuteness as most agreed she is Dwyane's twin. 
"Omg, she melts my heart every day!! You are definitely twins, and You were definitely made for this dada thing," wrote one user.
While another added,
"I loveeeee this BABY she truly brightens up my days Thank you and Gabby for sharing her with us!"
And a third one said, 
"No side-eye from baby girl today! She has to be the cutest little girl ever and she literally looks just like you!"
KAAVIA'S FIRST BIRTHDAY
Gabrielle and Dwyane had been trying to conceive a child for the past years of their marriage. However, they faced many fertility struggles and, in the end, decided to use a surrogate that would carry their baby for Union.
And so Kaavia James came to the world on November 7, 2018, and since then, she has taken center and front in the lives of her loving and supporting parents.
The "shady baby" recently celebrated her first birthday, and her 'parents went all out both with their public and private celebrations. 
Wade captioned his birthday post for Kaavia:
"Many nights, I dreamed of what it would feel like to have a daughter—and this reality is wayyyy better. Thank you for bringing a different kind of joy to our lives."
He added that he would guide her, support all of her dreams, and love her unconditionally. 
Union, on the other hand, shared an adorable video that recounted Kaavia's life from the time of her birth to this day, and that left many people drying their tears.
THE YOUNGEST INFLUENCER
However, fans of the family only have to head up to Kaavia's Instagram if they want a good laugh. 
Kaavia's hilarious facial expressions, mixed with the witty captions on her pics, have made her one of the most followed celebrity babies on Instagram.
Talking to People magazine last month, Wade revealed that his wife is the brain behind Kaavia's Instagram personality and says he's not allowed to play around with the account too.
"I did one caption, and my wife was like, 'Never again. Don't ever touch it again,'" he joked. "She'll send me some of [the captions] before she puts them on, and I'll be dying laughing because it's so on point, you know? So it's cool."
Wade says Kaavia has Gabby's personality and his facial expressions, and he couldn't be more in love with his baby girl.