Courteney Cox of 'Friends' Fame Reacts to Fans Who Mistook Her for Caitlyn Jenner
Courteney Cox made light of her resemblance to Caitlyn Jenner after several fans mistook her for the reality star. She even posted a side by side photo of the two. 
Last Thursday, actor David Spade shared a selfie photo of himself with "The Bachelor's" Nick Viall and Courteney Cox. He was promoting his new late-night show, "Lights Out." 
Underneath the post, however, fans were more focused on the fact that "Friends" alum Cox bared a striking resemblance to Caitlyn Jenner in the photo. The post is found below. 

Courteney determines if fans are right
"Totally thought Courteney was Caitlyn Jenner," one person said. Several others wrote comments along similar lines. In response, Cox took to Instagram on Sunday.
First, she reposted the original photo of her and her fellow actors. In the next shot, she shared screenshots of some of the comments comparing her to Jenner. 
The deciding photo
The third photo was a side by side of Cox and Jenner's faces taken from a similar angle. "Alright... I can see it," Cox wrote over the pictures. In her caption she added:
"@davidspade posted this pic, now I really didn't think I looked like myself but this was surprising...."
Jennifer Aniston responds
Fellow "Friends" alum Jennifer Aniston responded to her former co-star in the comment section — three times. It seems she double posted some laughing emojis. 
The former cast of "Friends" are reportedly in talks about rebooting the show, but they haven't yet decided what would work best for everyone's schedule.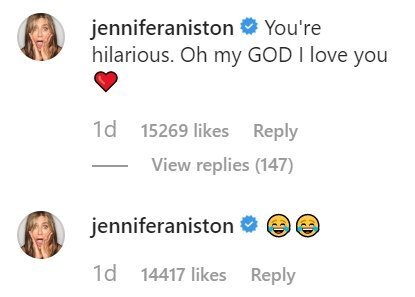 "Friends" reunion in the works
According to a source through ET, it would be easy to get the cast reunited because they've all remained friends since the show went off the air. However, they also want to do it in a way fans will appreciate. 
Thankfully, Cox shared a mini-reunion on Instagram back in October. The shot included Aniston and Matt LeBlanc, who is not often seen with his old co-stars. 
Rightfully, Cox called the photo op a rare one and said she loves it. Typically, Cox hangs with Aniston and Lisa Kudrow, so it was a treat for fans to see LeBlanc this time. 
The trio of ladies often appears on Cox's Instagram page, but we can't wait to see if they'll hit the screen together soon. As for Jenner, she hasn't yet addressed the comparison, but it's certainly a good one.