Amy Schumer Reveals She Opted to Have Baby Gene Through Cesarean Section as She Shares Photo of Hospital Paperwork
Amy Schumer owned her choice to undergo a cesarean section by sharing a hospital document that showed that no underlying factor made her undergo the surgical procedure.
In a world where women who go through cesarean section get viewed as weak, comedian, and actress, Amy Schumer owns her choice. She revealed in an Instagram story post why she chose it.
Although the surgical procedure gets done when a complication arises during pregnancy, it was not the case for Schumer. The post, which contained a hospital document, showed that it was her decision.
YES TO C-SECTION
The document showed that first-time mom, Amy, preferred the knife to vaginal birth. When asked her reason, she responded,
"It's my choice."
As also revealed in the document, Schumer had a problematic pregnancy. She suffered from a severe form of hyperemesis for most of her term and wanted the end to go easier.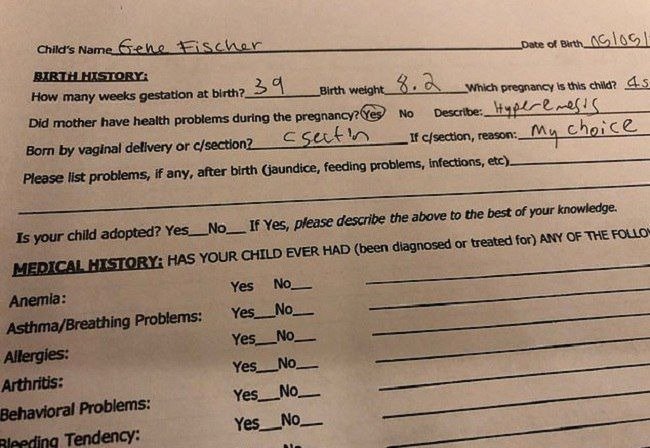 OPEN AND PROUD
The C-section was for the birth of the "I Feel Pretty" star's son, Gene Fisher. She shares him with her husband, Chris Fisher, whom she married in February 2018.
Being a mom is the most empowering feeling in the world, but it is also a hard job
The comedian has never hidden her C-section and wears her scars proudly. She has also worked hard to get her body back, and in an Instagram post, gave credit to her trainer, AJ Fisher.
CEASE AND DESIST
In that same post, the New York resident shared a joke-document, which she used in asking her trainer to cease from her rigorous training. It stated that if AJ didn't, Schumer would,
"Seek legal remedies to protect her rights to the full extent of the law." 
The comedian acknowledged that while the document is a waste of money, it brought her joy. Another thing that makes the "Trainwreck" star happy is being a mom to Gene.
EMPOWERING BUT HARD
In October, Schumer told People that being a mom is the most empowering feeling in the world, but it is also a hard job. In a separate interview, she revealed that it made her sweeter to her mom.
The actress/comedian added that she never thought she could love someone as much as she loves Gene. But now, she knows that that kind of love is possible, and is enjoying every moment of it.
Schumer returned to work that same month after completing her maternity leave. In an Instagram post, she wrote that leaving her son was hard, and she cried a few times.
The comedian knows that she has things more comfortable than most moms, and she is grateful for it. She wants to share her journey with other women, and hopefully empower them along the way.