Amy Roloff from LPBW Enjoys Quality Time with Ember and Newborn Grandson Bode in Photos
Amy Roloff can't seem to get over her new grandbaby, and in the new photos she shared on her Instagram page, the wide smile on her face says it all.
Grandma Amy Roloff looked radiant in new photos as she soaked up lovely grandmama moments with Ember and baby Bode.
In the photos which numbered up to four, it was definitely fun time as the trio basked in one another's company.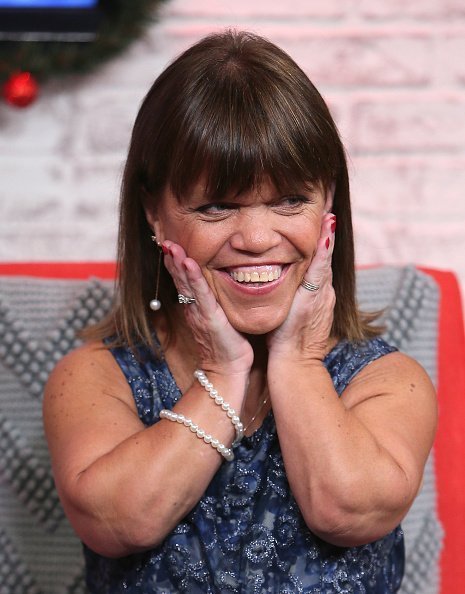 The first snap showed the doting grandma sharing a smile with Ember while the others featured Ember enjoying painting time and little Bode taking a nap.
Her joy could be deduced in her caption as she informed fans of stealing some beautiful moments with the new baby before his visit to the doctor. She wrote,
"What a fun time the other day seeing my grandson, Bode bf his doctor appt and then a little fun time w/ my grand-daughter Ember. I love these special grandma moments. I definitely cherish them."
AMY ROLOFF'S GRANDBABIES
A few months before Bode was born, Amy's first son, Zach Roloff, welcomed a baby girl, Lilah, with his wife, Tori Roloff.
A few days ago, Tori also took to Instagram to show off her toddler daughter. In the snapshot, little Lilah looked enchanting in the flowery dress she was dressed in while her mom beautifully wrote:
"It's crazy that this sweet bean is almost 2 MONTHS OLD?! It all goes by so quickly, and I'm just sitting over here watching and soaking it all in."
In the comment section, fans fawned over the adorable photo while they lavished lovely words on the little girl. Family members were not left out as Matt Roloff's girlfriend Caryn Chandler, and Audrey Roloff also showed their love.
TORI'S POSTPARTUM STRUGGLES 
With all the pumps and happiness surrounding her status as a mom, Tori didn't fail to keep it real as she once shared her journey with postpartum depression with fans.
The mom of two shared that she was trying to love her postpartum body while opening up on her self esteem issues. She wrote in a post:
"I know it's temporary. I know my body will heal, and I will be back where I want to be. It's just the waiting that's hard."
BABIES LILAH AND BODE ARE THE LATEST ADDITION TO LPBW
Baby Lilah is a few months older than Bode as she was born last year November. Lilah is a little sister to Jackson, and this makes her the third grandchild to LPBW stars, Matt Roloff and Amy Roloff.
Bode James Roloff is a few days old and is the son of Zach's twin brother, Jeremy Roloff and his wife, Audrey Roloff. Bode is also the second child of his parents, and he's little brother to Ember Roloff.