Tia Mowry of 'Sister, Sister' Fame and Her Adorable Kids Cree & Cairo Enjoy Ice-Cream in Recent Photo
Tia Mowry and her lovely kids, Cree and Cairo, looked adorable in recent pictures as they indulged in cups of Ice-cream.
"Sister Sister" alum, Tia Mowry shared some enchanting photos of her and the kids enjoying cups of ice-cream as they playfully posed for the camera.
The photo which was shared on Instagram had the mom of two enjoying a lovely time with her kids while they dug into their ice-cream treats.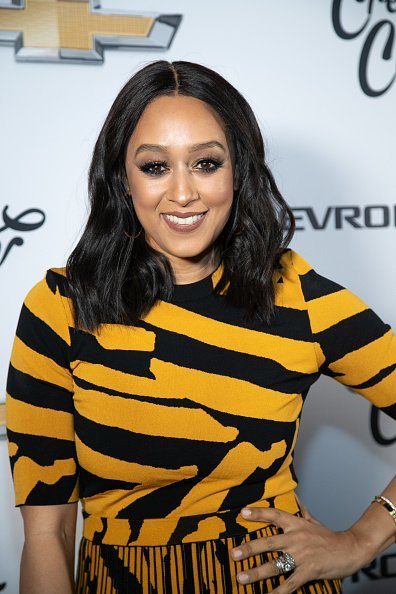 ICE-CREAM LOVERS 
In the photo shared, the celebrity looked quite in her mom-mode as she held little Cairo in one arm while she scoops her ice-cream with the other.
Tia looked gorgeous in an all-black outfit, which she pulled off with minimal accessories while her face was bare, of any makeup. She wrote heartily in her caption:
"I scream, you scream, we all scream for ice cream. Thank you so much, @jenibrittonbauer, for the special delivery of your new ice cream flavours!"
Mowry went on to write that she and the kids are a big fan of the ice cream brand, and this is evident in the big grins on Cree's and Cairo's faces.
MOWRY AND MOTHERHOOD
Tia Mowry is widely known for her recurring role alongside her twin sister, Tamera Mowry, in their acclaimed teenage show, "Sister Sister." But life is all about stages, and the time came for her to move on to motherhood.
From Mowry's Instagram page, it is evident that the gorgeous mom dotes on her bundles of joy.
After her wedding to Cory Hardrict in 2008, Tia became a first-time mom in 2011; she had a second child in 2018. Through her journey as a mom, the actress kept it real with fans whom she regularly shared her parenting style with despite a couple of criticisms. 
INTERESTING FACTS ABOUT TIA'S KIDS 
When Cree was born, he made his TV debut in his mom's defunct show "Tia and Tamera," and since then, fans have followed up with the young boy's growth.
Tia once shared that she co-slept with her son for four years to which some fans disapproved. When the doting mom had Cairo, she shared a revealing fact about the name.Tia said:
"My husband, he was in the air flying, and he always feels like he's closer to his mother when he's up in the air, and he said when he was flying, he had seen the letters A-I-R in the sky. He said he wanted the baby's name to have those letters."
TIA'S HAPPY PLACE 
From Mowry's Instagram page, it is evident that the gorgeous mom dotes on her bundles of joy. In one of her posts, Tia stated that being where her kids are was her "happy place." 
It is seen from the wide grin she flashed in the photo attached to the post. Sitting in what looked like the family's living room, Tia and her kids glowed for the camera.
Another heart-melting post came at the beginning of the year, when the Hollywood star penned an appreciation post concerning the new year.
In the post, the TV personality gushed over her children while mentioning that having a daughter made her a better woman while going on to lavish admiration on her son.