Cynthia Bailey Worries about Fiancé Mike Hill Being Faithful after Finding out about past Infidelities in RHOA Teaser
Popular American actress Cynthia Bailey worries out loud about the possibility of her fiance, Mike Hill, cheating on her.
Bailey and her 49-year-old Bronx born lover got engaged in July 2019, and the actress told E-News that she had no idea that Mike was going to propose.
Cynthia announced her proposal on Instagram. It featured Hill's daughters, Kyla and Ashlee, and Bailey's daughter, Noelle, and was done at the opening of her wine cellar in Atlanta.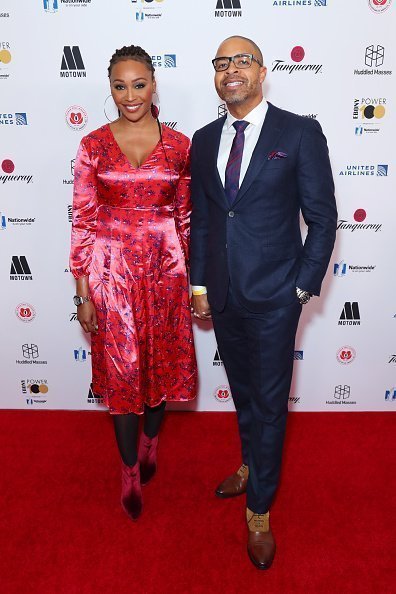 Bailey has a record of turning down proposals, but she gladly accepted Hill's. The actress turned down two proposals from Jayson Williams and Russell Simmons before she went on to have a relationship with actor Leon Robinson in 1998.
The duo had a daughter, Noelle, in November 1999. Since Leon in 1999, the actress did not get into any public romantic relationship until July 24, 2010, when she got married to Peter Thomas.
Her marriage with Thomas broke down in 2016, and the couple announced that they were separating. Thomas and Bailey finalized their divorce in 2017.
Following the divorce, the reality star swore saying, "I will never marry again." Despite the messy divorce, the pair has maintained a good relationship and have been actively involved in Noelle's parenting. 
The father of two said he wants to do things right this time and hopes that they would go on with their proposed marriage.
By 2019, the RHOA star's resolve not to marry again was broken when she got engaged to TV personality, Mike Hill.
Hill and Bailey seemed to be kicking it off until recently when Hill's behavior got worrisome, and the actress appears to be scared of going into the marriage she has been looking forward to.
Talking about it, the 52-year-old actress said on the set of the TV show she is most famous for, "The Real Housewives of Atlanta," that she is scared of going further in her relationship with Mike.
This development followed the statements made by Mike. The sportscaster admitted that he did not do right by his wives in the past and has apologized for his "transgressions" to them. 
The sportcaster's apology was accompanied by a statement that showed his change of character, but rather than assure Cynthia that her man has changed, the actress got antsy. 
Hill may have seen this reaction coming and might just have prepared the right response for this time when he was speaking about his relationship with Cynthia.
The sportscaster said, "We caught each other at the right time because if Bailey would've met me three years ago, it was a different life."
The father of two said he wants to do things right this time and hopes that they would go on with their proposed marriage and bring the daughters of both partners together as siblings in one happy family.