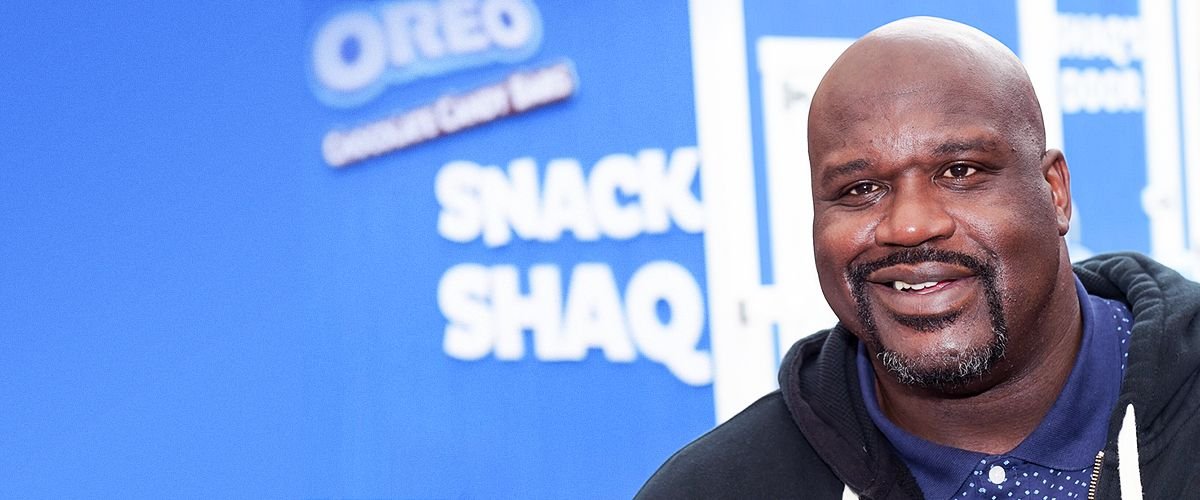 Getty images
Shaquille O'Neal Just Listed His 5-Bedroom Mansion for Sale at $2.5 Million

If you ever wanted to live like Shaquille O'Neal, now is your chance - if you can spare $2,5 Million.
Social media has changed modern life immeasurably. Shaquille O'Neal proved just how much by putting his Bell Canyon home up for sale - on Instagram.
The NBA icon is drumming up interest in the luxurious residence by spreading the word to his followers and hopefully finding one who will meet his price.
Shaq shared a video tour of the 5,217 square feet mansion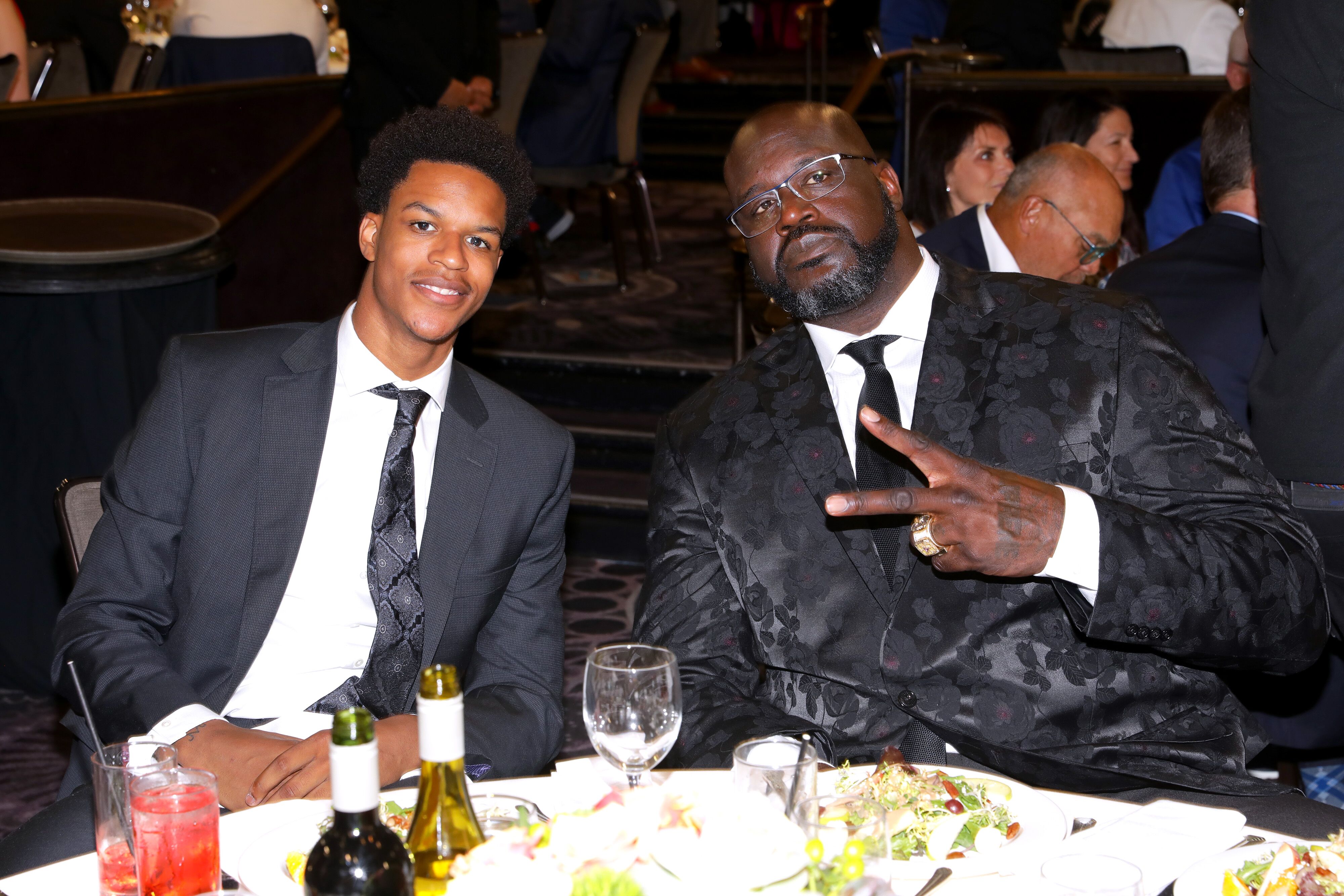 Shaquille O'Neal and son Shareef O'Neal at the 19th annual Harold and Carole Pump Foundation Gala| Source: Getty Images
SHAQUILLE O'NEAL'S HOUSE FOR SALE
Shaq shared a video tour of the 5,217 square feet mansion, and the contact of the real estate agents handling the sale - but he does ask only "serious" buyers to step forward...
We can just imagine the hoards of fans eager to meet Shaq in person who would present themselves as wannabee buyers for the $2,5 million home.
LIVING LIKE A CELEBRITY
For the well-heeled fan, the five bedrooms and four and a half bathroom home offer lots of privacy, set in the midst of a lush 1-acre garden. Shaq describes the house:
"It's in a premier cul-de-sac offering privacy. It's an open floor plan with a two-story foyer leading to a formal living room with vaulted beam ceilings off a formal living room with porcelain flooring and chef's kitchen."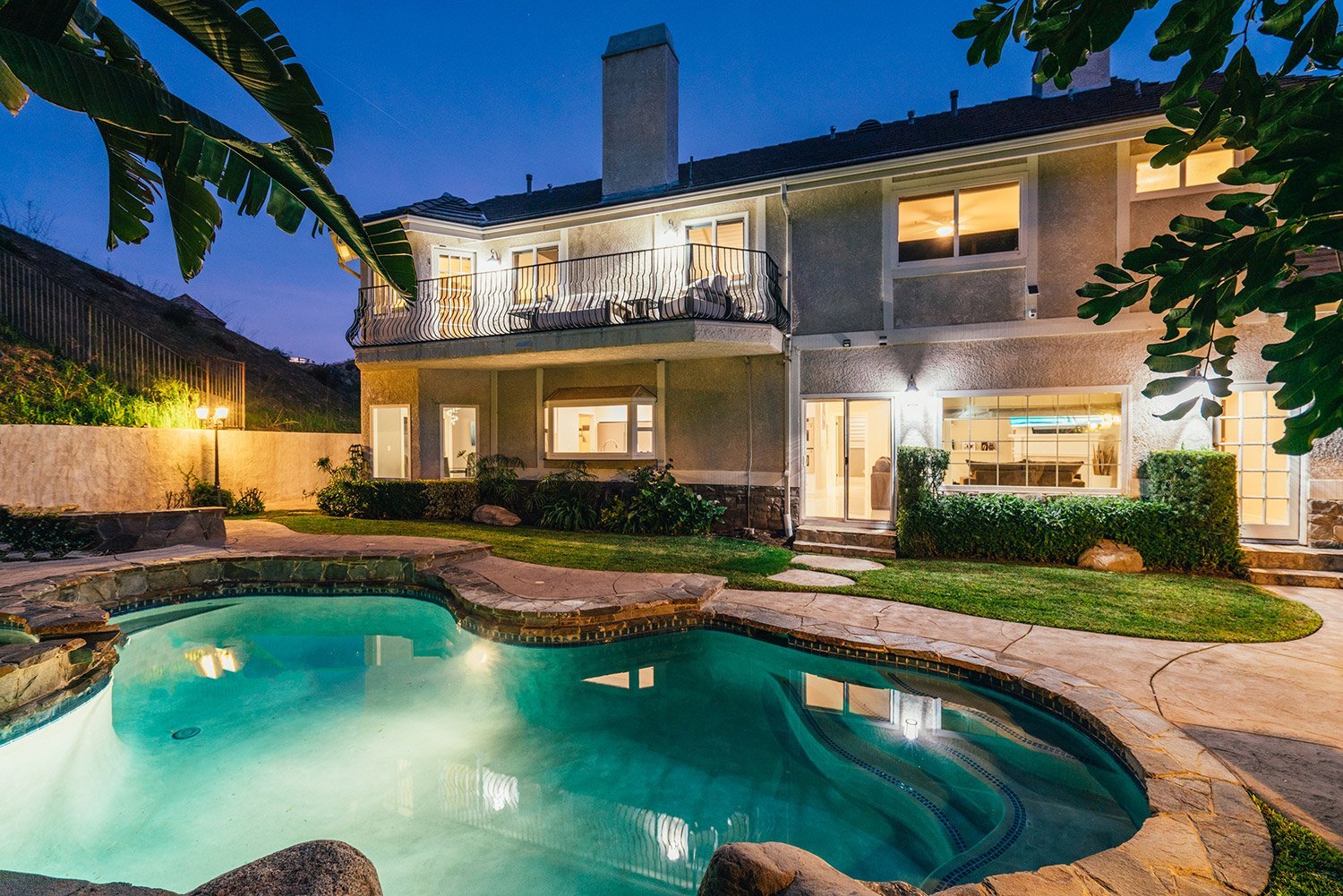 Outdoor view of Shaquille O'Neal's house in Bell Canyon| Source: Instagram/Shaquille O'Neal
SHAQ'S GOURMET KITCHEN
Shaq is known for his passion for cooking, and he had plenty of opportunities to indulge in his favorite hobby in his kitchen which includes lavishly appointed marble countertops, custom cabinetry, and state-of-the-art stainless steel appliances.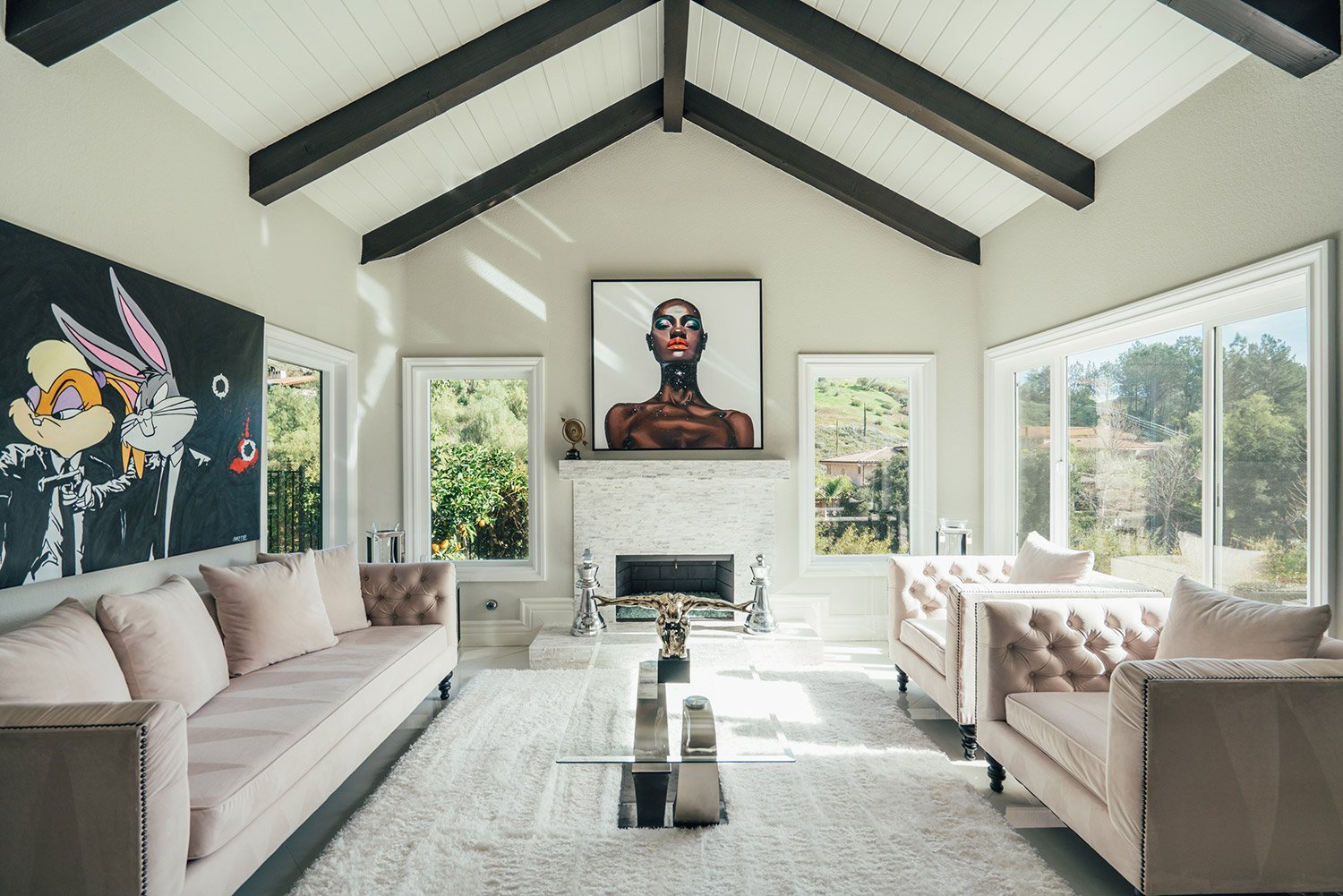 The lounge of Shaquille O'Neal's house in Bell Canyon| Source: Instagram/Shaquille O'Neal
OUTDOOR LIVING SHAQ-STYLE
For those eager to experience the California way of life and take advantage of the sunny climate, the house offers a large, and very private backyard with a heated pool, a jacuzzi, a fire pit and all the necessary amenities for outdoor living.
The lobby of Shaquille O'Neal's house in Bell Canyon| Source: Instagram/Shaquille O'Neal
SHAQ'S ART ON DISPLAY
The open space home is the perfect setting for Shaq's Lakers memorabilia. In the lounge, he displays his artwork commemorating rapper Notorious B.I.G., the late Nipsey Hussle. n his den, he has a portrait of 2Pac.
Shaq put the house up for sale in November 2019 but has only recently decided to promote the sale himself through social media. Shaq bought the house in 2018, and the sudden sale is surprising.
SHAQ'S LIFE SINCE HIS DIVORCE
Shaq divorced his wife and mother of 4 of his children, Shaunee O'Neal in 2009, although they have remained dedicated patents to their kids. Shaq has a fifth child, Taahirah O'Neal, whom he shares with his ex-girlfriend Arnetta Yardbourgh.
Shaq's kids Amirah, Shaqir, and Me'arah are growing up fast, and Shareef is in college, so the former basketball player may be looking for something more like a bachelor pad, and not a family home.
SHAREEF O'NEAL FOLLOWS IN DAD'S FOOTSTEPS
Shaq's son Shareef is a brilliant basketball player, with a very different style from his dad, and is on his way to a pro basketball career. Shareef gave Shaq and Shaunee some sleepness nights when it was discovered in 2018 that he suffered from a congenital heart defect.
In order to save his life, he was subjected to open-heart surgery, which forced him to stop playing for a year. Now Shareef is back in the game playing for the UCLA Bruins and is acquiring a devoted following of his own.
SHOCKING DEATH OF BELOVED FRIEND
On January 26, 2020, Shaq's close friend and Lakers team-mate Kobe Bryant and his 13-year-old daughter Gianna died in a helicopter crash tha claimed the lives of 7 more people. Shaq was deeply wounded by his loss, at a time when he was still mourning the death of his sister Ayesha, who passed away in October 2019.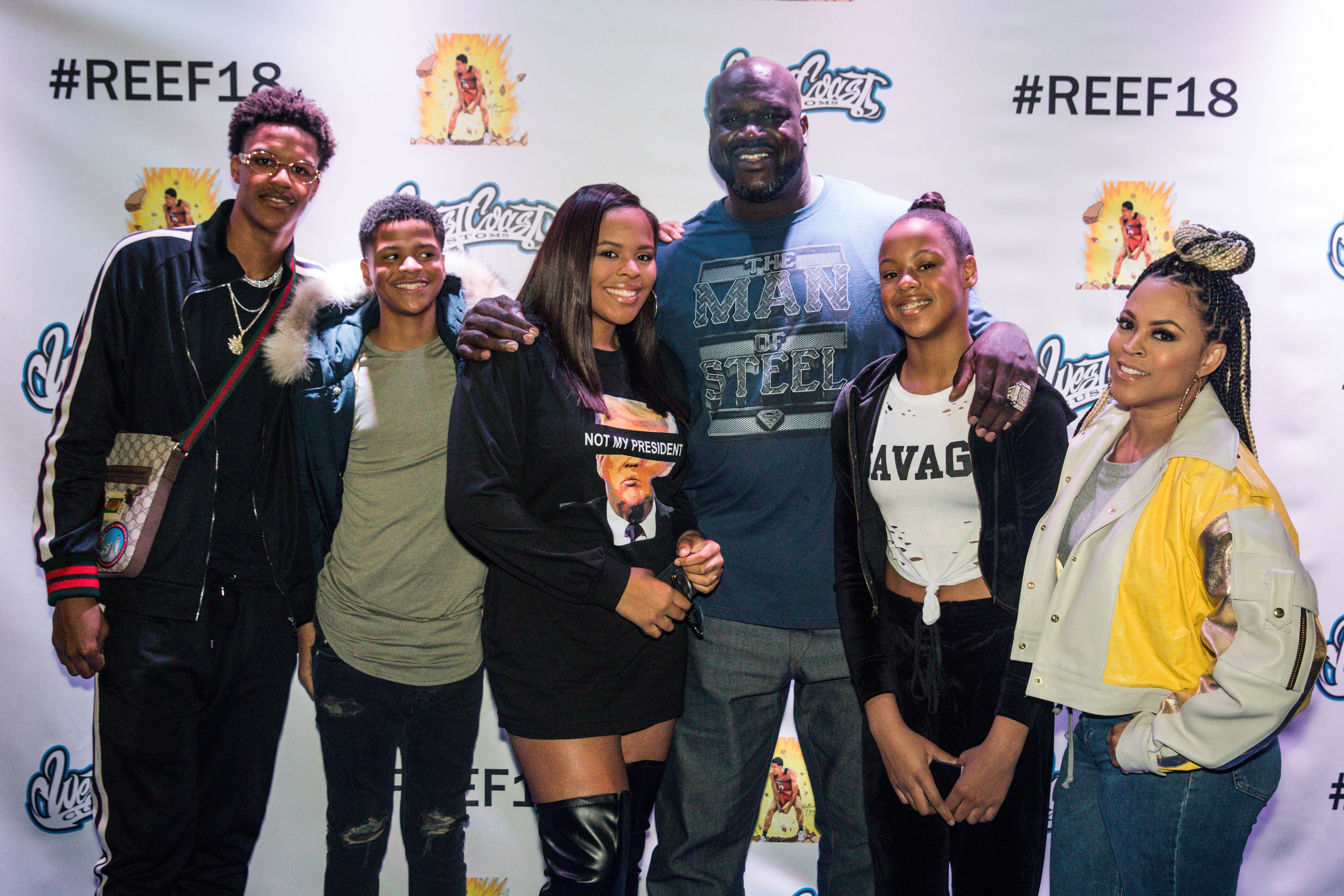 Shaquille O'Neal, Shaunie O'Neal and family at Shareef's 18th birthday on January 13, 2018| Source: Getty Images
There were rumors that Shaq and his ex-wife might reconcile, but Shaunee has firmly set that possibility aside. Until recently, Shaq's girlfriend was Laticia Rolle, a model he has been dating since 2014. However, in mid-2019, the NBA icon was linked to several beauties, among them and models Dani Nicole and Annie Ilonzeh.
Please fill in your e-mail so we can share with you our top stories!