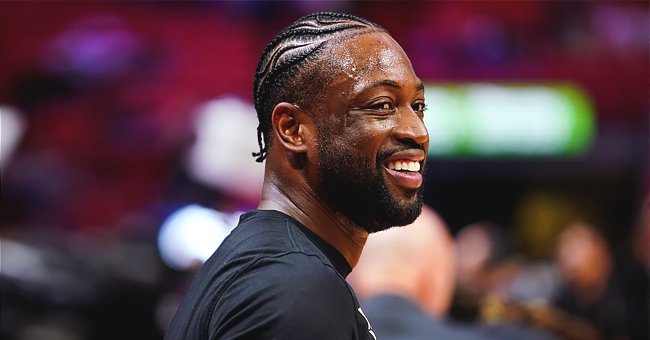 Getty Images
Dwyane Wade Talks to Ellen DeGeneres about Moment His 12-Year-Old Child Came out as Transgender
Dwyane Wade detailed the moment his daughter opened up about her sexuality, and wanting to live as a transgender female. The former NBA player explained why it was important for his family to support the 12-year-old.
During an appearance on the "Ellen DeGeneres Show," retired NBA star Dwyane Wade shared that his 12-year-old came out as transgender to him and his wife Gabrielle Union.
Wade gushed over his daughter, Zaya, telling DeGeneres that he and Union are the proud parents of a child who is in the LGBTQ+ community.
Wade admitted he hoped that by supporting his child in living with her true identity it would give her "the best opportunity to be her best self."
Zaya is one of two son from his ex-wife, Siohvaughn Funches. He explained that she was born a boy named Zion, and recently opened up about her sexuality.
For years Wade and Union have been supportive of Zaya, even accompanying her to Miami pride amid countless trolls on social media, who criticized them for celebrating their child's sexuality. Sharing the moment his child opened up to him about her sexuality he revealed:
"[Zaya said] hey, so I want to talk to you guys. I think going forward, I'm ready to live my truth. And I want to be referenced as she and her. I'd love for you guys to call me Zaya."
Wade told DeGeneres that he couldn't have prouder with Zaya's decision to share the news with him and take the bold step of living her truth. During their conversation he recalled saying:
"I'm ready to take on this,' I looked at [Zaya] and said, 'You are a leader. It's our opportunity to allow you to be a voice."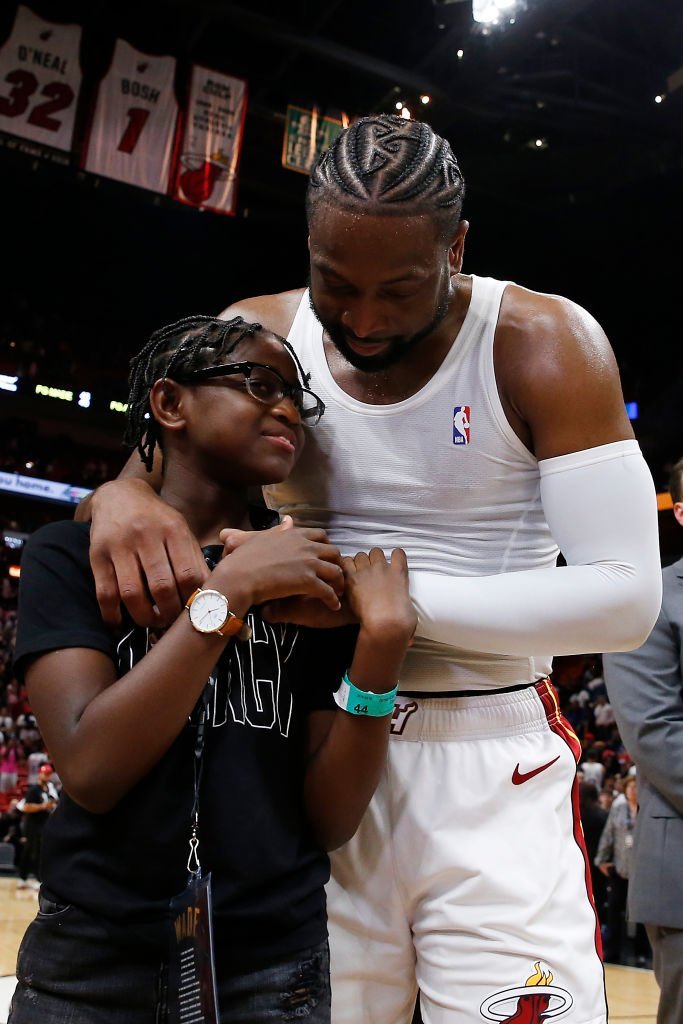 Dwyane Wade hugs his daughter, Zaya Wade, after his final home game at American Airlines Arena on April 09, 2019, in Miami, Florida | Source: Michael Reaves/Getty Images
Wade said, he and Union have been doing their research in understanding how best to support their daughter. They reached to friends, and his wife also spoke to most of the cast of "Pose." Showing her support with a proud message on Instagram, Union
announced:
"Meet Zaya. She's compassionate, loving, whip smart and we are so proud of her. It's Ok to listen to, love & respect your children exactly as they are. Love and light good people."
In the video shared by Union, Zaya discussed the importance of people living their truth. The 12-year-old gave some insightful thoughts in understanding how difficult coming out as transgender is because of the fear of being judged.
However, Zaya explained that she thinks it is worth it for a person struggling with their sexuality to be true to themselves and strive to live the best version of themselves by pushing through the hard times.
Please fill in your e-mail so we can share with you our top stories!