Ice-T Shares Family Photo with Wife, Their Look-Alike Daughter Chanel & 2 Dogs
American rapper and actor, Ice-T, thrilled his fans on social media to a rare sight when he shared a photo of himself, wife, Coco, their daughter, Chanel, and their two dogs.
Family proved to be the theme of a photo shared by Ice-T on his Instagram page, which featured every member of his family, including two bulldogs. 
The photo shared by the rapper-turned-actor showed him, Coco, and Chanel seated on a white sofa in their living room. They were joined by their two bulldogs, Maximus and Alexus, with one of the dogs on the couch, and the other on the floor.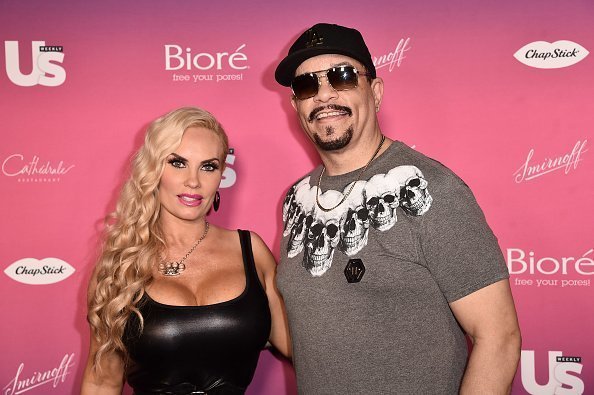 Ice-T sat between his wife and daughter, wearing an all-black tracksuit, which he matched with white Nike sneakers. His daughter, Chanel, 4, also wore an all-black dress. 
Coco, on the other hand, wore a brown top and camo pants, and posed on the sofa in a kneeling position, with her right hand resting on her husband's shoulder. In the caption to the post, Ice-T wrote:
"ICE Family Pic: It's rare to get everyone in a pic. @spartandmaxandlex @babychanelicole @coco Love is Love."
Coco and Ice-T's relationship is one that has surprised many onlookers, as many people didn't expect them to last this long together. 
However, nineteen years, one child, and many success stories after, the cute couple continue to be together against all the odds. 
The 40-year-old said that the photo represented the actual moment she met her husband while shooting a movie he did.
Ice-T and Coco's marriage on December 31, 2001, was one that happened quickly, two months after their first meeting. The couple met at the movie shoot of Ice-T's friend, where Coco was working as a model. 
After they met each other, Ice-T asked Coco if she would ever consider dating a gangster rapper, a question the model admitted she didn't know how to respond to but said that she thought Ice-T was nice. The rapper then said:
"Well, baby, if you take the 'n' of nice, you get ice."
Coco recalled that first meeting when she celebrated the couple's 16th anniversary in 2016. In an Instagram post, the swimsuit model shared a throwback photo from that first meeting. 
In the caption to the post, she said that her life changed forever sixteen years ago and that she remembered the moment when they first met. Coco also wished Ice-T a happy anniversary, tagging him as the man she admired so much. 
Continuing, the 40-year-old said that the photo represented the actual moment she met her husband while shooting a movie he did. 
The love between Ice-T and Coco is not hard to miss, as one only needs to go through the couple's social media posts to see how much they adore each other, an adoration that has only increased after their daughter's birth.