Khloé Kardashian Uses One Word to Describe Kylie Jenner's Latest Photo Posing in Ex Travis Scott's New Sneakers
Kylie Jenner looked suave in her latest picture wearing brand new unreleased sneakers designed by her ex Travis Scott. Her sister, Khloe Kardashian, didn't hesitate with a short but descriptive response. 
While traveling, Kylie Jenner shared an image of herself that oozed confidence. Seated with one leg up, the 22-year-old looked casual chic in grey joggers, a black leather jacket, and sunglasses. 
Kylie's footwear stood out, as she wore a pair of Travis Scott's highly sought-after sneakers that will only be released today, and captioned the sassy shot, "brb baby." Two hours later, Khloe commented: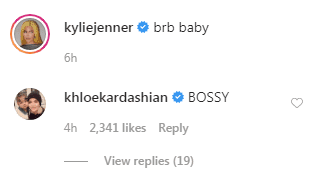 Kylie confirmed the news of her separation from Travis Scott in October last year. She said that their friendship and their daughter Stormi's wellbeing takes priority, but that she and Travis remain on "great terms" with each. 
According to a source that spoke to PEOPLE at the time, they haven't shut the door on reuniting, as the source said:
"They are taking some time but not done. They still have some trust issues but their problems have stemmed more from the stress of their lifestyles."
During an interview earlier this month, Kylie said that she wants the same kind of "hands-on" experience for her daughter Stormi as she had as a child.
The 22-year-old grew up with two-parent support, and she is determined to give Stormi the same. Thankfully, Kylie says she and Travis have "such a great" relationship, and added:
"We're like best friends. We both love Stormi and want what's best for her. We stay connected and coordinated."
When it comes to the pitter-patter of more feet, Kylie says there is "no plan" on giving Stormi a sibling just yet even though her friends have pressured her about it.
Kylie's mom, Kris, thinks differently, as she told Ellen DeGeneres during a game of "Fill in the Blank" that her next grandchild will come from Kourtney, "or maybe Kylie."
One thing is for sure, Kylie enjoys motherhood and will sometimes take the day off, and give her childminding staff off as well, so she can spend quality alone time with Stormi.
A few days ago, Kylie and Travis spent some time with Stormi as a family, when they went to a trampoline gym at Sky High Sports.
After their trampolining adventure, the trio went to "Afters" the ice cream shop, where they indulged in some creamy goodness.
According to an eye witness that saw them in Woodland Hills on Sunday, Travis and Kylie looked "really sweet" as they played with Stormi.