Kim Kardashian Gives Special Shout-Out to Child Star ZaZa after North's Rap Performance during Dad Kanye's PFW Show
North West recently took center stage at his father, Kanye West's, Paris fashion show by belting out a rap song. However, she then received some backlash after she was accused of copying ZaZa, 4.
On Monday, March 2, 2020, North, 6, attended her father's Yeezy Season 8 fashion show at Paris Fashion Week. At one point, the little girl took to the stage to give an impromptu performance.
While models walked down the runway showing off her father's fashion brand, the little girl was given a microphone to perform a rap song. Kanye then proudly joined her as she carried on singing.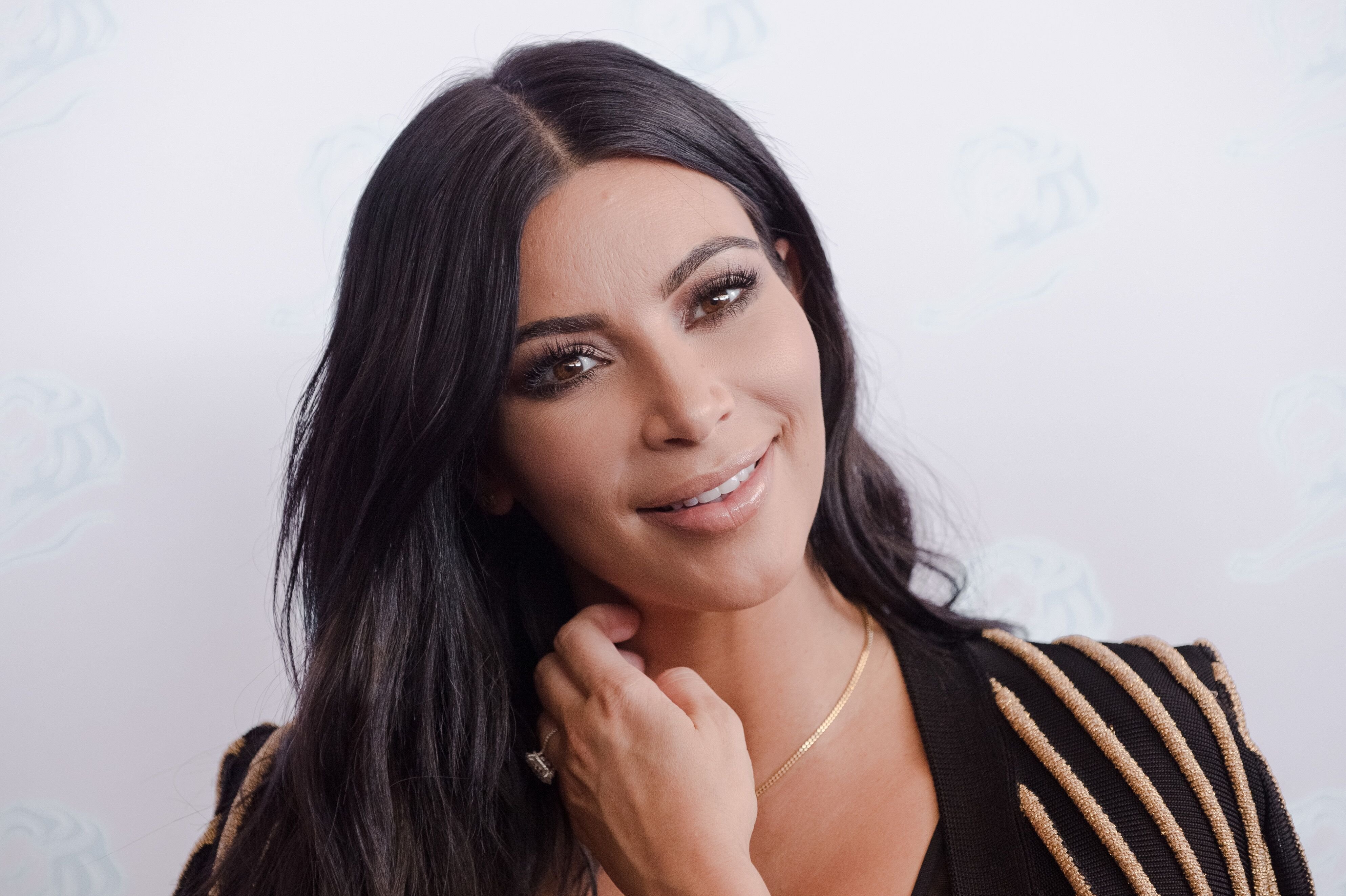 North raps a remix of ZaZa's song
As adorable as the moment was, YouTube star ZaZa's family took to social media to point out the similar North's rap was to one the sensations songs, "What I Do." Two videos were posted on Instagram by ZaZa's family to make the comparison.
The first clip showed the little rap star's video of the song, and the next clip showed North singing at her father's fashion show. ZaZa's family captioned the post noting how "creativity deserves RESPECT/homage!"
ZaZa's family calls out North's parents
The post continued to reveal that the family wasn't angry about Kanye and his wife, Kim Kardashian, allowing their daughter to shine using their child's music. However, the family asked that the famous couple should "PLS SHOW LOVE AND SUPPORT TO THE ORIGINAL FIRST!!!"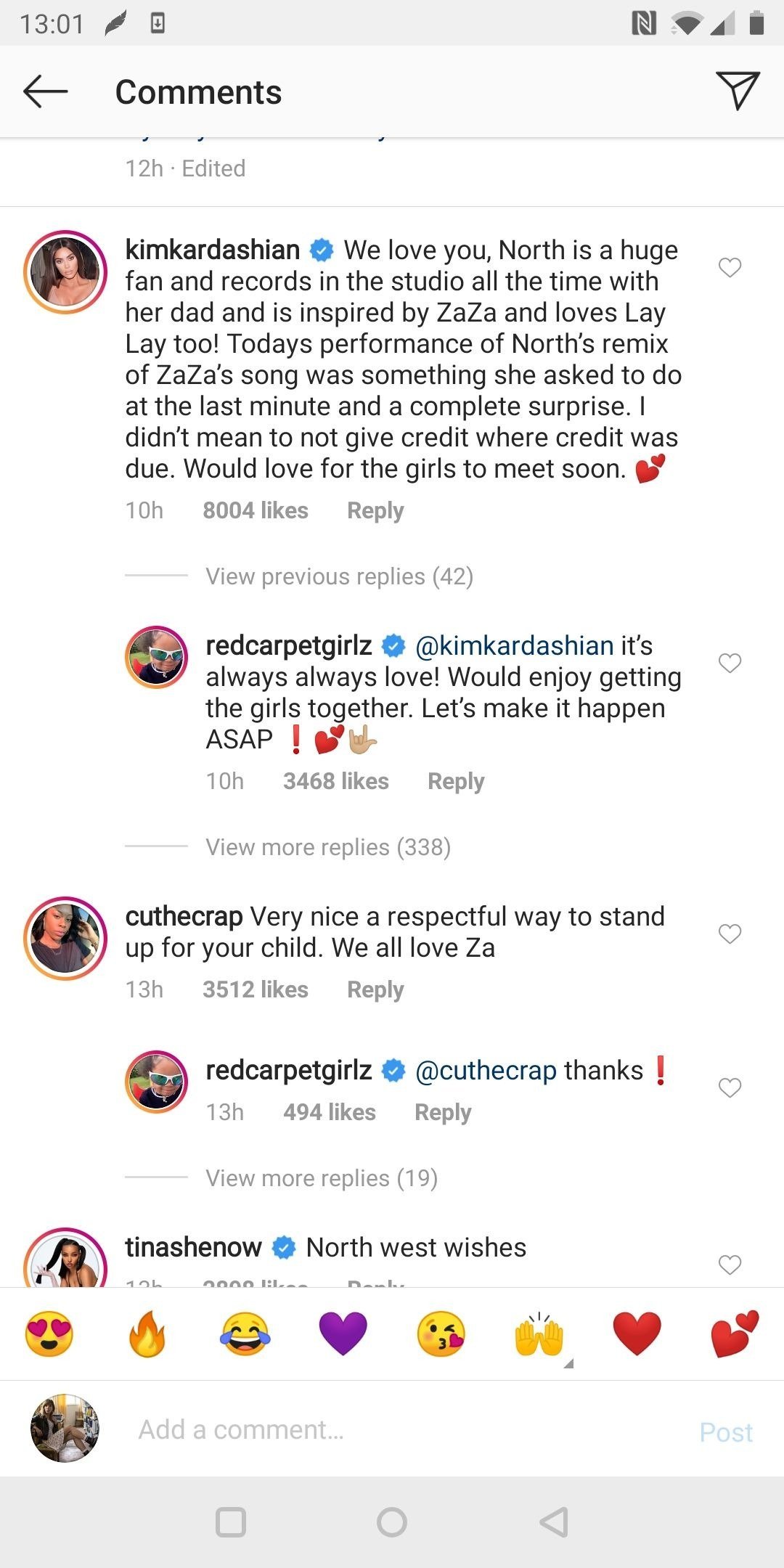 They pleaded with West and Kardashian to not "stifle" ZaZa's journey in the entertainment industry. Kardashian responded to the post explaining how ZaZa was one of North's musical inspirations.
Kim smoothes things over with ZaZa's family
She explained that the performance was last minute and a surprise for the parents. The "Keeping up with the Kardashians" star ended her post by stating how the two girls should "meet soon."
Kardashian proud of North
The little rap star's family responded positively to the message and agreed that a meeting between the two girls should be arranged. Kardashian also tweeted a message about the misunderstanding revealing how "proud" she was of her daughter for her very first performance.
I'm so proud of my Northie!!!!!! Her 1st performance had me in tears! She had an impromptu performance on stage at her dads Yeezy Season 8 fashion show! Shout out to Zaza!!! @redcarpetZaZa North hopes you like the remix!!! pic.twitter.com/f9Zas0OLlz

— Kim Kardashian West (@KimKardashian) March 3, 2020
Kim gives a shout out to ZaZa
Showing that there was no bad blood between them and ZaZa's family she added: "Shout out to Zaza!!! @redcarpetZaZa. North hopes you like the remix!!!" Maybe a duet might be on the books real soon.
North's love for entertainment
Little North appears to have caught the music bug from her father. Kardashian has posted videos in the past showing the little girl entertaining the family with her dance moves and vocals.
The famous couple might have a little star in the making.