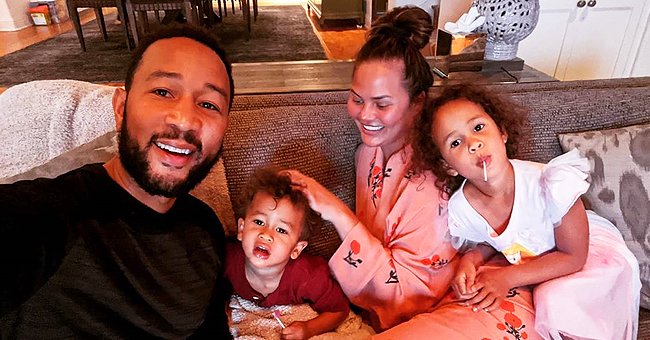 Instagram/johnlegend
John Legend & Chrissy Teigen Look Relaxed Staying Indoors with Their Kids
John Legend and Chrissy Teigen showed off their adorable family in pajamas as they cuddled up on their couch with their two children, Luna and Miles.
The couple has been doing everything from playing board games to swimming. Sharing a moment of downtime with his family as they sat on the cuddled up on the family couch, John captioned the moment, "board meeting."
In the picture, the family are all dressed in their pajamas. John sported a fuzzy beard while wearing a simple black t-shirt. Chrissy looked chic in a floral silk robe by Olivia Von Halle.
Their children each had a lollipop in their hands. Miles sat in between his parents with a blanket wrapped around legs, while Luna leaned over Chrissy, dressed in tulle detailed nightdress. One fan absolutely loved the family moment.

A fan commented on a picture of John Legend, Chrissy Teigen, Luna Stephens, and Miles Stephens cuddled up in couch together in their pajamas | Source: Instagram.com/johnlegend
Chrissy, who had her hand sweetly placed on Miles' head, shared the same picture on her Instagram page, and captioned the family moment, "dysfunction junction." A fan shared their take on their family board meetings saying:
"My family just had a board meeting! We prayed and told about what we are thankful for and it was a very heartfelt meeting."
John's fan sharing how their family is trying to instill good values in their children is something he expressed he is hoping to achieve as a parent.
It is reported, John admitted on an interview with Rollacoaster that his children are growing up in the type of conditions he doesn't have experience with because he didn't come from a privileged background.
He told the magazine he wants to keep Luna and Miles humble and is trying to figure out ways to ensure that their privileged upbringing doesn't make them conceited people.
Trying to lead by example, John said that he stays humble by staying true to himself. He revealed that he doesn't have a stage persona, and the person he shows to the public is an extension of who he is at home with his family.
Recently, John used his award-winning vocals for some family fun when he performed at a wedding for his daughter, Luna's stuffed animals, Chloe and Nosh
Chrissy had the honor of officiating the wedding that ran a little bit late, but ended on a good note with John performing Selena Gomez's song, "Can't Keep My Hands To Myself."
Please fill in your e-mail so we can share with you our top stories!