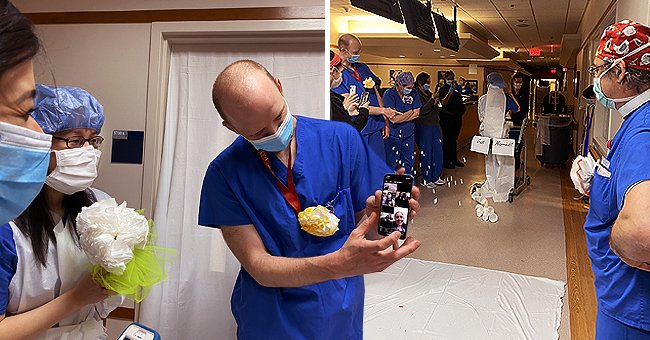 Twitter/dukeobgyn
Doctors Get Married at Hospital Amid COVID-19 Outbreak
Two resident doctors held a wedding ceremony at Duke University Hospital and were dressed in their scrubs while their family and friends watched from ZOOM.
In a scene that looked like an episode of the medical drama, "Grey's Anatomy," two resident doctors from Duke University Hospital tied the knot.
Dr. Michael Sun from Duke Psychiatry and his fiancée, Dr. Shelun Tsai from the Department of OB/GYN, held an intimate ceremony in the hospital's birthing center on April 11, 2020.
According to Good Morning America, Michael and Shelun postponed their original wedding plans in 2016, and moved the date to April 11, 2020, in North Carolina.
The couple had been working shifts with COVID-19 patients when Shelun and her co-workers came up with the idea for an impromptu wedding.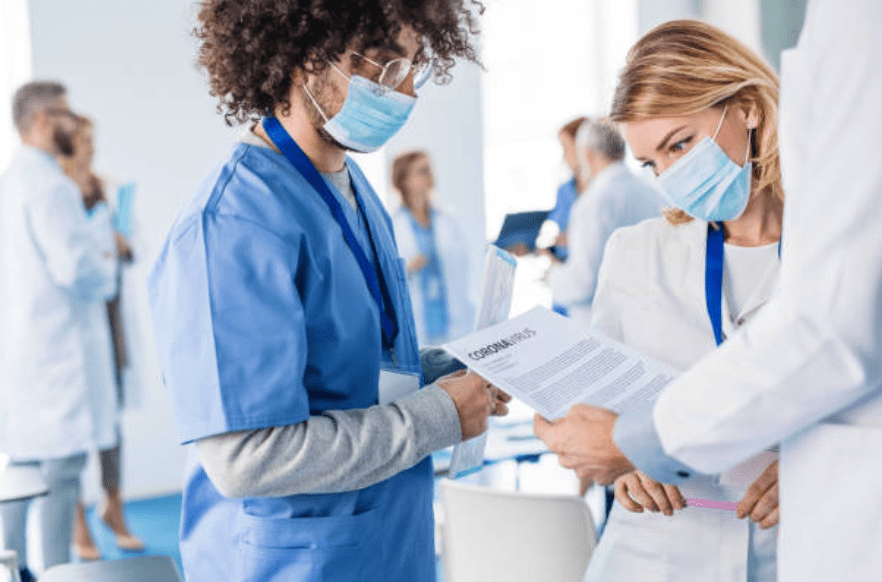 Doctors gather around a paper with the words coronavirus written at the top and appear to be having a discussion, Slovakia | Source: Getty Images
Shelun admitted that she had forgotten about her wedding date until the actual day. She mentioned it to her co-workers, who encouraged her to go forward with
the ceremony.
"It started out small, that they wanted to make me a wedding dress, then it was a veil, then flowers and then it became everyone chipping in and jumping on board," she explained:
She revealed that the preparations started at 8 am. In between looking after patients, they gathered various crafts to come up with confetti, colorful decorations, and flowers made from paper. One of the doctors present at the wedding joked:
"When your co-resident's wedding has been thrown off by COVID-19, you don your best PPE for a hospital ceremony."
At 3 pm, her friends and family watched from a group meeting on ZOOM, Shelun walked down the hospital passage with a mask covering her face and in a custom gown.
Her surgical coat was detailed with a bow at the front, had one arm cut off, and was lowered to create a train. A nurse from the Labor and Delivery unit officiated the 15-minute hospital ceremony.
Shelun told Good Morning America that the experience "was absolutely amazing." She said it was a moment she would always cherish.
She admitted that after spending so much time looking after patients, she was moved to see how much care her colleagues put into creating something special for her and Michael.
Please fill in your e-mail so we can share with you our top stories!