Getty Images
How Fans Reacted to Dr Dre's Divorce from Wife Nicole Young after 24 Years of Marriage
Dr. Dre's wife, Nicole Young, is calling off her marriage to the legendary rapper. On Twitter, fans can't get over the irony that Dr. Dre never signed a prenup with his lawyer wife.
After 24 years of marriage, Nicole Young has filed for divorce from husband Dr. Dre, People reported. The outlet claimed that she cited irreconcilable differences in court documents.
Young, a lawyer, is said to be seeking spousal support amid the split. Within over two decades of marriage, Dr. Dre never signed a prenup. On social media, many made fun of the situation. Reactions are found below.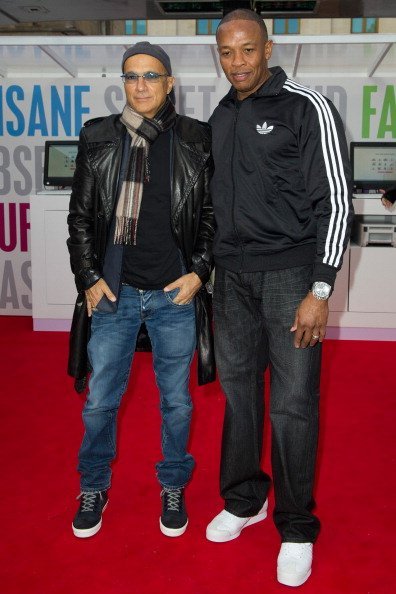 Jimmy Lovine and Dr Dre attend the Beats By Dr Dre at Covent Garden | Photo: Getty Images
DR. DRE'S NET WORTH
According to Forbes, Dr. Dre was worth $800 million in 2019. The 54-year-old's once claimed that he's a billionaire, but the outlet disagrees.
Dr. Dre made the claim soon after Apple purchased his Beats By Dr. Dre headphone line back in 2014 for $3 billion. However, the music producer only owned approximately 20-25% of the company.
After debt payments amounting to an estimated $295, Forbes states that Dr. Dre was left with just over $500 million. In the years that followed, Dr. Dre went on to spend millions on properties and charity.
EARNINGS AND FAN EXPECTATIONS
Still, the artist did beat out Taylor Swift as the top music earner of the decade during the 2010s. According to People, he earned $950 million despite not having released an album since 2015.
Regardless, fans couldn't help but laugh at the rapper's divorce from Young. Several people joked about it by saying, "She forgot about Dre" in reference to the singer's 1999 hit song with Eminem.
Although he was the top earner last year, another fan said that Dr. Dre would finally be releasing a new album called Detox, which fans have been anticipating for nearly a decade now.
NOT A SOCIAL MEDIA LOVER
Of course, hilarious GIFs and memes were also used by fans to express shock and amusement at the fact that Dr. Dre doesn't have a prenup.
Meanwhile, Dr. Dre has commented on the new dynamics that social media creates around celebrities. Last month, the rapper expressed his disagreement with the idea of being more accessible to fans.
Speaking to British GQ, the NWA co-founder said he probably would not have like social media earlier in his career. "There's a certain mystique that gets destroyed," he explained.
GIVING BACK TO THE COMMUNITY
Dr. Dre likes the mystique and not having fans know where he is and what he's doing at all times. Host Jimmy Iovine, however, implied that there's a positive side to the platforms.
The pair also discussed plans to open a free high school for deserving children. They're partnering with the late Steve Jobs' widow, Laurene Powell, in hopes of changing schooling in the country.
Please fill in your e-mail so we can share with you our top stories!