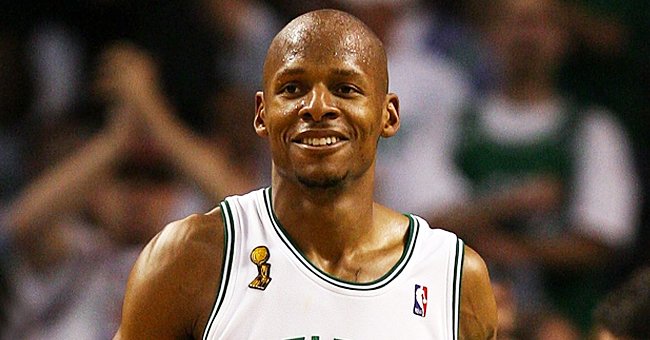 Getty Images
Former NBA Star Ray Allen & His 4 Sons Show Their Resemblance as They Pose in Cool Shirts
Former NBA and Boston Celtics star Ray Allen posed with all four of his sons in a new picture his wife, Shannon Allen, shared with fans on her Instagram page.
Ray Allen was renowned for his three-point shooting accuracy in his basketball playing career and remained the most successful shooter from downtown in NBA history.
However, when it came to fatherhood, Allen did one better and is a proud father of four boys who all resemble him in more ways than one.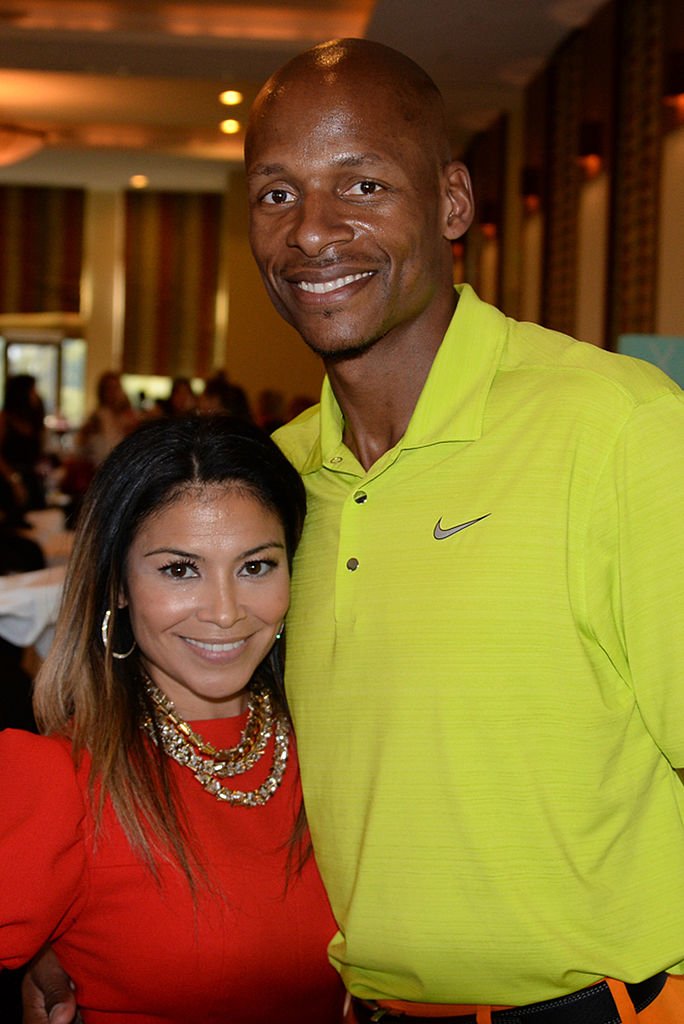 Ray Allen of the Miami Heat and his wife Shannon during his Charity Golf Tournament on January 27, 2014. | Photo: Getty Images
Allen and his sons posed for an adorable photograph on Sunday which the basketballer's wife, Shannon shared on her Instagram page. It showed him in a white short-sleeved button shirt, all smiles.
Beside him was his first son, Walter, who wore a white vintage shirt with flowers all over it. The basketballer's younger sons completed the picture, smiling sweetly as they posed.
Allen is a great father to his four sons and does his best to be there for them at all times. However, sometimes, that may not just be possible. A case in point was when Ray's team was playing in the NBA Championships finals.
The doctor explained to Shannon that her son's blood sugar was poisoning him to death.
His son, Walker was 17 months at that time and became very sick during the finals. Shannon stepped in as her husband was absent, taking Walker to the hospital where tests revealed that his blood sugar level was 639.
The doctor explained to Shannon that her son's blood sugar was poisoning him to death. Shannon was able to get insulin in time for her son who recovered three days after, just in time to celebrate his father's victory at the NBA Championship.
Ray was born on July 20, 1973 at Castle Air Force Base, California. He attended Hillcrest High School, Dalzell, South Carolina where he graduated in 1993.
He emerged as the fifth overall pick and was drafted by the Minnesota Timberwolves in 1996. However, he never played for the team but moved to the Milwaukee Bucks from where he moved to the Seattle Supersonics and then to the Boston Celtics.
Allen ended his playing career with the Miami Heat in 2014. He has known his wife, Shannon, since 2014. The latter is famous for being a member of the former girl group, Shades. She also tried to make it as an actress after quitting music.
Shannon is a graduate of Northeastern University. She is an entrepreneur and owns a fast-food restaurant in Florida. Shannon and Allen plan to reinvent America's fast food industry and turn it into a real-money spinner.
Please fill in your e-mail so we can share with you our top stories!