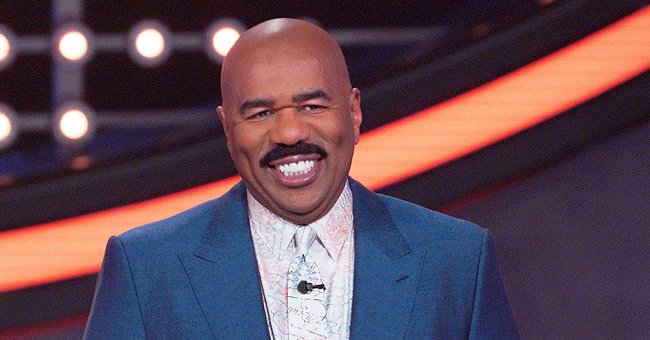 Getty Images
Steve Harvey's Grown Daughter Steals Hearts Makeup-Free in a Pic Showing Hair Buns & Green Eyes

Steve Harvey's daughter, Morgan Hawthorne, looked beautiful in a bare-faced Instagram selfie, flaunting her clear skin and green eyes.
Steve Harvey is a proud father-of-seven, including daughter Morgan Hawthorne, who is now a mother to two beautiful girls and an online cookbook author.
Hawthorne, who married DJ Kareem Hawthorne, better known as DJ Bruckup, was recently featured on her husband's Instagram profile, looking gorgeous in a bare-faced selfie.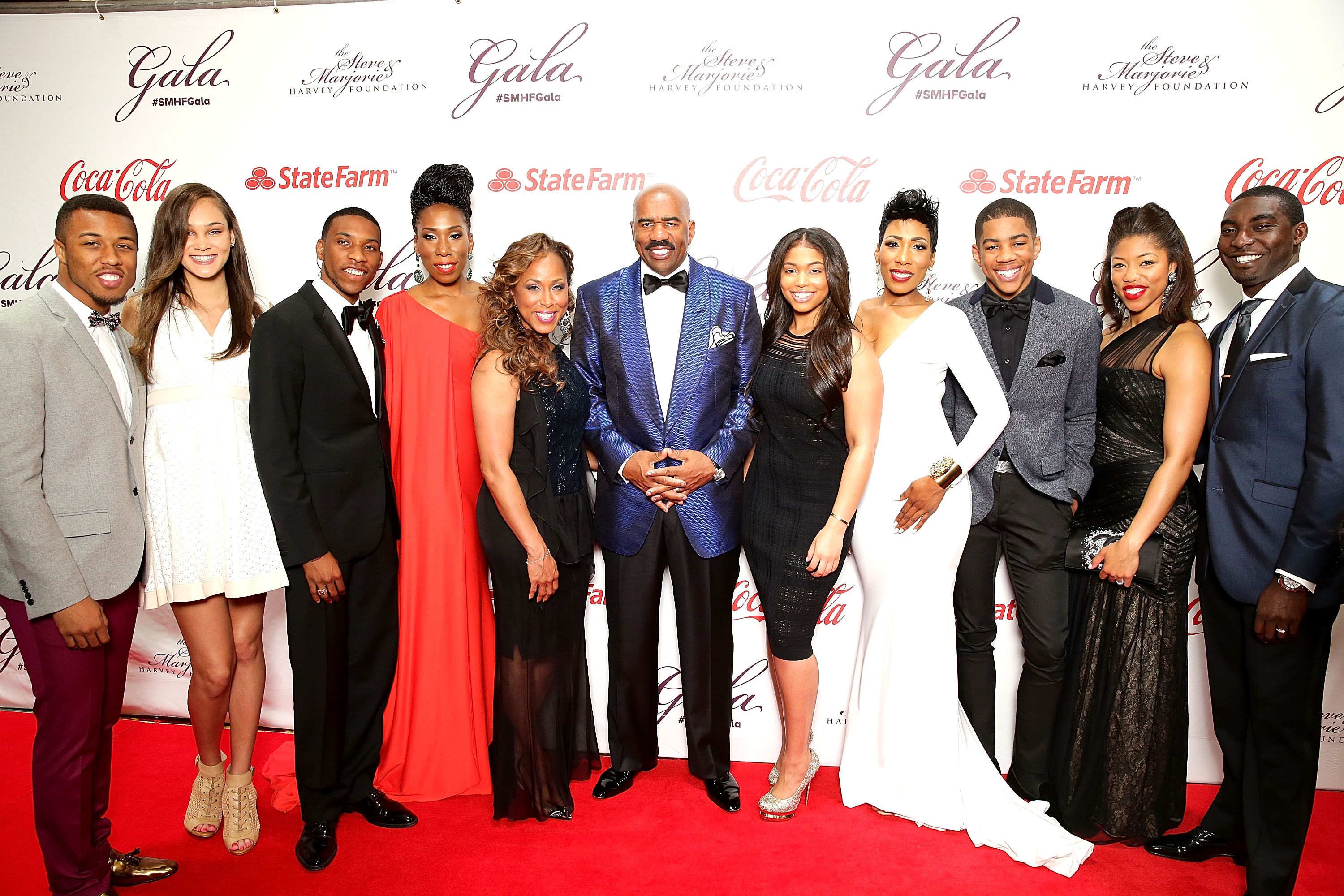 Jason Harvey, Amanda Harvey, Broderick Harvey Jr., Brandi Harvey, Marjorie Harvey, Steve Harvey, Lori Harvey, Karli Harvey, Wynton Harvey, Morgan Hawthorne, & Kareem Hawthorne attend the Steve and Marjorie Harvey Foundation Gala on May 3, 2014 in Illinois. | Source: Getty Images
The "The Steve Harvey Show" host's daughter looked radiant as she flaunted her clear skin, green eyes, and curly bunned hair while smiling towards the camera.
Hawthorne is a professional baker who graduated with a degree in Baking and Pastry from the Culinary Institute of America. Previously, she has worked for well-known bakeries and companies and appeared on-screen to share her recipes.
She took her knowledge online and authored the e-book "Party Heart," which details her recipes, such as Pimento Cheese Dip, Cajun Chicken Wings, and Strawberry Cake.
As Marjorie sat with a friend near the stage, Steve stopped talking and just stared at her.
She also turned her passion for the craft into a brand, I Need Some Mo. The online blog is an avenue where Hawthorne shares some of her best food and cocktail recipes, social gathering tips, party dishes, and baby-approved meals.
Hawthorne is Marjorie's daughter from a previous relationship, alongside her biological siblings Jason and Lori. Together with Steve's own kids, Karli, Brandi, Broderick Jr., and Wynton, they make the host's seven children.
Steve was married thrice in his life, and all to women whose names begin with an M. In 1980, he tied the knot with Marcia Harvey and had a short-lived marriage that lasted until 1994.
Two years later, he married Mary Shackleford and spent a little over a decade as husband and wife. In 2007, she reconnected with Marjorie Harvey, an ex-girlfriend whom he fell in love with all over again.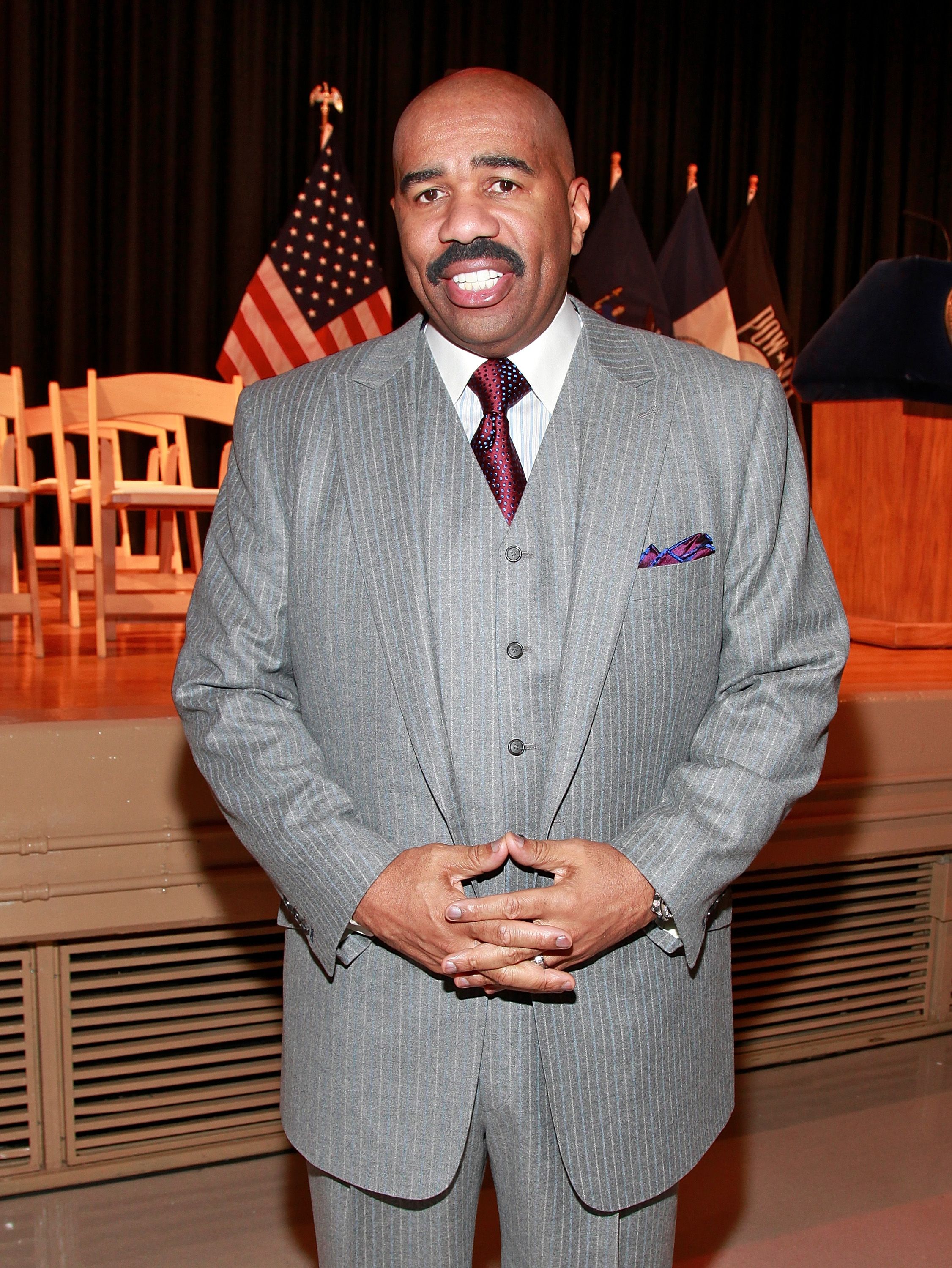 Steve Harvey during the NYC Service Mentor It Forward Program breakfast reception in honor of Martin Luther King Jr. Day at Martin Luther King High School on January 17, 2011 in New York City. | Source: Getty Images
According to Marjorie, the pair met at a comedy club in Memphis and were love-struck at each other's presence. As Marjorie sat with a friend near the stage, Steve stopped talking and just stared at her.
After a long pause and awkward silence, the comedian turned to the audience and said, "I'm sorry, I don't know who this is, but I'm going to marry her." True enough, he did, and the rest is history.
Please fill in your e-mail so we can share with you our top stories!