Ciara Looks Cute with Her 3 Kids as They Cheer on Russell Wilson in Matching Varsity Jackets
Singer Ciara, 35, and her three children, Future, Sienna, and Win, all dressed up in matching varsity jackets to cheer on Russell Wilson in the cutest way possible.
Seattle Seahawks' Russell Wilson just might be the luckiest man. In a recent picture posted on his wife, singer Ciara's Instagram, she showed herself and their kids all dressed up to cheer him on for the playoffs. She wrote:
"We're so proud of you @DangeRussWilson! Wish we could be at the stadium cheering you on today! Go Baby! Go Daddy! #GoHawks."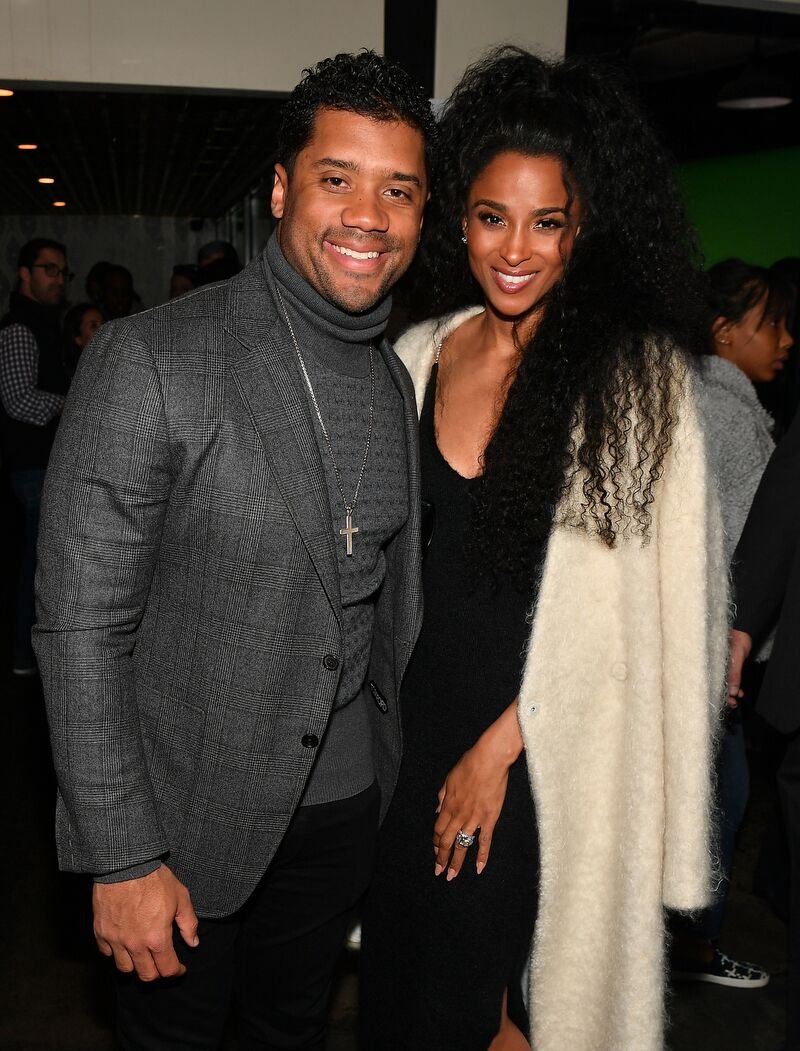 In the pictures the singer and proud wife shared, she and their three children looked absolutely cute and happy in matching varsity jackets and black pants in honor of the family patriarch.
The blue jackets had a big, bold W printed on them to represent Wilson's name, as well as a big bold number 3 to represent his football number proudly. It was heartwarming to see that they are his biggest fans.
Ciara sat between her oldest son, Future, and her only daughter, Sienna. The youngest of the family, Win, was snoozing adorably in his own cheerleading regalia in his mom's warm embrace.
More photos featured them striking more poses and giving fans a closer look at their outfits. Wilson's heart must have been full of love and pride and, most importantly, motivation. 
The singer has been very open about her weight loss journey.
Ciara and her children undoubtedly melted the hearts of her millions of fans as the post gathered over a million likes in barely a day with thousands of comments to gush over the cuteness of it all.
Together with his team, the Seattle Seahawks, Wilson played against the Los Angeles Rams in the NFL playoffs' wild-card round. Although the Seahawks lost the game, Ciara, his ever-loving cheerleader, praised him on Instagram and wrote:
"Always proud of you Da Da @DangeRussWilson. #3 Always."
The sweet encouraging caption accompanied the most heart-melting picture of their youngest child, 5-month-old Win, still in his cheerleading regalia with a beautiful wide smile.
Ciara and Wilson welcomed their little bundle of joy in July 2020, and most recently, the singer has been very open about her weight loss journey. She revealed that she felt empowered to lose the pregnancy weight after learning to love and cherish her body.
While Ciara is basking in the afterglow of post-baby life, her husband, Wilson, is ready to get back into the game to add one — or more — members to their family.
Ciara blatantly and hilariously refused the idea of having more kids. Whether or not they change their minds, one thing is certain: this family will continue to celebrate its wins and losses in togetherness.