Teyana Taylor Looks Stylish with Braids as She Poses in a Printed T-Shirt & Black Pants
Teyana Taylor's latest fashion statement on social media was nothing short of upbeat as she displayed her sense of style rocking a hip-hop inspired look. 
Teyana Taylor had no hair out of place in her new Instagram fashion updates, striking cool poses for the camera and bringing on some hip-hop-inspired styling. 
Taylor, a mom of two, shared three snapshots of her exquisite street style, showing her in an all-black ensemble. The music star sported a baggy T-shirt and matching shorts with a swanky gold necklace.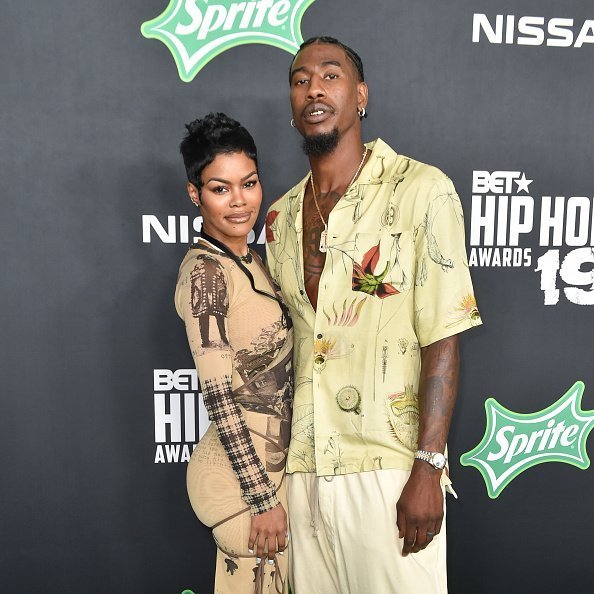 The entertainment mogul casually donned a patterned lengthy puffy jacket on her outfit while her legs were clad in black sneakers. Teyana had her hair styled in cornrows, matching her gold necklace with a pair of hoops. 
The outdoor snapshots had the star mom channeling the model in her with piercing angled looks and an appealing gait. She captioned her upscale post with the hilarious address:
"I wonder if Shump gone be right if I take his college truck for a spin…"
Last December, Taylor celebrated her 30th birthday in the grandest way with her NBA champ husband, Iman Shumpert, and little daughter Junie. 
Recent updates on Taylor showed that the TV personality quit music after she claimed that she was underappreciated.
Taylor, a former vocalist, had a field day, enjoying a $10,000 shopping spree at the Marc Jacobs luxury store in Miami. The award-winning star purchased purses, sweatpants, and sneakers before heading to another birthday bash organized by Billionaires Row Champagne. 
The Hollywood star had another turn-up organized by Pretty Little Thing, and the star-studded occasion had stars like Lil Wayne and Diddy in attendance. The stars were said to have strictly adhered to the COVID-19 rules. 
Recent updates on Taylor showed that the TV personality quit music after she claimed that she was underappreciated. Her abrupt change of career also stemmed from issues with her record label, Def Jam Records. 
A few days after she quit being a vocalist, Taylor, 30, was announced as the new creative director of UK-based clothing franchise, Pretty Little Thing.
The former music star shared in an interview that her new job was a long time coming as she often took time being her own personal stylist and that of her family members. 
Taylor was particularly glad about her latest gig, stating that she was excited to be in a space where she can freely express her creativity without being streamlined.