Future NFL Hall of Famer Tom Brady Shares Hug with Drew Brees & Greets His Kids after Playoffs
Star NFL quarterbacks and soon-to-be American Football Hall of Fame inductees Tom Brady and Drew Brees showed their sportsmanship with a friendly post-game chat that made it to social media.
The night of January 17, 2021, right after the NFC divisional playoff game between the Tampa Bay Buccaneers and the New Orleans Saints (with Tampa winning 30 to 20),  the respective teams' star quarterbacks had a chat out in the field.
43-year-old football player Tom Brady (Buccaneers) and 42-year-old football player Drew Brees (Saints), both soon-to-be Pro Football Hall of Famers, met after the game and were caught on video during their friendly moment.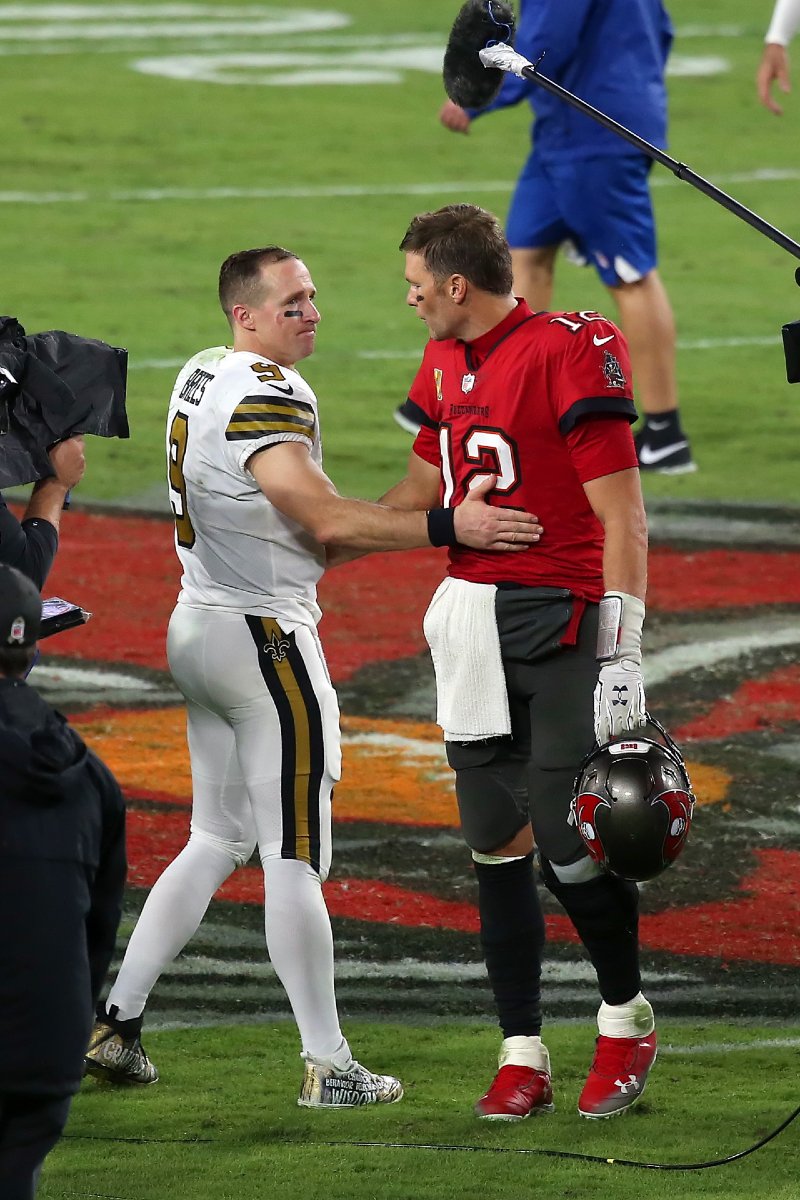 STAR MEETING
The meeting at the field of New Orleans' Mercedes-Benz Superdome was shared by sports news network ESPN's Twitter feed early on January 18, to the delight of thousands of fans engaged with the post with comments, likes, and re-tweets.
In a short clip, Brady can be seen approaching Brees and his three sons (Brees' wife Brittany and their daughter can be seen playing nearby) to greet them, giving his colleague a fraternal hug and exchanging a few words.
Tom Brady and Drew Brees catch up after the game ❤️ pic.twitter.com/Ve5e6T39lN

— ESPN (@espn) January 18, 2021
Later in the video and another clip shared on the same day, Brady was filmed throwing footballs at Brees' children. In a final moment, as Brady walks out of the field, he reportedly advised one of Brees' children to be good to their sister.
FANS REACT
"@drewbrees is a 100% class act that is (possibly) leaving as one of the best to play, and an even better person. True leaders lift others," one of Brees' fans tweeted in reply to ESPN's tweet.
As Tom Brady and Drew Brees hug and say goodbye after a long talk on the field, Brady throws a touchdown pass to Brees' son. One walks off to play in the NFC championship, the other stays to play with his kids. pic.twitter.com/wdWDro9YD4

— James Palmer (@JamesPalmerTV) January 18, 2021
"Regardless of how you feel about either guy, this is pretty awesome. Those kids can't even comprehend the level of greatness in front of them," wrote another user, praising both players.
The celebrated moment takes place among the insisting rumors about Brees soon retiring from the NFL. However, the NFL leader in career passing yards is yet to comment on his future as a professional football player.
RECOVERY FROM INJURY
Besides being a troubled season because of the COVID-19 pandemic, 2020 was a complicated year for Brees, who had to spend a lot of time away from the game while recovering from several rib injuries.
Luckily for Brees, he always counted on the company's support and care of his wife of 17 years, Brittany, and their children Rylen, 6, Callen, 8, Bowen, 10, and Baylen, 12.
In a November 2020 post on his Instagram profile, the quarterback gushed about his beautiful family, describing his children and wife as "the best medical team in the world."
In the lovely snapshot, Brees appears sitting on his home's couch as he uses a breathing device surrounded by two of his sons and his daughter, with two of the children pretending to examine him with toy medical instruments.