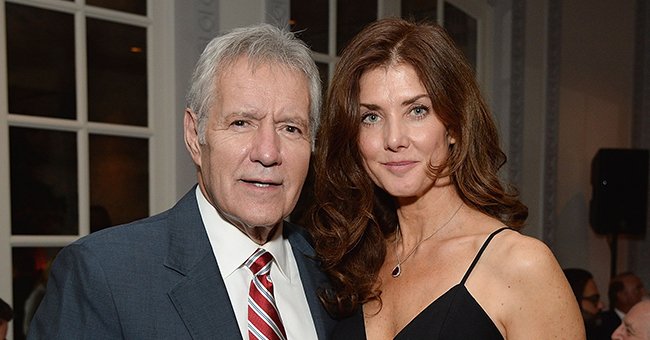 Getty Images
Alex Trebek's Wife Jean Looks Cozy Walking Her Dog in the Rain Wearing Matching Coats (Photo)

Jean Trebek, the late Alex Trebek's widow, enjoyed a stroll in the rain recently with her dog while wearing matching yellow coats. Jean cared for her husband up until his final days as he battled stage 4 pancreatic cancer.
Jean Trebek shared a cute moment of her walking her dog in the rain recently. The widow of "Jeopardy" host, Alex Trebek, looked cozy in a yellow raincoat that perfectly matched her dog's yellow vest.
The captured moment shows Jean in black boots, a grey pair of jeans, and a grey woolen beanie. She kept safe by wearing a protective face mask as she leads her dog on a leash.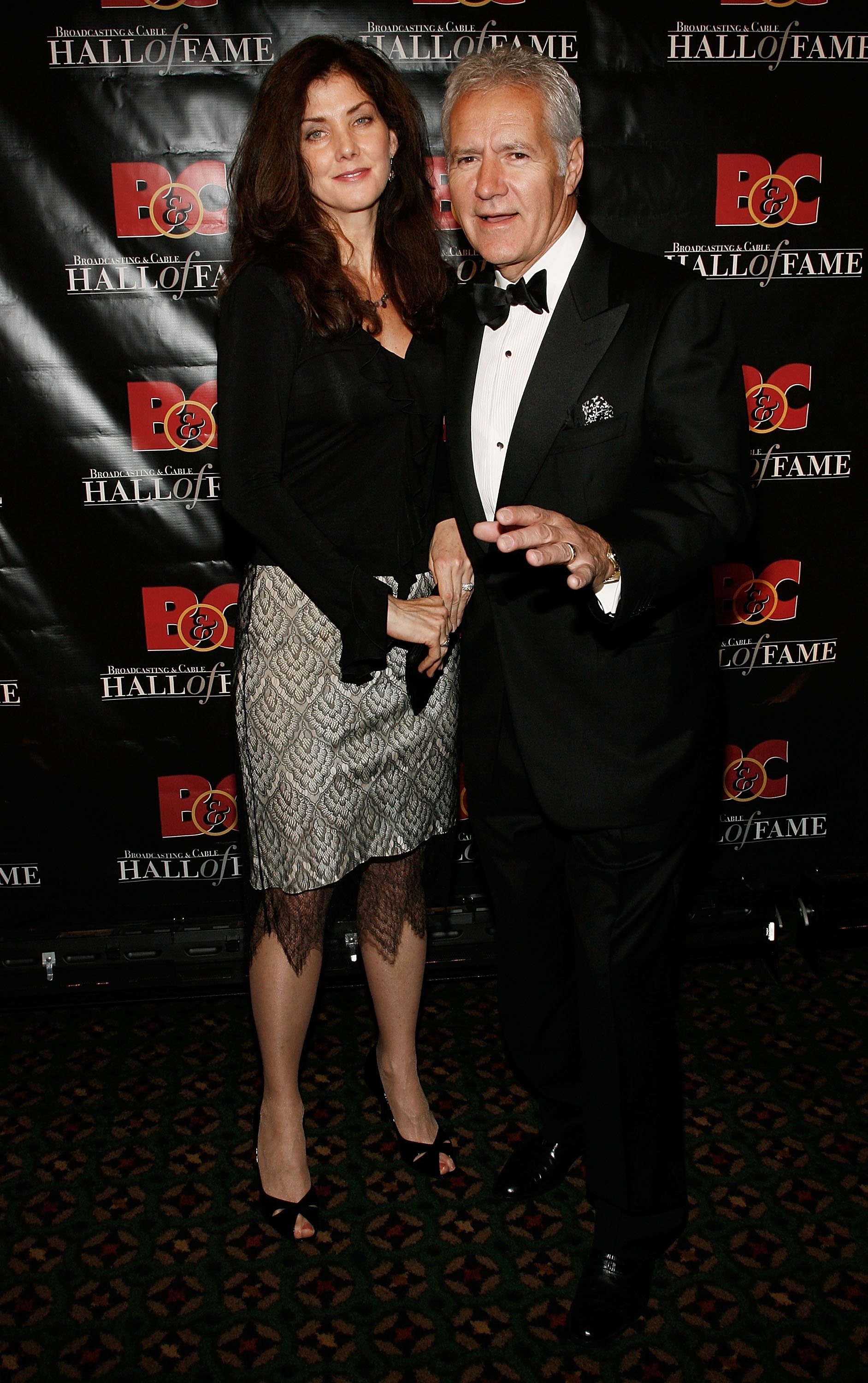 Alex and Jean Trebek at the "Broadcasting and Cable Hall of Fame Awards" in October, 2007. | Photo: Getty Images.
Pictured on a black cement walkway alongside a beautifully manicured garden outside of a white double story house, Jean watched along closely as she and her furry friend took in the fresh air, as she wrote in her caption:
"A pleasant way to spend a rainy afternoon."
One follower expressed their happiness that Jean had the dog keep her company, while another person wrote how much the dog probably missed Alex. Most people were happy to see Jean out and about and seemingly coping well.
One day after Alex's death, it was revealed by the "Jeopardy" executive producer, Mike Richards, that Alex had gotten to enjoy his last day on earth sitting with Jean on a swing he re-built for them earlier that year, just like he had wished for.
Theirs was a love story that turned heads on account of their 24-year gap.
The legendary game show host was cremated, and his ashes were reportedly given to his wife of 30 years. His final resting place is at their home in Studio City, California.
On March 4, 2020, Alex updated fans via Twitter on his progress, outlining that physical pain and bouts of depression as a side effect of his chemo treatments left him feeling as though he didn't want to carry on, but Jean helped him through it, adding:
"That would have been a massive betrayal of my wife and soul mate, Jean who has given her all to help me survive"
Speaking to "Good Morning America," Alex sang Jean's praises and how she helped him deal with the challenging times throughout his fight, calling her an angel.
Theirs was a love story that turned heads on account of their 24-year gap. After meeting at a New York City party in 1988, Alex was instantly drawn to Jean, whom he proposed to on her 26th birthday the following year.
Together they had two children, Matthew and a daughter, Emily. Alex adopted his ex-wife's daughter, Elaine, while the pair were still married. The lovebirds prioritized staying indoors to enjoy movies together over being out and about.
Alex famously revealed in a 2019 interview his wish that he had met Jean earlier in his life so that he could have enjoyed more years together with her. Still, he expressed gratitude for their 3 decades together.
As part of her first festive season without her beloved husband, Jean shared an inspirational message on Instagram highlighting the importance of being kind whilst we don't know how much time remains for each of us on earth.
Please fill in your e-mail so we can share with you our top stories!