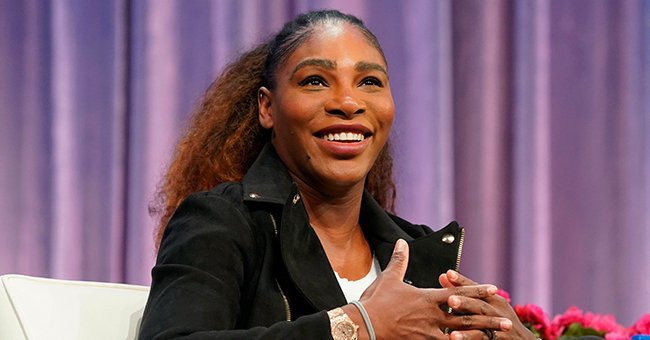 Getty Images
Serena Williams' Daughter Olympia Looks Adorable on IG Story Singing in a Gray Polka-Dot Dress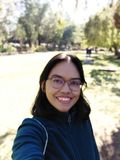 Tennis icon Serena Williams and tech entrepreneur Alexis Ohanian's adorable daughter Alexis Olympia recently showed another talent besides smashing tennis balls with her famous mother.
Serena Williams, a 23-time Grand Slam champion, was fortunate enough to capture on camera a piece of evidence that her daughter, Alexis Olympia Ohanian, Jr., has another talent.
The 39-year-old tennis living legend took to Instagram Story to reveal that her three-year-old daughter fancied herself a microphone while displaying her irresistible cuteness.
DISPLAYING OLYMPIA'S SINGING SKILLS
Singing to karaoke songs has been one of Williams' favorite pastimes, and this kind of activity was passed on to her adorable daughter, besides playing tennis.
In the photo, Olympia was sitting on a couch while in the middle of singing a song. The little girl who donned a polka dot dress looked serious in hitting the tunes.
She seemed to care less about her messy hair bun, as long as she could nail the song. Williams appeared entertained by her daughter's fun activity of the day.
HER HIDDEN KARAOKE ROOM
Williams' love for sing-along music prompted her to build a secret "karaoke room" inside her stunning mansion in Florida. Her older sister, Venus, helped her in renovating the area.
She and her sister would celebrate their US Open wins in their karaoke room hidden behind a bookcase. But of all the amenities inside her mansion, Williams doesn't have a tennis court. She said:
"I wanted to separate home from work."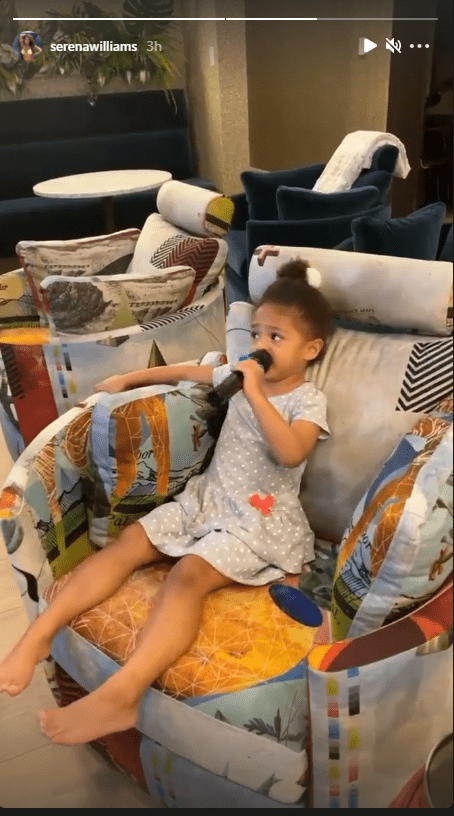 Serena Williams' daughter Alexis Olympia holding a microphone while sitting on a couch. | Photo: www.instagram.com/serenawilliams
SINGING WITH OLYMPIA
The tennis superstar's singing skills are not only limited to her karaoke room. Williams had also taken her beautiful singing voice in the living room, together with Olympia.
Previously, Williams shared on Instagram a video of them singing a song from the Disney movie, "Beauty and the Beast." The pair wore matching yellow gowns to go with their performance.
Following the cause, Williams created Qai Qai dolls, inspired by Olympia's favorite toy, Qai Qai.
Williams also shared her voice in the most meaningful way. She sang a song while covering her breasts in a music video for Breast Cancer Awareness Month in September 2018.
The music video, the tennis icon said, was part of the "I Touch Myself Project," which was made in honor of Chrissy Amphlett, a notable Australian singer who passed away in April 2013 after battling breast cancer.
Following the cause, Williams created Qai Qai dolls, inspired by Olympia's favorite toy, Qai Qai. She said she wanted to bring joy to others, so they created the doll.
The doll stands under 15 inches tall and has been Olympia's closest buddy everywhere she goes. Besides having an Instagram account, Qai Qai became the best-selling toy on Amazon.
Please fill in your e-mail so we can share with you our top stories!