Jenna Wolfe Raises 2 Kids with Her Fiancée Stephanie — inside the 'Today' Journalist's Family
"Today" anchor Jenna Wolfe and her fiancée NBC News correspondent Stephanie Gosk share daughter Harper, who is seven, and a six-year-old daughter, Quinn Lily.
Jenna Wolfe and Stephanie Gosk have become LGBTQ icons after coming out as a couple in 2013 -- at the same time that Wolfe announced that she and Gosk were engaged and expecting their first child.
Over the last nearly eight years, the two have been kept busy welcoming a second baby, raising their children, and becoming one of the most influential lesbian power couples in New York City.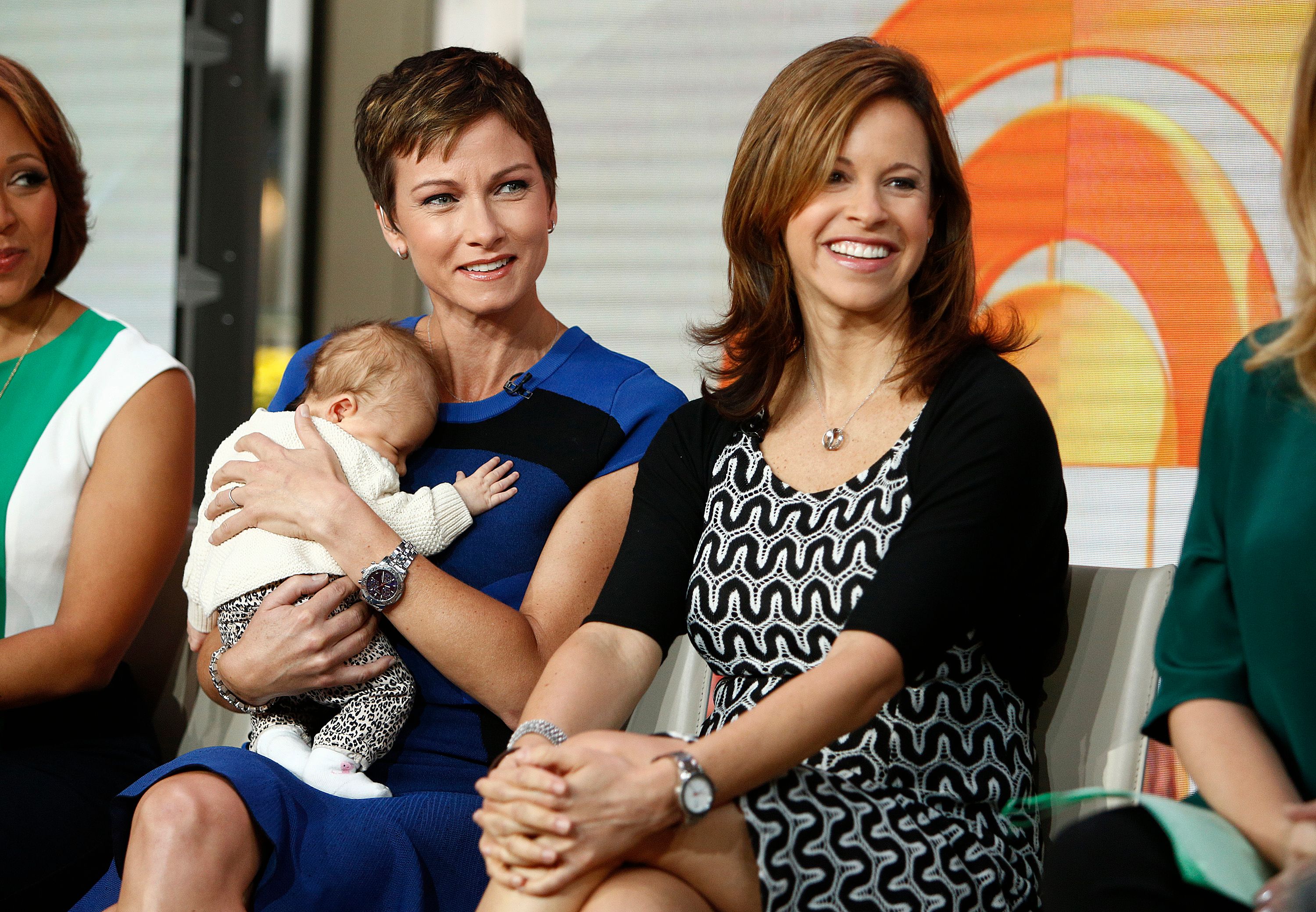 MEETING STEPHANIE GOSK
Wolfe and Gosk have kept the story of their romance to themselves, but in 2013 the "Today" host dropped a triple whammy on the show. Not only was Wolfe gay, but she was also engaged to Gosk and pregnant.
Wolfe revealed that she had conceived with the help of an anonymous doctor, and was about to make one of her most treasured dreams come true: to become a mother with the woman she loved.
Jenna Wolfe and Stephanie Gosk have become role models for the LGBTQ community, proving that lesbian women can have it all.
COMING OUT
For Wolfe, it was imperative that she and Gosk reveal the status of their relationship. The "Today" host explained that coming out after being together for three years was motivated by their impending motherhood. She said:
"I don't want to bring my daughter into a world where I'm not comfortable telling everyone who I am and who her mother is."
WELCOMING A DAUGHTER
Wolfe and Gosk welcomed their first child, Harper Estelle, in August 2013. Self-confessed work-out and adrenaline junkie Wolfe confessed that Harper's arrival was the most exciting moment of her life.
Shortly after Harper turned one, Wolfe and Gosk decided to double up on the fun and conceived their second child -- which turned out to be another daughter, a welcome addition to their girl-power family.
GIRL POWER
Gosk and Wolfe welcomed tiny Quinn Lily in February 2015. Wolfe revealed after the birth of her daughter that she had been so captivated by Harper that she had feared becoming a mom a second time. She wrote:
"The heart has an infinite amount of space for love. (...)  And yes, I love little Quinn every ounce as much as I love Harper."
FABULOUS FOURSOME
Wolfe and Gosk's romance grew as they fell madly in love with their two little girls, and became a fabulous foursome. Wolfe has described her journey through motherhood in several essays and articles, and the message is always the same.
For Wolfe and Gosk it's all about falling in love -- and every challenge becomes a triumph, every diaper change an achievement, and those sleepless nights when you have to work in the morning somehow don't matter.
LOOKALIKE BEAUTIES
For Wolfe and Gosk, every outing is now for four, and as their two girls grow, the little family adventures have grown too. And they are growing fast: Harper is now seven, and Quinn is five years old.
The couple shares snaps of their adorable daughters on Instagram frequently, and it's easy to see that Harper and Quinn are Wolfe's mini me's and look almost as identical as twins.
Jenna Wolfe and Stephanie Gosk have become role models for the LGBTQ community, proving that lesbian women can have it all: careers, love, and the rewarding experience of motherhood.
And maybe, due to their pioneering courage, other women who have made the same journey to find their sexual identity will be inspired to live out their dreams and welcome their children in a more accepting world.