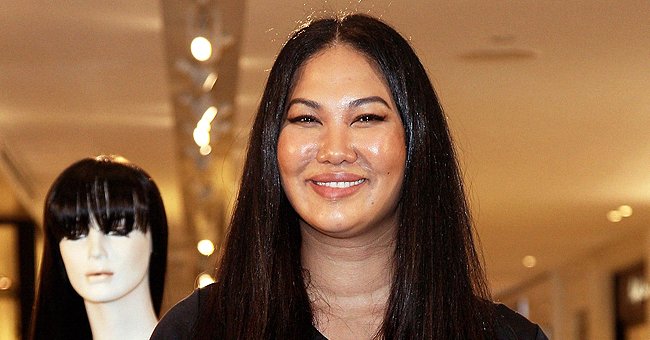 Getty Images
Ming Lee Simmons Sets Hearts Racing Posing with a Dog in Sheer Green Savage X Fenty Lingerie
Fashion mogul Kimora Lee Simmons' daughter Ming Lee Simmons is seductive as she models in sheer light green Savage x Fenty lingerie on her social media page recently.
Ming Lee is so mature now and taking fans by storm as she poses holding her fluffy dog and wearing nothing but skimpy underwear on her Instagram feed yesterday, March 3.
Ming is sitting down on the floor with a plain white sheet in the background hung up like a curtain. She has mint-colored opaque knee-highs, which are attached to the underwear by a garter.
Ming Lee Simmons during New York Fashion Week, 2017 in New York City | Source: Getty Images
Ming has her brown hair straight with two tiny braids framing each side of her face. Since she became a brand ambassador for Rihanna's lingerie line, she has been flaunting her full figure in various items from the collection.
The top part of the stockings and the pattern on the bottom half of the underwear set both have tiny white floral details. The model who has just over a million Instagram followers captioned her post:
"Starting to feel like spring."
Ming Lee and her sister Aoki began modeling on the runway at an early age, thanks to their mother, Kimora. As toddlers, Ming and Aoki would accompany Kimora on the catwalk wearing 2000's Baby Phat apparel.
It is no wonder that the now 21-year-old has taken up the profession full-time. She considers her Instagram an online portfolio where she can collaborate with and promote clothing brands.
Kimora's most valuable fashion advice to her daughter Ming was not to reveal too much skin.
Kimora's relationship with Russell Simmons was iconic in the hip-hop industry. Baby Phat was born as a woman's collection within Russell's Phat Farm company.
Baby Phat was successful but was shut down in 2011. But in 2019, Kimora and her two daughters repossessed the company and completely revamped it with a new collection. Kimora explained in an interview that:
"Baby Phat was really a movement – it allowed a lot of people to see themselves in fashion in a way that they never had before."
Kimora and her two daughters run Baby Phat beauty. Aoki makes the financial decisions and Ming is in charge of the design elements. So far, there are three beauty kits available called Divine, Opulence, and Ethereal.
Ming, who has been making waves in the modeling industry recently shared one of her mom's tips. Kimora's most valuable fashion advice to her daughter Ming was not to reveal too much skin.
From Ming's social media, it seems like she took her mother's guidance to heart as there are no explicit images of the model. Ming was lucky to grow up alongside Kimora, who showed her the ropes from day one.
Ming's younger sister Aoki is also very successful. She was accepted into Harvard University at just the age of 16. Kimora was so proud of her daughter and shared the news on Instagram.
Please fill in your e-mail so we can share with you our top stories!