Susan Lucci, 74,Looks Youthful In a Black Top & Mini Skirt with Husband Helmut at Palm Beach
Veteran actress Susan Lucci continues to defy her age by looking as radiant as ever in her latest snapshot upload sitting alongside her husband Helmut Huber.
Susan Lucci shared a snap snuggling up to her husband, Helmut Huber on Instagram. The lovely couple flashed at the camera while Lucci held a glass of champagne.
"Cheers!!! Wishing you a great weekend from beautiful Palm Beach!!!" the 74-year-old captioned her post accompanied by palm trees, smiling face with three hearts emojis and beach with umbrellas emojis.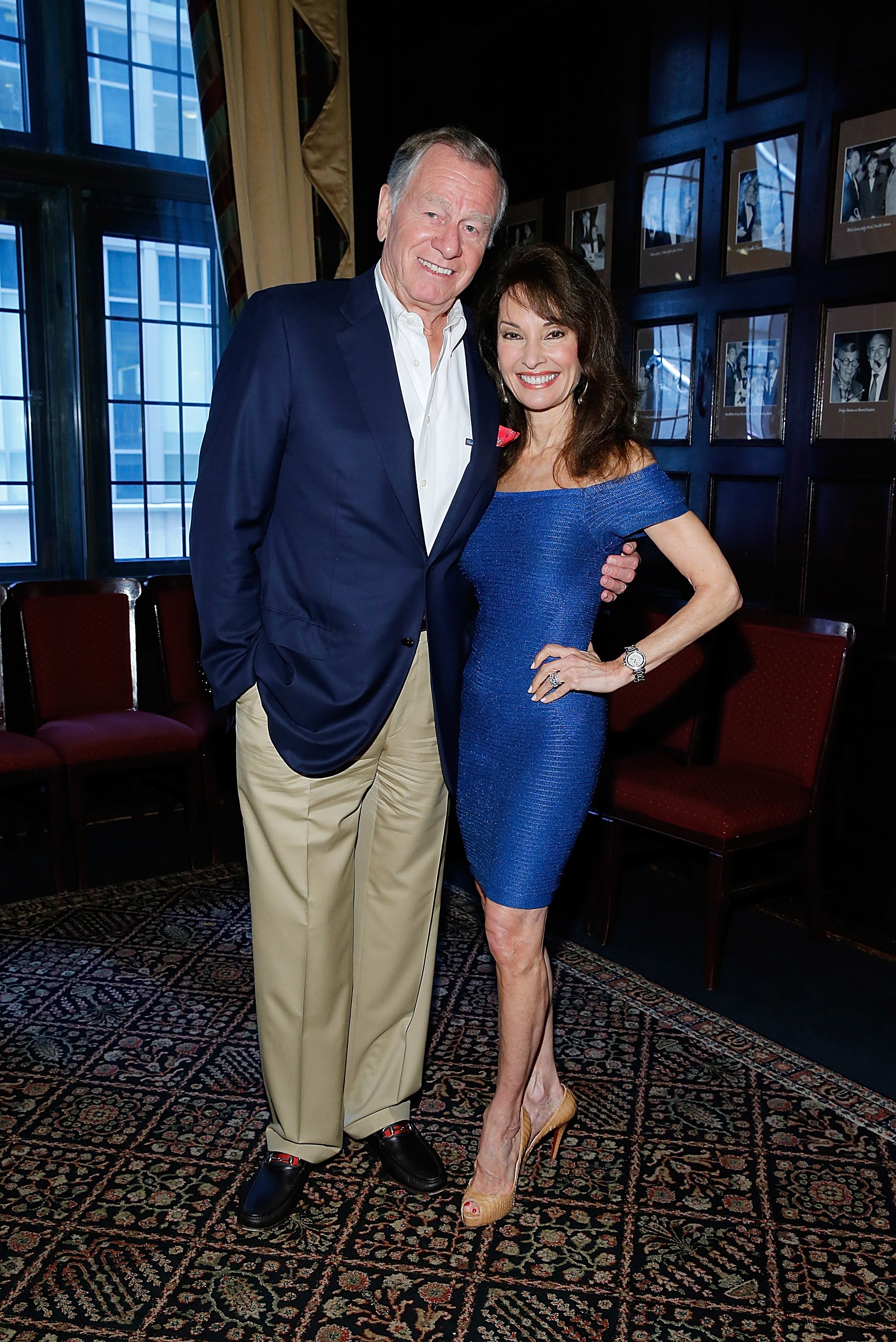 POSING WITH HUBBY
The pair struck a pose while sitting on a couch as Lucci held on to her spouse. Huber, in turn, had his hand on her killer legs revealed by her outfit.
The New York native wore a black one-shoulder top and paired it with a yellow and brown mini skirt. Lucci's wedding ring was not the only visible jewelry in full view.
She accessorized with another band on her right hand and completed her look with dangling earrings. Lucci appeared to have a natural makeup on.
She wore her brunette hair down and had it parted in the middle. Huber opted for khaki trousers and a blue golf shirt and completed his look with a gold wristwatch.
SWIMSUIT SNAP
In March, Lucci served her Instagram followers with a sexy snap captured by her "paparazzi husband, Huber." She posted the image, which showed her sunbathing in a strapless white bikini.
In the shot, the "Devious Maids" star motions Huber to step aside as she read a book while lounging on a beach chair in Florida. She paired the swimsuit with sunglasses and hoop earrings.
HEALTH SCARE
As much as she has a bit of fun, in February last year, Lucci recalled back to a health scare she experienced. At the time, she was not aware that she had a 90 percent blockage in the main artery leading to her heart, a condition known as "the window-maker."
The singer experienced the pain twice, and it went away every time until she had to go to the doctor and had a CT scan. It revealed she also had a 75 percent blockage in an adjacent artery.
Two stents were quickly inserted into her arteries, and she was released the following day. Lucci shared she would have had a fatal heart attack.
CAREER & THE REUNION
Health issues aside, the soap opera star is well-known for her iconic role of Erica Kane on ABC's "All My Children" which she portrayed in 1970. Lucci was nominated 18 times for her character under the Emmy Daytime category for Outstanding Lead Actress in a Drama Series.
However, she finally won the category in 1999. TV Guide called her on-screen role the most famous character in the history of daytime TV.
Lucci will now reunite with her on-screen daughter Alicia Minshew from the popular soap in a new faith-based series called "Wholly Broken." The show will begin streaming on Amazon Prime Video next year.