'Alaskan Bush People' Star Bear Brown Mourns Dad Billy's Death on His Own Birthday
As he celebrates his first birthday without his father, Billy, Bear Brown left fans a sentimental note. The "Alaskan Bush People" star's father passed away in February.
Bear Brown recently shared a nostalgic post on Instagram in regards to his childhood. The reality star expressed his gratitude to fans for their support and stated how much he misses his father, Billy.
In a tuxedo-clad selfie, Bear wrote: "Today is my 34th birthday!" He added that his time in Alaska was like yesterday. Bear noted that the society he grew up in is quite different from the one he lives in today.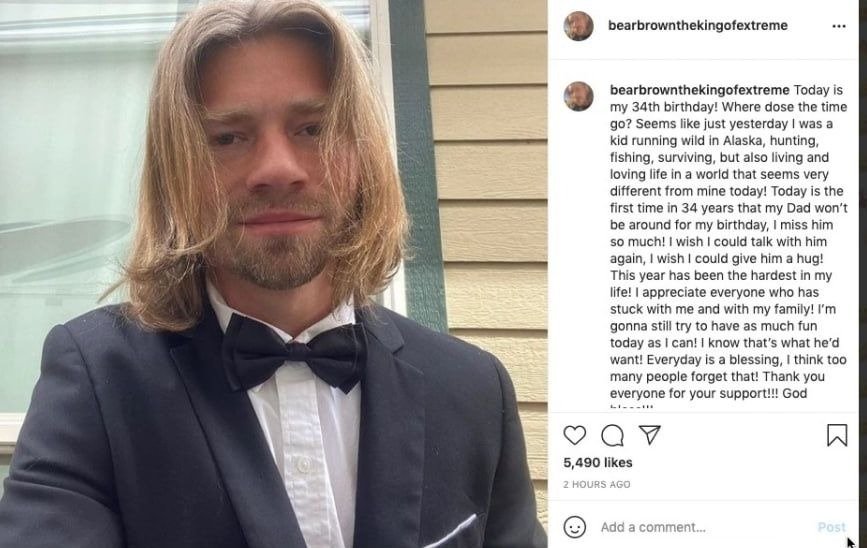 "Today is the first time in 34 years that my dad won't be around for my birthday, I miss him so much!" he
said
. Throughout the challenging year, Bear wished he could hug and speak with him again.
Bear continued to express appreciation for those who have stuck by him and his family. Additionally, he promised he would do his best to enjoy himself because he knows what was important to his father.
In February, a heartfelt message posted on Bear's social media accounts confirmed his father's passing. He called his father a wonderful and loving father, grandfather, and husband in his post.
According to him, he knew his father would be delighted with him.
During Mother's Day celebrations, Bear stated that his mother, Ami, had lost her true love when Billy died. He also said that she had to juggle caring for the entire household during this time of grief.
Billy passed away at 68 years of age following a seizure at the family's home in Washington. Bear's brother, Matt Brown, also confirmed his beloved dad's passing on his social media pages. 
Last March, Bear revealed on his Instagram account that he had started referring to his son as "Little Billy" to pay tribute to his late father. According to him, he knew his father would be delighted with him.
Before this, Bear had likewise seen fit to pay homage to his father with a heartwarming Instagram post, emphasizing how happy he was that Billy got to meet his child River prior to his death. 
Billy, also a doting parent to daughter Snowbird and sons Bam Bam, Gabe, and Noah, had starred on the hit reality television series "Alaskan Bush People" along with his family since 2014.
Three weeks after Billy's death, the family paid tribute to their patriarch on the show. In the Discovery Channel's special, "The Legacy of Billy Brown," they recalled their fondest memories of Billy.