This Man Feeds about 150 Stray Dogs Daily — He's Done It for 11 Years
Ranjeet Nath spends his afternoons and evenings feeding more than 150 stray dogs every day to ensure that they don't go hungry. He has been doing this for the last decade. 
59-year-old Ranjeet Nath from Nagpur, India, has spent his time, energy, and money on the stray dogs of his city for the last 11 years, and he is finally receiving some recognition for his good work. 
Lifestyle blogger Abhinav Jeswani captured Nath feeding the dogs on video and shared it on social media, which ignited a viral frenzy with everyone astonished by the man's compassion for the animals.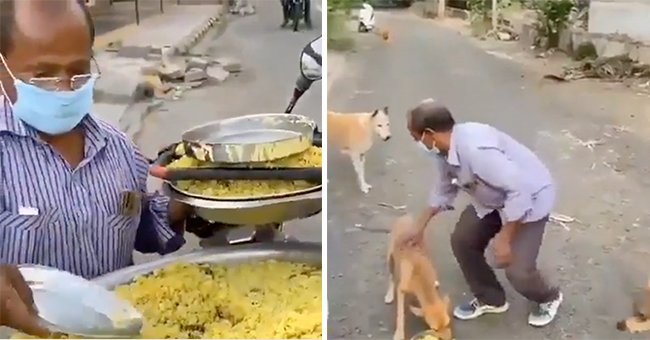 SHARING THE LOVE
According to Jeswani, the compassionate local started out by feeding the stray dogs around him biscuits two and a half years ago, and once he recognized the tremendous need, the project escalated. 
Now Nath is cooking and preparing chicken and mutton mix biryani for the homeless pups. He steps out onto the street at 5:00 pm each day to feed them and only returns after midnight once all the dogs are fed.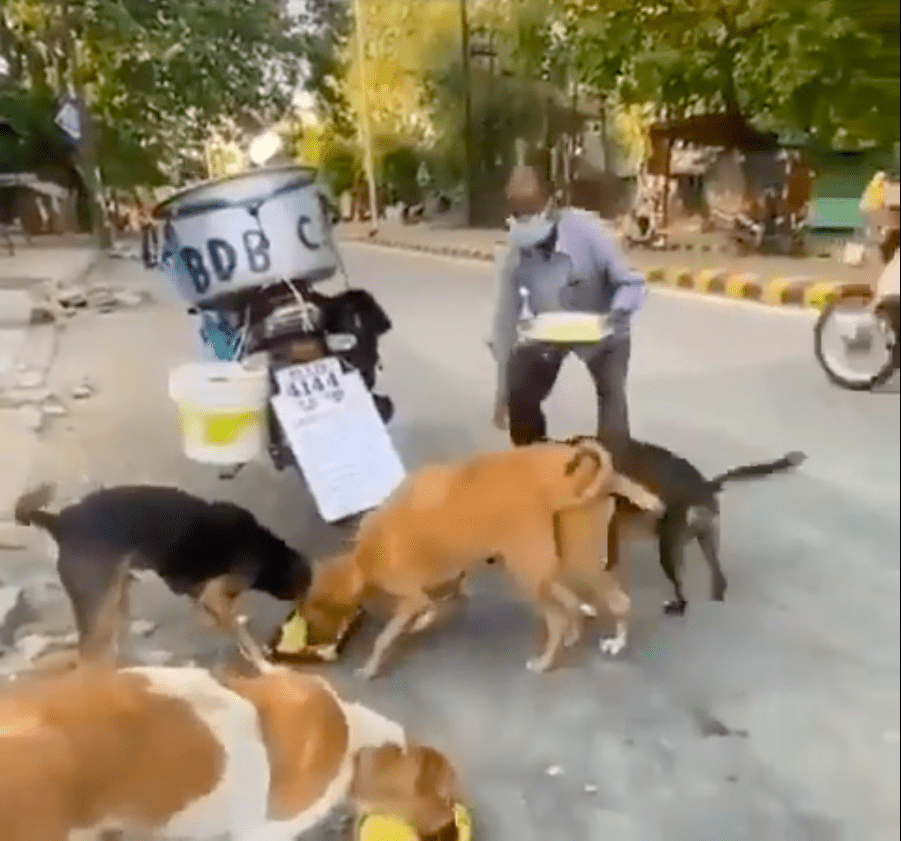 WORKING ALONE
Nath not only tackles the immense work of feeding 150 dogs alone each night, but he also runs the entire operation off of donations because he cannot financially keep the project running on his own income. 
The man not only cares for them on the street but has also worked to find permanent homes for more than 30 dogs.
The lifestyle blogger shared that if anyone was willing to donate to Nath and his dog feeding project, he would help to get them in contact with him so that he could receive the necessary help. 
SPREAD TO OTHER PLATFORMS
Jeswani's two Instagram videos about Nath's good work with the four-legged friends aren't the only traction that the project has picked up lately, although those posts have received thousands of views, comments, and likes. 
Nath's work was also shared on Reddit, where it got just as much love as on the other social media platforms. One user couldn't stop gushing about the man's work writing: 
"I dont know this man but I love him with every fiber of my being. Is there a way to help him out?"
Another user also commented on the sadness surrounding Nath's work with the stray dogs as they wrote, "Amazing but sad [that there are] so many homeless dogs." 
MORE COMPASSION
Nath isn't the only man working to improve the daily lives of the street dogs in his area because Michael J. Baines has also taken on the responsibility of feeding 80 stray dogs in Chonburi, Thailand. 
Baines feeds the dogs that cross his path throughout the day, giving them a hearty mixture of dry dog food, rice, oil, steamed fish, or chicken. He also carries basic medicine for the dogs to treat them if he sees they need medical attention. 
Baines spends more than $1500 on the stray dogs of Chonburi every month. He shared that seeing the poor animals without anyone to fend for them breaks his heart, and he can't resist lending a helping hand. 
The man not only cares for them on the street but has also worked to find permanent homes for more than 30 dogs. He has also taken 9 of them home with him, ensuring that they never return to the streets again.