Sharon Stone, Doting Mom of 3, Shares Rare Glimpse of Motherhood while Posing with Son Roan, Whom She Once Lost Custody
In recent social media posts, Sharon Stone has shared photos of her eldest son as the pair work on their relationship after the actress lost custody of him after her divorce from his father.
Last Friday, Sharon Stone, 63, was the emcee and host at the Cannes' annual amfAR gala. She attended the event with her son, Roan Joseph Bronstein Stone, 21, whom she shares with her ex-husband, Phil Bronstein.
The pair posed together at the event with big smiles, and the actress even took to her Instagram account to share images and video footage from the night. In a lovely image, Stone hugged her son close and captioned the post:
"Proud mom…"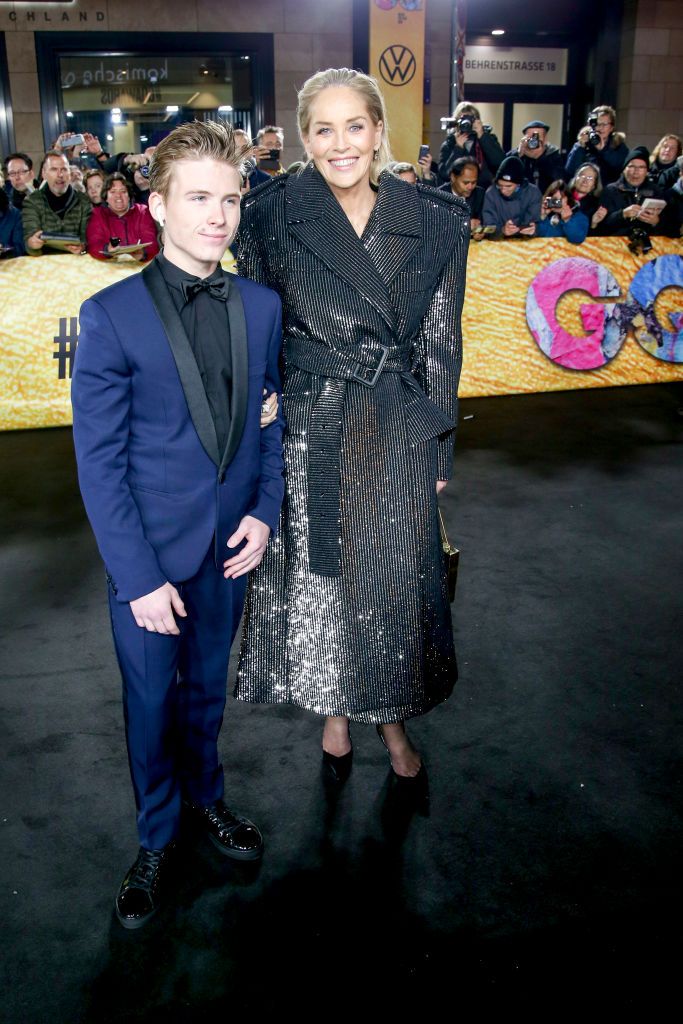 Many people swarmed to the comments section to share their joy at seeing a rare glimpse into Stone's journey with motherhood. One of the actress's fans celebrated the post by writing:
"So great to see you two together. I read your book and cried at the thought of you being forced apart. Mother and child, a sacred bond."
In another post, Stone was seen sitting in a bedroom with her son and a woman named Bea. The trio was all dressed up in the evening wear as they posed together on a bed.
In a video post after the event, the trio was joined by two other people as they celebrated the gala's success. The group sang heartily together and raised drinks as they honored their latest achievement.
The actress's son is barely seen out in public. She and her journalist ex-husband were married in 1998, and they adopted their son a few years later in 2000 after Stone suffered several miscarriages due to endometriosis.
Sadly, in 2003, the "Basic Instinct" star and Phil separated and eventually divorced a year later. The pair initially shared joint custody of Roan, who was adopted when he was a week old, before taking to court.

The former couple battled for custody of their son, and in 2008, the journalist won permanent sole custody. The actress lost custody of her son when he was eight after trying to have his feet injected with Botox.
Stone was trying to stop her son's feet from smelling by using the treatment. In her newly released book, "The Beauty of Living Twice," she said she spent days crying after losing custody.
Luckily, Stone managed to remain close to her son when she retained visitation rights. In 2019, The Blast reported how the star's son filed court papers to add her last name to his name along with his father's one.
Their mother [Sharon Stone] has raised them [Laird and Quinn] as a single parent after her marriage failed.
Roan only features out in public on infrequent occasions, as was seen in November 2019's third annual Harper Bazaar Awards in Madrid. The young man had served as her date at the event.
He even joined her outside, where Stone blew kissed at the crowd. Stone's oldest child, born on May 22, 2000, in Texas, has followed in his mother's footsteps as an actor and will feature in a movie with her.
He will star in the up-and-coming film "What About Love" that will be released in 2022. Besides, her eldest Stone also adopted two more sons, Laird and Quinn, in 2005 and 2006, respectively.
Laird Vonne Stone was born on May 7, 2005, and his younger brother Quinn Stone was born in June 2006. Their mother raised them as a single parent after her marriage failed.
In a 2012 interview with AARP, the actress confessed that she loved raising her children. Stone even shared how her three sons were a bigger priority to her than "the Hollywood scene, being liked and getting movie parts."