Marlon Brando and Richard Pryor's Alleged Love Affair Discussed by Pryor's Widow & Quincy Jones
Richard Pryor's widow confirmed producer Quincy Jones' claims regarding the late comedian's many sexual relationships. However, her confirmation contradicts their children's denial of the rumors surrounding the stars. 
Thanks to his entertaining storytelling approach, Richard Pryor was one of the most prolific stand-up comedians of his time. Audiences also loved the comedian because he offered a brutally honest glimpse into his life in his work. 
Although Pryor's work often exploited his life experiences in the best way, he did manage to keep some of his personal life hidden. However, legendary hip-hop producer Quincy Jones exposed the comedian's best-kept secret.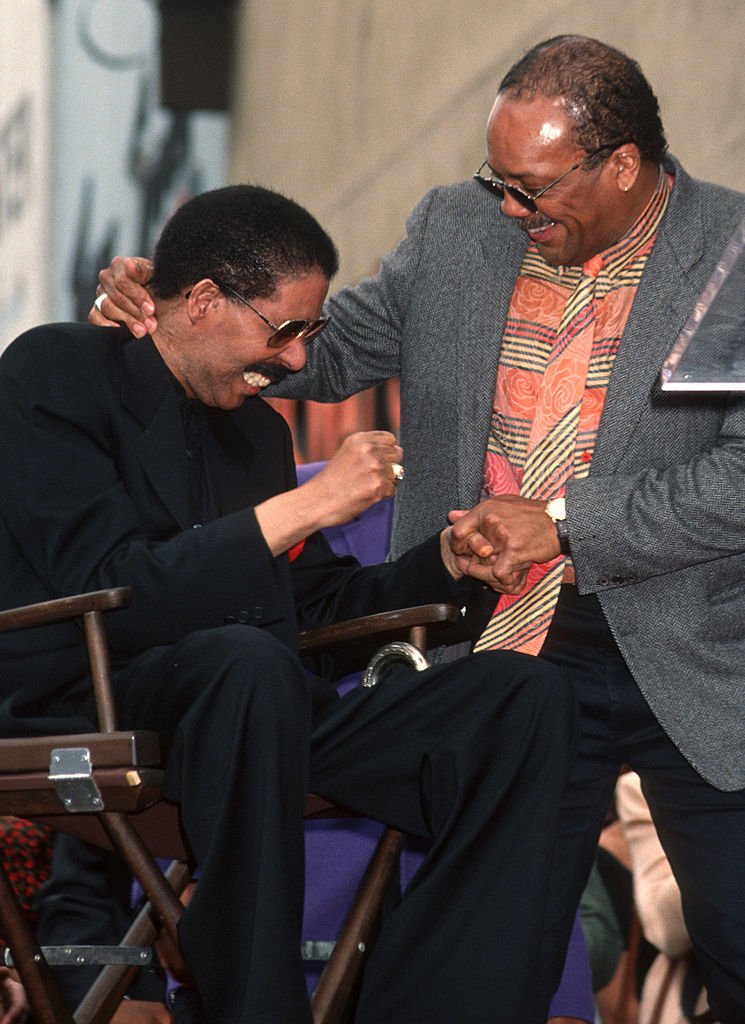 Quincy Jones gave a bombshell interview in 2018 that exposed some of the entertainment industry's hottest gossip. One of the topics of conversation in the interview was the question of Pryor's sexuality. 
The producer, who has access to the most elite circles in entertainment, brazenly shared that Marlon Brando had a very active sex life. While exposing Brando, he revealed that he had slept with many famous men, including Pryor:
"He'd [expletive] anything. Anything! He'd [expletive] a mailbox. James Baldwin. Richard Pryor. Marvin Gaye."
The shocking allegations sent the media down a rumor-filled spiral that desperately sought confirmation. Fortunately, Jennifer Lee Pryor, who was twice married to the comedian, shared her knowledge of the love affair. 
The comedian's widow corroborated Jones' comments and claimed that Pryor was openly bisexual to friends and family. Jennifer also credited drug use for the relationship and explained how it affected Pryor's sex life at the time:
"It was the 70s! Drugs were still good, especially Quaaludes. If you did enough cocaine, you'd [expletive] a radiator and send it flowers in the morning,"
The comedian's widow also claimed that Pryor documented his sexual relationships in a diary when he was alive. She then revealed that she would publish the diary contents for public consumption at a later stage. 
Although Pryor's widow confirmed the rumors of a relationship between the comedian and actor, their children communicated otherwise. Rain Pryor and Miko Brando opened up about Jones' claims shortly after Jennifer spoke out. 
Pryor's daughter, Rain, spoke first out against the claims through her Facebook page. After denying them, the then 48-year-old branded Jones' claims as fake news and called the allegations "tasteless and infuriating." 
Many fans who followed the story even accused Pryor's daughter of expressing "low key" homophobia in her post. The backlash accusing the tone of her message of bigotry forced Rain to take the post down as a result. 
Brando's oldest living son, Miko, joined in on the denial train and told TMZ that there was no truth to the rumors. He even went as far as making a statement expressing his disappointment at Jones for relaying the allegations. 
Unfortunately for the pair's offspring, their disputes convinced not many people after Jennifer's confirmation. A documentary even shared details about the relationship between Brando and Pryor.
The documentary "I Am Richard Pryor" featured appearances from Jennifer, who took a deeper dive into the controversial relationship on everyone's minds. She revealed that the relationship wasn't an affair and that Pryor was not ashamed of it either. 
If you listen to Richard's comedy---the early stuff---he was way ahead of his time on gay rights!!! #noshame

— Jennifer Lee Pryor (@JenniferLPryor) February 8, 2018
Pryor's widow also opened up about an incident of domestic abuse that she experienced when she first married the comedian. However, she shared that the comedian never hit her again after the first time. 
Although it is tough to conclude who could have been lying at the time, Pryor's work may have hinted at the truth. The comedian regularly joked about having relations with other men, so who's to say Brando was not an inspiration?