Daily Joke: Scientists Have Made an Argument for Why Crows Are More Likely to Die from Trucks
An accident statistics review was ongoing in a small town when experts observed that a particular crossroad had an excessively high number of dead crows.
The researchers' results seemingly showed that the crows were killed by motor vehicles. Further research also proved that these birds were killed by trucks and not passenger cars.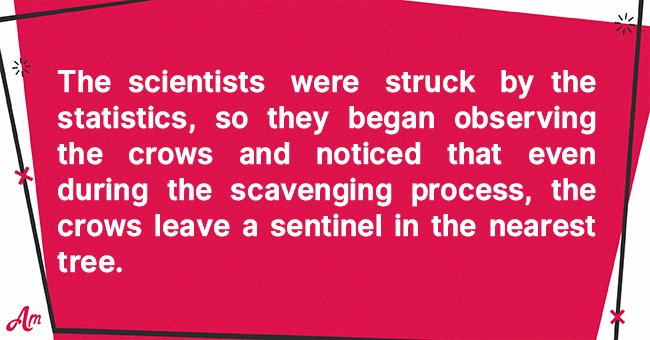 The people in the town didn't trust the researchers' results, in fact, they felt their odds were wrong. They rejected their findings and sought the help of some other experts from a local university to help with the death issues. 
When these new experts showed up looking all smart and ready for work in their dark suits, shiny shoes, and glasses, the town's people felt more confident. From their appearance, the people were sure that the results would be accurate this time.
The scientists immediately commenced their research and soon determined the real explanation. They handed their investigation's results to the town officials for assessment.
The results revealed that when scavenging, crows have their mates on the lookout from a nearby tree to alert others of any danger. The problem was that when vehicles approached, the crow could shout "cah!" but could never say "truck!"
SOME BIRD TALE
One day, a friend shared an interesting story about her family's vacation with another friend. While on holidays, the family loved visiting the zoo or museum for entertainment. 
On one of their many visits to the zoo, the family was in the aviary looking at the beautiful birds when the friend saw a crow. Out of curiosity, she asked the zookeeper to explain the difference between a raven and a crow. 
The man smiled and asked her if she had ever heard of "pinion feather."  He explained that pinions are feathers at the tip of a bird's wing, which brings about flight. When a bird is captured, people usually trim its pinions to prevent them from escaping.
The zookeeper further noted that while ravens have 6 pinions, crows have 5. "So, if you think about it, it's really just a matter of a pinion," he concluded.
The girl looked at the man, puzzled and more confused. To this day, she and her family do not know the difference between a crow and a raven.
If you enjoyed these jokes, you might find this one even more hilarious. It's about a little girl who was on the phone with her dad. The information they exchanged will crack you up!
Source: Reddit.com, Upjoke.com