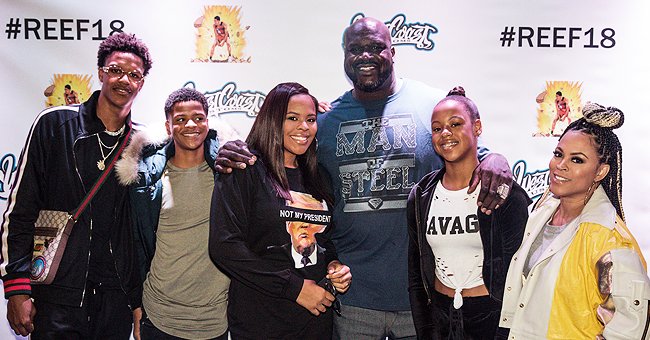 Getty Images
Shaquille O'Neal's Daughter Restricted from Dating until 25 Highlights Enviable Curves Posing in All Black
Basketball legend Shaquille O'Neal's teenage daughter Amirah got her fans swooning and gushing over her beauty in a recent picture she shared on Instagram, where her curves were on full display.
Shaquille O'Neal ruled the world from the basketball courts, but these days, his 19-year-old daughter Amirah has held the world spellbound with the content of her Instagram page.
Shaquille's kids are known for being active social media users, but Amirah's posts seem to have a special effect on her fans, and although she is just a teenager, she has more than a hundred thousand fans cheering her on.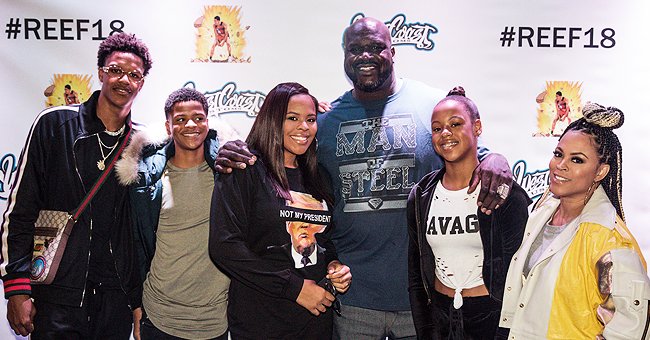 A picture of Shaquille O'Neal and his family | Photo: Getty Images
AMIRAH FLAUNTS HER CURVES
Amirah's recent Instagram picture showed how curvy and pretty she is when she decides to step out in an all-black outfit. Wearing black leggings and a simple top that gave fans a glimpse of her bare stomach, the teenager was all shades of beauty.
Amirah's hair flowed sweetly over her shoulders as she posed, standing at what looked like a balcony. She captioned the post, "you do you, I'll do better." Her pretty post captured the attention of fans, and they made sure to leave their feedback in the comment section.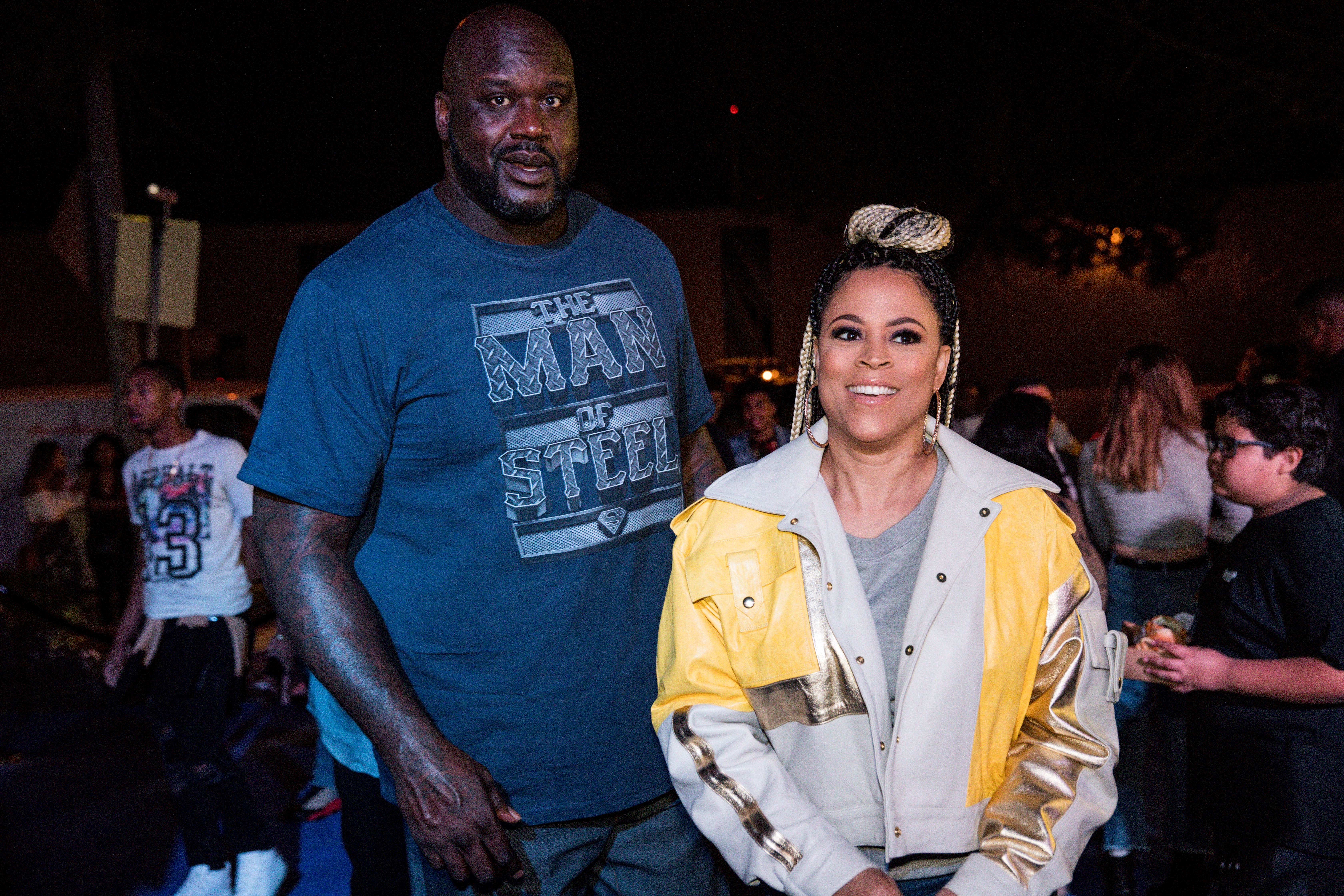 Shaunie O'Neal and Shaquille O'Neal celebrate Shareef O'Neal's 18th birthday at West Coast Customs on January 13, 2018 | Photo: Getty Images
Over six thousand fans hit the like button while others flattered the 19-year-old for her bold outfit. One fan sweetly noted that Amirah was growing into a pretty lady while others left emojis showing their approval.
Amirah is a frequent social media user, and she loves to give fans a glimpse of her life through her posts. In an Instagram Story she shared, Amirah noted how thankful she was for the life she lived.
She gushed over having the best family, boyfriend, and living in an apartment of her own. She wrote, "I've been working on my stuff, life is good." She shared the post alongside a lovely snap of herself.
A BASKETBALL COMMITMENT
An apple never falls far from the tree was the thought in fans' minds when it was reported that Amirah had made a commitment to join her father's alma mater LSU, a move that saw her join her brother Shareef O'Neal.
In a touching post on Instagram, the sweet teen confessed about the difficulty of making the switch from high school to college. While she may not understand what lies ahead of her, she is ready to face the challenges.
Amirah noted that she is glad to spend the next four years of her life as a Tiger alongside her brother, a piece of news that would undoubtedly have made her famous father smile with pride.
Like her dad, Amirah is made for great things on the court. Her school basketball performance was impressive as she is reported to have been a star player for Crossroads School in Santa Monica, California, averaging 17.2 points.
In the three seasons Shaquille spent with the Tigers from 1989 to 1992, his performance was so outstanding that when he was drafted in 1992, he was one of their brightest stars.
The 7'1" center averaged 21.6 points, 13.5 rebounds, and 4.6 blocks while shooting 61 percent from the field across 90 collegiate appearances. His record would be a feat his kids would try to emulate.
O'NEAL'S KIDS
The O'Neal kids are paving the way for themselves and doing what they love to do. While some have found basketball as their true love, others have found delight in other fields, but the main goal is to keep the family legacy alive.
Shaquille's eldest child, Taahirah, whom he fathered with his ex-girlfriend Arnetta Yardbourgh, prefers to live a quiet life and loves to stay out of the spotlight, unlike her other siblings, who love the camera.
Myles Baptiste, Shaquille's stepson with his ex-wife Shaunie, has tried himself at different things and once modeled for top brands like Givenchy, Balmain, Marc Jacobs, Michael Kors, among many others.
Shareef, who is the first biological son born to the basketball icon, is following in his father's footsteps and seems to have his eyes set on extending the family legacy on the basketball court.
Shaqir, Shaquille's youngest son with his ex-wife, also loves basketball. While he is yet to make a major commitment to the sport, his Instagram is filled with basketball-related content.
Shaquille's youngest daughter with his ex-wife, Me'arah Sanaa, was born in 2006 and is also a fan of basketball and enjoys playing the sport. Unlike her siblings, however, she is not a big fan of social media.
SHAQUILLE O'NEAL, A PROUD DAD
While his career as a basketball player was nothing short of spectacular, being a father is the biggest part of his life. The father of six loves to talk about parenting and dish out advice from his own experience.
The retired NBA star reportedly said that he did not allow the lockdown period to affect his role as a father. Shaquille admitted that not a lot of discipline is needed where his kids are concerned, which he noted is all thanks to their moms, so his job is to provide fun and guidance.
The sports icon advised parents to let their kids have fun and also join them in the fun. The 49-year-old is a big part of his kids' lives and the inspiration behind their ambitions.
DATING RULES FOR HIS GIRLS
While he enjoys being his children's friend, he has some serious rules set out for them, especially his daughters. One of such rules is that they are not allowed to date NBA stars, and the second is that he wants them to wait until they are 25 before dating. He was quoted saying:
"I want them to have most of those goals and once they get 18 on and they become little mini-adults, I'm not going to be the dad that says, 'Do this, do that.'"
Shaquille wants his girls to be financially independent before dating, and he wants them to prioritize their education. When asked if he wants his girls to date NBA stars, his response showed that he was not a fan of that idea.
Despite his plans and wishes for his kids, "the big Shaq" as he is popularly called, hopes to encourage his kids to do what they love and have fun.
Please fill in your e-mail so we can share with you our top stories!