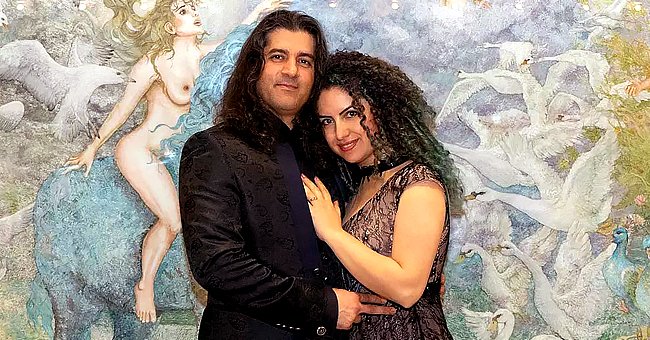 facebook.com/Parisa Karamnezhad
Man Marries Woman He Met at an Exhibition That Looked Just like the One He Painted
A successful artist paints a portrait of a woman off the top of his head to display in Iran, not knowing that the woman whose likeness was represented on his canvas would be his future wife.
Love comes to all, but not in the same way. Some people are lucky enough to fall in love with their best friends, while others are destined to meet their better halves as they walk their various paths.
That was the case for 41–year–old Ahad Saadi, who painted a portrait of his dream woman one year before circumstances brought her to him.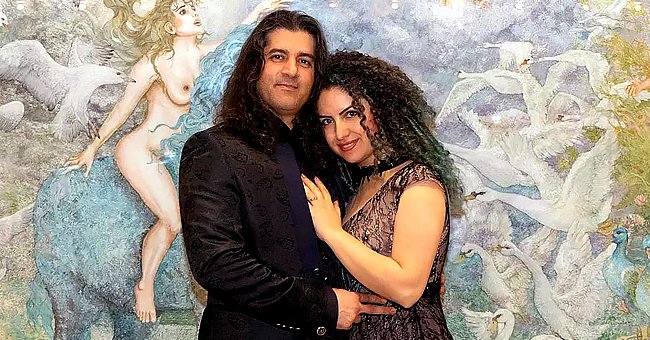 Man marries woman he met at an exhibition looking like his painting. | Photo: facebook.com/Parisa Karamnezhad
Ahad Saadi's unusual love story, which led to him meeting his soulmate, all began when his mother started to pressure him about getting married, something he had not gotten around to doing because he was focused on work.
In 2008, Ahad, who created a branch of art known as "Azarnegari," which involves creating art by burning various fabrics with fire, decided he'd had enough of the pestering and turned to his art to paint what he considers his ideal woman.
A lot of detail went into it, and the successful artist, proud of his work, displayed it at the Huner-i Mukaddes Gallery, which means "Holy Art" in Tabriz, Iran, at the end of 2009.
An exhibition at the same gallery attracted fellow artist Parisa Karamnezhad, 39, and she went looking to inspect some wonderful artworks.
Imagine her shock when she came across Saadi's painting which made her feel like she was standing in front of a mirror. Pure coincidence? Absolutely. Ahad said:
"When I saw Parisa in my exhibition for the first time, both the excitement and the flutter of my heart gave me a feeling that I had never experienced before. It was an indescribable feeling."
Feeling cheesy yet? Don't, because there's more. According to Parisa, her then-boyfriend Kave had been the one to suggest that they go to the "extraordinary" exhibition, and her first impulse had been to take a rain check.
However, Kave was quite convincing, and eventually, Parisa agreed to join him. When they arrived, they were quickly noticed by Ahad and his assistant before they started to admire the various pieces of work all attributed to him, which she thought were "truly impressive."
A few paintings later, the pair found the portrait of a smiling woman with curly hair, and it swept her off her feet. "We froze in front of the portrait for a few seconds," she said. Saying further:
"I felt a strange closeness. I turned to my boyfriend and asked, Does this portrait look like me?"
But he was hardly interested in that, and all he said was "kind of" before walking off to view other art. Parisa stood there rooted to the spot as she stared at what seemed to be an almost spot-on painting of her profile.
The painting left a deep impression on Parisa, and she could not stop her mind from straying towards the art and the artist. The following day, the entranced woman returned with an excited friend and met Ahad, who greeted them with enthusiasm as they walked in.
Parisa showed her friend the painting while Ahad attended to his other guests, and her friend, equally bewildered, told her that Ahad is "madly in love with you."
After both women left the exhibition, Parisa did not set eyes on Ahad again for more than a year but what she didn't know was that the artist was looking for her.
He eventually found her on Facebook — thank you, Mark — and reached out. Luckily for him, Parisa's relationship with Kave had fizzled out, so she agreed to meet him for dinner.
Ahad knew exactly what he wanted, so when Parisa turned up for the date, he blindsided her with a marriage proposal. Stunned by his action, she asked for some time to think about it; however, the next day, the smitten woman gave him a yes.
Her mother was concerned because of the rush, but after Parisa told her how she met Ahad, the woman gave a deep sigh and her blessing.
Ahad and Parisa's story has the makings of a romantic movie, but it is not the first time art has won the artist's hearts. Back in February, artist Devon Rodriguez was asked on a date by a woman whose portrait he drew while they both commuted on a train in NYC.
A video that captured her emotional reaction was shared on TikTok, where it went viral with over two million views in two days.
In the video, she revealed it was the nicest thing anyone had done for her and offered to take Rodriguez out, but he denied saying it was just a gift.
The woman later revealed on her Tiktok page that she believes art is the greatest form of flattery that exists, and if that's so, people, it may just be time to pick up a paintbrush.
Please fill in your e-mail so we can share with you our top stories!