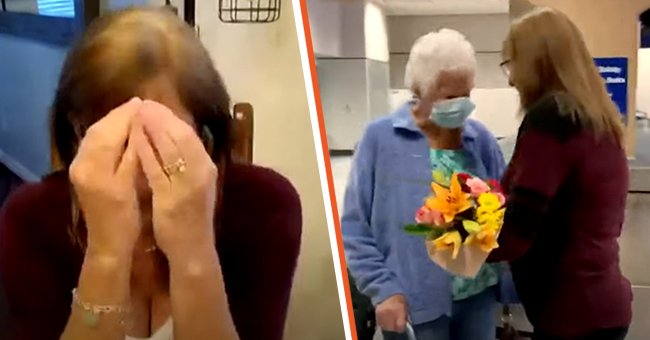 Anna Taylor reuniting with her mother. | Photo: youtube.com/WFAA
Woman, 62, Put Up for Adoption as an Infant, Finally Meets Her Birth Parents
More than six decades after her birth parents put her up for adoption, a Hunt County woman got to meet her parents for the first time, and it was a remarkable experience for her.
"Family is everything" can never be an undervalued statement. It remains one of the most truthful quotes ever made. Even the old and young realize the importance of family for human life.
At 62, Anna Taylor had never met her biological parents. Taylor was put up for adoption when she was just a toddler and was raised by her adopted parents, but she got to meet her real dad and mom last year.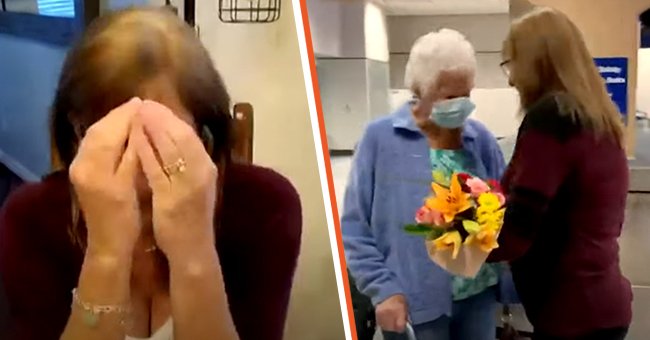 Anna Taylor waiting for her biological mom [left], Anna Taylor reuniting with her mother at the airport [right] | Photo: Getty Images
Although 2020 was a dreaded year, filled with sadness and moments everyone would hope would be removed from human history, for Taylor, it was the year that gave her the biggest gift of her life.
During a zoom call put together to celebrate Thanksgiving, Taylor was visibly excited after meeting her biological parents. When quizzed on how she felt about the meeting, she said, "I have a lot to be thankful for."
HOW IT HAPPENED
The story began during the 2019 Christmas holiday when her children came home and gifted her the 23andMe DNA kit. The 62-year-old had always wanted to know if she truly had Italian roots, as she had been told.
Taylor said she and her daughter Ashely had no clue what they were doing when they first tried to check out her ancestry. It all started playfully, but soon, Taylor began to see her life unfold before her eyes.
A certain DNA Angel reached out to Taylor and offered to help her find her biological parents, who she last had contact with in 1958. The search led them to find a woman in Connecticut named Ada Kinch Tuz.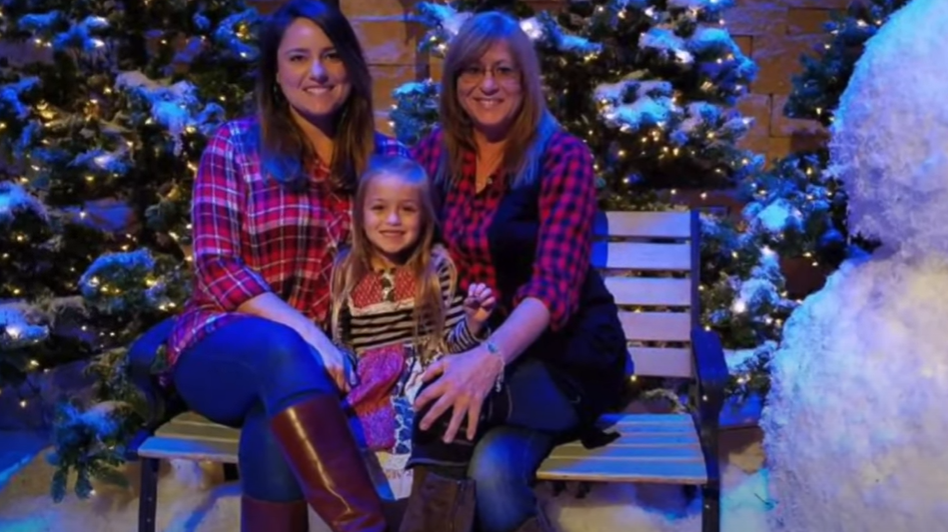 Anna Taylor taking a christmas themed photo with her family | Photo: Youtube/wfaa
After finding her birth mother, Taylor said she did not have the nerve to call or establish a relationship with them; instead, her daughter Ashley mostly kept in touch with the family.
According to Ashely, Taylor was concerned about being rejected, but all that changed one day when she decided to put a call through to her birth mother, describing herself and the year she was put up for adoption.
Taylor received a call from her mother, and for the first time in over six decades, the duo met at Terminal C baggage claim inside DFW Airport. Her then 85-year-old mother was equally excited to see her.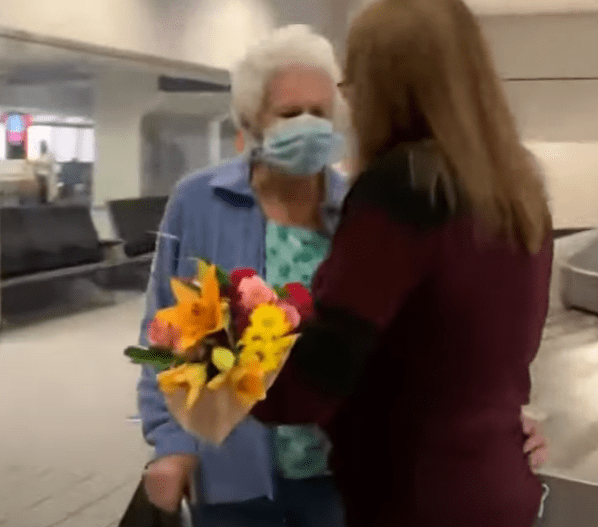 Anna Taylor reuniting with her mother after 62 years | Photo: Getty Images
Tuz never told anyone of Taylor's existence aside from her husband, but Taylor believes she had secretly looked forward to reuniting with her daughter someday.
MEETING HER DAD
Tuz later told Taylor that her biological dad was a man named Nicholas Noto, 86, and lives in the V.A. nursing home in New Orleans.
Taylor made the trip to visit her dad, but due to COVID restrictions, they could not share any physical contact, although Taylor cherished the experience.
Please fill in your e-mail so we can share with you our top stories!